While we've seen a few camera launches in the early part of 2023, and we saw a lot toward the back end of 2022, camera stock has been still been a concern. And while things are slowly getting back on track, some of the bestselling cameras of the year so far will leave you scratching your head.
Camera retailer B&H Photo shared with us its 10 top-selling cameras of 2023, and it's quite the eye-opener. Some on the list seem like obvious candidates, thanks to their leaps in technological milestones, advances in autofocus, filmmaking, ISO, you name it. But I bet you didn't expect a 5-year-old camera to be on this list – and number 10 will leave you speechless!
So let's take a look at the list of the most popular cameras being bought right now in 2023…
The EOS R6 Mark II is the serious enthusiast's model of the EOS R series, taking the place of the slightly muddled EOS R, and for those who don't need the leading-edge tech and resolution of the EOS R5 (more on which below). The original Canon EOS R6 has been discontinued in favor of this new model, but that means that the best Canon EOS R6 deals are better than ever, making it a very covetable camera if you don't mind the slightly lower 20.1MP resolution and "slower" 20fps bursts.
The R6 Mark II's combination of speed, video, and low light capabilities gives it professional appeal, too. What you get here is a top shooting speed of 40fps, Canon's mind-blowing Dual Pixel AF II with Deep Learning, up to 6K RAW video, and a 24.2MP image sensor with a standard ISO range of 100-102,400 that's expandable to 50-204,800. When you combine this with the introduction of Canon's 5-axis in-body image stabilization system, which provides up to eight stops of effective compensation, this is a seriously capable low-light camera. It's still pretty pricey, being relatively new and all, but EOS R6 Mark II is an amazingly capable all-rounder.
Read our full Canon EOS R6 Mark II review for more details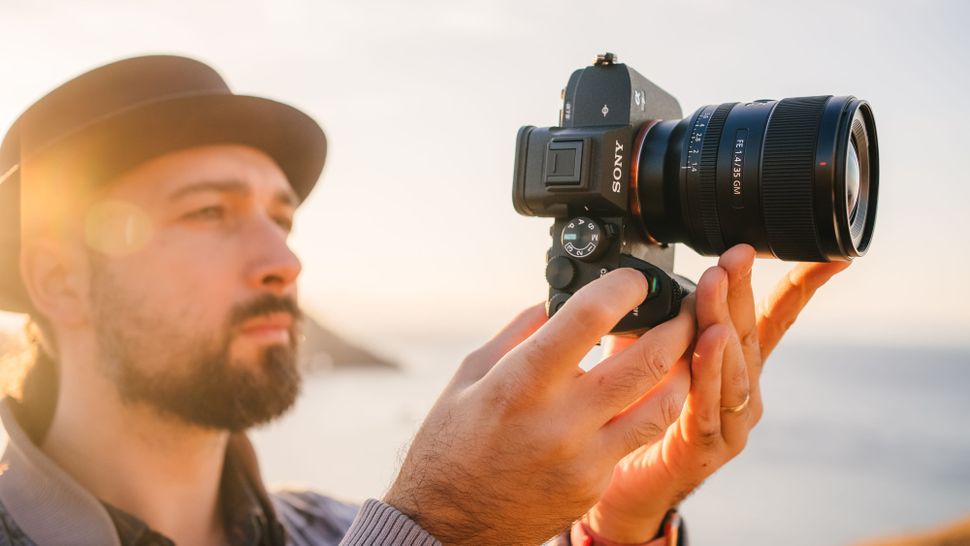 The Sony A7 IV signals a step up in ambition for Sony's vanilla A7 model. Traditionally, the Sony A7 has been the range's entry-level camera, with the R models adding resolution and the 'S' models adding speed/sensitivity. But there's nothing ordinary about the Sony A7 IV, and while it does technically supersede the A7 III, it's an altogether more advanced camera that, we think, targets a higher-level audience. Compared to the A7 III, the A7 IV is a major step up – but in price as well as features. The A7 III will keep going for now, so it makes for a tricky buying decision, not helped by the A7 IV's patchy availability. If you see one, get it!
Read our full Sony A7 IV review
The Fujifilm X-T5 is the company's latest camera, and an evolution of the X-T series, rather than a revolution. It's a classically controlled SLR-style camera that is ideal for serious enthusiasts, thanks to the traditional dials on the top of the camera which will help you change ISO and shutter speed settings quickly.
The X-T5 takes the much-loved Fujifilm X-T4 further in terms of resolution but is still ideal for shooters who want a lightweight camera. It has an excellent 40.2MP sensor, 10-bit 4:2:2 video at 6.2K/30P, and a 3-way tilting touchscreen for flexible image composition. In terms of the way that it looks, feels, and handles, the X-T5 is in a class of its own, and it's currently several hundred pounds/dollars cheaper than the X-H2. See our comparison article: Fujifilm X-T5 vs X-H2 if you're not sure which is right for you.
For more details, see our full Fujifilm X-T5 review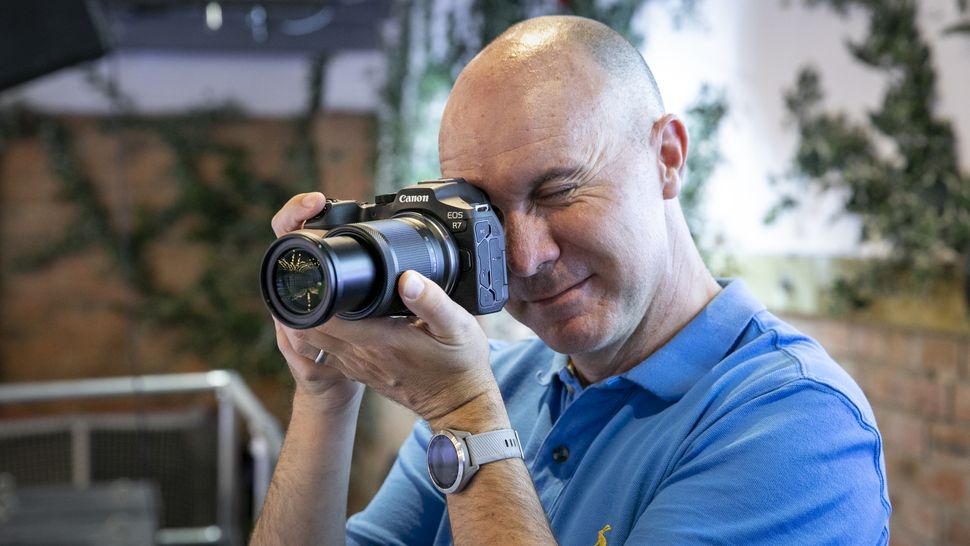 Not only is the Canon EOS R7 the manufacturer's finest APS-C camera to date, but it may also be the finest APS-C camera on the market period. It's lightning-fast both mechanically and electronically, the resolution offers glorious detail as well as the opportunity to crop into your shots, and the 1.6x crop factor makes your lenses even longer for shooting faraway subjects.
There's plenty of play in the files, giving you lots of leeway for post-production, and the video quality is crisp and clear in both 4K (whether its the 4K 60p or 7K-oversampled 4K 30p, with autofocus performance straight out of the R3 / R5 / R6 that won't let you down. On top of that, it accepts both the new line of RF-S (APS-C specific) lenses as well as the existing full frame RF optics. Throw in a joystick, fully articulating touchscreen and dual memory cards, and this is one of the best bang-for-buck Canon cameras out there.
Read our full Canon EOS R7 review for more details
The EOS R5 is a technological bombshell. It's Canon's new flagship mirrorless camera, and at first, glance seems to be trying to corner every segment of the market at once. It's got a brand-new 45MP sensor that produces images of incredible detail thanks to a new low-pass filter, as well as the class-leading autofocus system of the EOS-1D X Mark III, with a whopping 5,940 AF points for photography and 4,500 for video. Indeed, the EOS R5's video specs are nothing short of next-generation.
Uncropped 8K Raw video internally at up to 29.97fps in 4:2:2 12-bit Canon Log or HDR PQ (both H.265) in both UHD and DCI – this is a cinema-quality performance. But of course, there's a catch. You've likely heard about the pretty steep recording limits that afflict the EOS R5 when shooting both 8K and 4K. While firmware has been introduced to lessen the blow of this, there's no doubt that it's definitely a drawback to the EOS R5 as a professional video tool.
Read our full Canon EOS R5 review for more details
Technically overwhelming, physically underwhelming – that's how the A7R V feels. The camera body feels too small – or not tall enough in the body – for the big pro lenses you'll be using with it, and the controls follow a generic layout rather than being adapted to this camera's strengths. You can customize the buttons endlessly to suit the way you work, but that takes time and also a good memory for which button you've customized to do what.
Technically, the A7R V is stunning. With 61 megapixels paired with new AI subject recognition AF is remarkable, both for its rapid identification and acquisition and its very sticky 'tracking'. The image quality is every bit as good as that of the A7R IV before it (Sony says it's better), and the bigger buffer makes the A7R V much more effective for prolonged burst shooting.
Read our full Sony A7R V review for more details
Here, at long last, is the shot across the bows of Canon and Sony – the Nikon Z9, the firm's latest pro mirrorless camera and a startling step forward for professional imaging. The Nikon Z9 boasts an intimidating set of features. It's capable of burst-shooting at a face-melting 120fps, for one, and its buffer can record a nominal 1,000 images per burst, with Nikon recording it being capable of as many as 5,000 when used with a high-spec CFExpress card.
It also uses deep-learning AF, meaning its focusing ability should get better over time, and the back-side illuminated sensor delivers superior low-light performance. However, several of its headline features, like 8K 60p video and the compressed high-efficiency N-RAW format, are not going to be available at launch but will come in a firmware update expected later in 2022. Nikon is not the only manufacturer doing this, but it's still a trend we're not fans of.
Read our full Nikon Z9 review for more details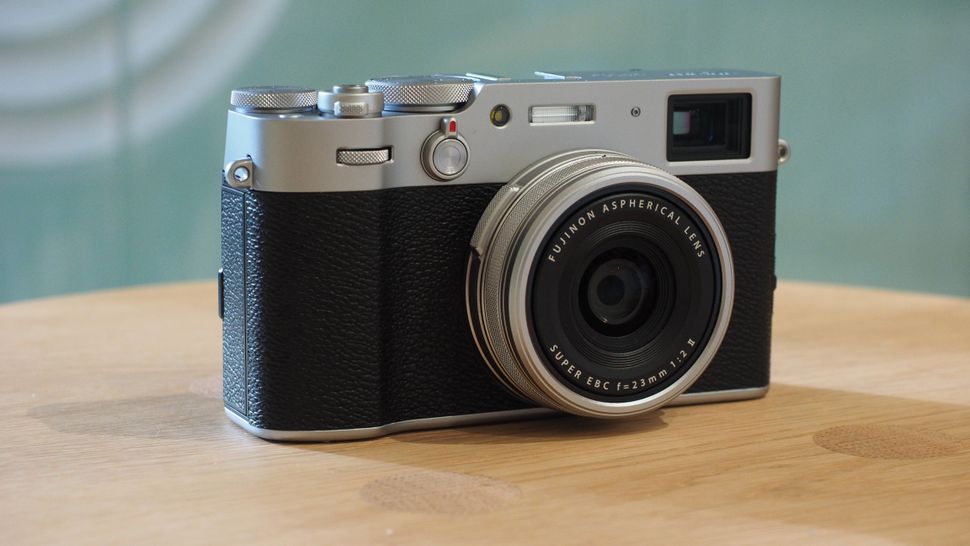 The Fujifilm X100V is styled like a classic rangefinder camera and is the latest model in a highly successful line. It has a new, sharper lens than previous X100 models, in order to do full justice to the latest sensor, and the tilting touchscreen on the back makes this camera much easier to use at awkward angles, without compromising its slimline design. The improved autofocus and 4K video capabilities bring this classic camera design right up to date.
The X100V has external lens aperture, shutter speed, and ISO dials which, for those raised on film cameras like much of the DCW team, are just wonderful to use – and it's amazing how they encourage all the key exposure skills we still need but which are easily forgotten about with 'P' modes and digital interfaces. It also has a clever hybrid optical/digital viewfinder which is not just super bright and clear but lag-free too.
Read our full Fujifilm X100V review for more details
Even though the PowerShot SX740 HS Digital Camera is a 5-year-old camera, it can still pack a lunch and be a great companion while out and about or on holiday. Few things will be too far away for the PowerShot SX740 HS, which boasts a 20.3MP CMOS sensor and 40x optical zoom in an all-in-one point-and-shoot package.
It can capture things near and far, helped by its 24-960mm zoom range (35mm equivalent) and optical image stabilization that keeps your photos and videos sharp and in focus. The handy PowerShot also features Canon's Zoom Framing Assistant, which makes it easier to track subjects at the long end of the focal length by quickly zooming out and then back in at the press of a button once you've located your subject.
There was a time when Kodak was on the top of everyone's list, but the good old days are gone and Kodak is just a glimmer of what it once was. However, could Kodak be back with this compact? The Kodak Pixpro FZ55 is a small and easy-to-use compact digital camera. This point-and-shoot features a 28mm wide angle lens with zoom up to 140mm (in 35mm equivariant) and boasts a slightly long-in-the-tooth 16MP 1/2.3" CMOS sensor and a 2.7" fixed LCD screen.
However, what it might lack in top-of-the-range features it makes up for with a very cheap price tag and nostalgia vibes. The Pixpro FZ55 also has multiple flash and shooting modes, along with a variety of detection features, including face and smile detection – on a camera that only costs $99! This handy compact camera is a great choice for photographers who simply want a cheap point-and-shoot to take with them while leaving the expensive kit at home.
This list might be an eclectic mix, and we're not sure what it says about us all as photographers, but it is no surprise to see brand-new cameras and highly sought-after ones on this list from B&H.
However, what is surprising is seeing the cameras well past their 'sell-by date' in terms of technology making the list – and who would have thought a Kodak product would be on there!
If this article has been insetting why not take a look at our best professional cameras, best compact cameras, and best travel cameras.