It didn't take long for rumors to circulate that Canon was fast-tracking firmware to address the Canon EOS R5's recording limitations and overheating issues. So when the manufacturer dropped firmware version 1.1.0, we were eager to see what difference it made.
After testing the new firmware on a production Canon EOS R5, we're pleased to confirm that it does make a difference, and you will be able to squeeze more recording time (considerably more, in some cases) out of the camera… but only in certain circumstances.
As noted in our initial story about R5 firmware 1.1.0, Canon announced that it has made a number of "small but worthwhile improvements for EOS R5 video recording times". However, the manufacturer very crudely boiled it down to more accurate remaining record times being displayed between shooting consecutive videos – it didn't go into any specifics on how things had tangibly improved.
So here are the results of our investigation with the new firmware to see exactly how the Canon EOS R5 now performs…
Single, long video recordings
Firstly, and perhaps disappointingly, there are no consistent improvements to 'single setup' recording duration. So when it comes to shooting continuous video, without stopping (aside from the mandatory 29:59 file break), the camera cannot reliably record for a greater period of time than it did before (we recorded gains of up to five minutes in some tests, but hit the same pre-firmware limitations in others).
Neither are there any consistent improvements in how quickly the camera recovers in this situation, once you have recorded flat out until the camera overheats and shuts down. Indeed, in one test, the camera actually took longer to recover than Canon's stated pre-firmware cooldown times.
We recorded uncropped 4K 60p video until the camera shut down (a 29:59 file followed immediately by a 2:34 file), where Canon's stated recovery times say that the R5 should cool down enough after 10 mins to record a further 10 mins of footage. However, after 10 mins of cooling, the camera could only record a further 5 mins (it wasn't able to record 10 more mins until it had been left to cool for 15).
So, if you were hoping that the firmware would consistently extend the total shooting limits for 4K or 8K video, you won't see any benefit – and nor has Canon promised one.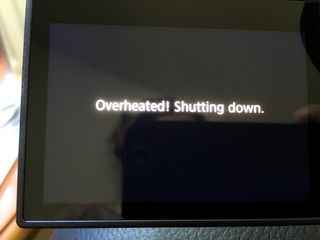 Multiple, short video recordings
When it comes to shooting multiple short video files, however, the new firmware can make a significant difference. And this is an area that Canon identified the update to be effective: "In movie recording the remaining time displayed when powering the camera off/on frequently between recording consecutive short videos (at room temperature) has been made more accurate."
However, not only is the remaining time more accurate – it is also more generous. Quite a lot more, in fact, both in terms of the maximum recording duration and the efficacy of the cooldown periods between shooting (which obviously contributes to the former).
When shooting multiple bursts of short video – which is a much more authentic simulation of real-world use – we were able to record about four times as much footage before the camera reached its limit and shut down.
There are very few instances where you would record continuously for the camera's maximum video times. Aside from interviews, there really aren't a lot of cases where you truly need a 20-minute take of 8K video or a 35-minute take in 4K. By contrast, recording multiple two- or three-minute bursts is something that far more people are far more likely to do – whether it's recording quick video clips, shooting B-roll, or capturing action at 120fps.
So the ability to record four times the amount of short clips, compared to the R5 using release firmware, is a big step up. This seems to be due to faster cooldown (or, maybe more accurately, a more diligent temperature regulation algorithm) when you record shorter videos and power the camera off between them.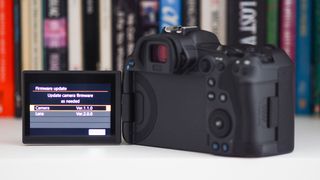 Impact of shooting photos on recording limits
An unwelcome surprise with the R5 is the fact that the video recording limits aren't just reduced by shooting video – they're also reduced when you shoot photographs, too. So if you want to capture some stills, whether it's before you start shooting video or while you're waiting for the video to cool down, you will be chipping away at the camera's recording limits.
In the first instance, the impact is so minimal as to be near non-existent. When shooting nothing but stills, with the camera starting from cold, it wasn't until we'd racked up 2,001 shots that the uncropped 4K 60p limit dropped from 29:59 to 25:00. (It should be noted, though, that Canon's estimated record limit in this mode is 35:00, but the R5 caps individual video files at 29:59, so the reduced record time will have taken effect before it was reflected in the display.)
After 4,000 shots the remaining 4K 60p record time wasn't impacted any further; however, the 8K record time dropped from 15:00 to 10:00 at this point. Either way, having to take 2,000 to 4,000 shots before stills shooting significantly reduces video recording is so extreme that we consider it a non-factor.
The real issue is the effect that shooting stills has on the camera once it has overheated, and is trying to cool down.
From a cold start, we caused the camera to overheat and shut down while recording uncropped 4K 60p as per our first test (and squeezed an extra three minutes above Canon's cited record limits, demonstrating the occasional yet inconsistent boost to continuous recording duration).
After being left to cool for 20 mins, the R5 displayed that it could record another 10:00 of footage. At this point we shout about 400 images, using both single shot and burst shooting to simulate field conditions. After 30 mins, the camera should have been cool enough to record 20:00 of footage had we not taken any stills; however, it was only indicating 10:00 of record time – so taking 400 images while the camera was cooling down cost us 10 mins of video use.
We repeated the process again after 40 mins, shooting another 400 images, but at this point the camera had cooled enough for it not to incur an additional loss of record time.
Canon EOS R5 firmware: conclusions
Long story short, firmware 1.1.0 for the Canon EOS R5 enables you to record significantly more footage, for a significantly longer cumulative time, if you shoot shorter videos and power the camera off between them. The camera is now able to recover more quickly between short bursts, for effectively faster cooldown time.
However, the firmware has no consistent effect on increasing overall recording duration for continuous video shooting – and it does not consistently improve recovery time when used in this manner.
We did not empirically measure the impact of shooting stills on record times using a camera with the original firmware, so we cannot say to what degree (if any) its effect has been improved with version 1.1.0. We can confirm, though, that taking photographs still has the effect of reducing video record times – most prominently, when the camera has reached its recording limit and is trying to recover.
While this firmware update does not produce a night and day difference in the R5's performance, it provides important improvements in certain circumstances. And it makes us optimistic that further improvements can be achieved via further firmware fixes – and for the Canon EOS R6, too.
Read more:
Canon EOS R5 review
Canon EOS R6 review
The best Canon camera: Canon's DSLR, mirrorless and compact cameras