Wordsearches are a new feature of Digital Camera World, but in these extraordinary times we realize that many of us are just looking for things to keep our minds occupied and entertained. In fact, we know that puzzle books of all types have been selling like the proverbial hotcakes over the last couple of weeks, so we thought we would provide something of our own to challenge your powers of observation and patience.
• Read more: 20 famous photographers you should follow on Instagram
Our Wordsearch contains 15 famous photographers for you to find hidden in our grid of seemingly random letters. But so that things are not too easy for you.
- the names may be written forwards or backwards
- could be written horizontally, vertically or diagonally
- and we are not going to tell you which photographers surnames you have to find (but you will find most in our 50 best photographers ever list - and they all top names in the long history of photography.
You can try doing this on screen, but you may well find it easier if you print it out (these are the best all-in-on printers, should you need one!)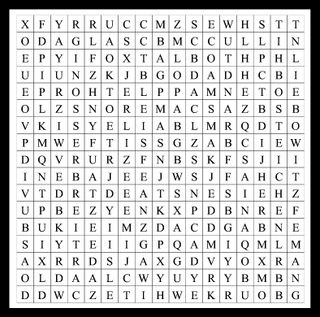 • Try our Wordsearch #1: lens manufacturers
• Have you tried our Photo Quiz?
We will be bringing you more wordsearches and quizzes over the coming days and weeks, to help you to pass the time – alongside our mix of home photo projects, photo editing courses, DIY hacks, and listicles.
Other things to amuse you during lockdown
• 11 fantastic photo projects to try indoors
• 44 tips cards for photographers
• 100 quotes about photography by famous photographers