Is it possible to photograph stars, comets and the Milky Way with a smartphone? The answer is yes, but it's not that simple. How you go about it – and which of the best camera phones you choose – is all-important if you're to make a stellar success of it.
Here's everything you need to know about 'astrophoneography'.
Can you use a smartphone for astrophotography?
You can, but it does depend on what you're trying to do. For starters, let's define 'astrophotography.' Technically speaking, astrophotography refers to close-up shots of celestial objects, such as galaxies and nebula, mostly by using CCD cameras strapped to telescopes. That's not what we're talking about here – although there is one scenario where you can use a smartphone with a telescope (see below).
What some of the newer smartphones can do reasonably well is take 'nightscape' photos. Think landscape photography taken in low (or no) light, with stars and perhaps the Milky Way in the background. Such imagery demands long exposures and noise-free sensors that, until recently, smartphones have not been able to offer. Until now, DSLR and mirrorless cameras have been the best cameras for astrophotography.
However, the technology is changing fast and it is now possible to take some impressive photos of stars, comets and the Milky Way using some smartphones.
Best phones for astrophotography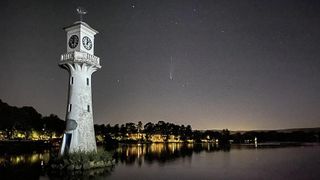 We're now seeing software catch-up with sensor technology to produce smartphone cameras that can cope with really low-light levels. Not surprisingly, it's the latest smartphones that have both the best sensors and the best software, so reckon on the
• Apple iPhone 11 Pro,
• Google Pixel 4 XL,
• Huawei P40 Pro,
• Samsung Galaxy S20 Ultra 5G and
• Xiaomi Mi Note 10.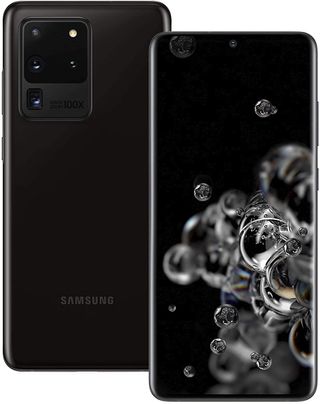 Smartphone camera-makers currently have an obsession with low-light photography, which has obvious benefits to taken nightscapes. These flagship phones have special 'night modes' that combine ever-better sensors with new kinds of computational photography. For example, 'night mode' on the Huawei P40 Pro and the iPhone 11 Pro allows up to nine seconds of exposure.
Making manual tweaks to ISO and exposure time is possible, though the built-in 'night modes' tend to be best at pulling-out the most detail while suppressing noise reasonably well. Some can also take multiple images using different settings to stack together.
Best apps for photographing the night sky
However, any phone is usable at night if you have camera apps such as
• Camera+ 2 (iOS),
• ProCamera (iOS) and
• ProCam X (Android),
all of which allow you to have full control over the phone's exposure, ISO and focusing. They also save image files in raw formats for easier post-processing.
What extra equipment do you need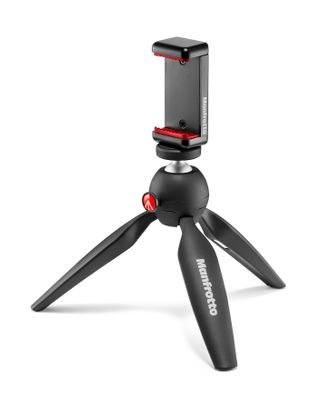 At least a small phone tripod attached to a phone holder. Without those two things, your results are going to be poor. Don't even be tempted to do a hand-held shot of the night sky; although the result will initially wow you on the phones screen, blow-up that image when you're back home and it's going to look jumpy, jerky and super-soft. Don't bother. Instead, put your smartphone in some kind of holder and attach it to a small tripod.
If you've got a holder on a selfie stick that has a tripod notch in its base, use that to get some extra height. Or else use a full-size tripod.
• The best tripods for iPhones and other smartphones
How to take the shot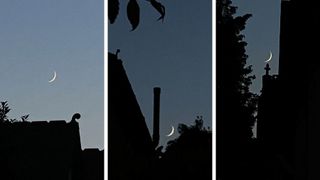 Your phone is going to be either taking long-exposure photographs or taking shorter exposures and combining them. Either way, this is a different ball-game to when you shoot pictures during daylight; stability is everything.
So is focus, and this is where most camera phones struggle in the dark because there's nothing to focus on. By far the easiest way to get a sharp focus on stars is to autofocus your smartphone's camera on something lit-up about 30 metres away – maybe a street light, or a lit-up building. It doesn't need to be within your composition; it could be something behind you. Focus on it by touching the screen, and lock your focus, usually by a long press.
Using a smartphone with a telescope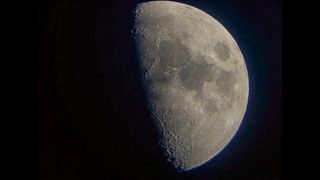 There is one scenario whereby you can use a smartphone to take a great picture of a celestial object, and that's the Moon. Point any small telescope at the Moon and you can then put any smartphone on the eyepiece and take a photo of our satellite in space. A really impressive photo, too! Lining-up takes a while, but pressing the smartphone's touchscreen is enough to focus on the Moon. What's more, this applies to absolutely any smartphone and not just the latest handsets from the likes of Apple, Samsung and Huawei.
• The best telescopes for astrophotography
Using a smartphone with mounted binoculars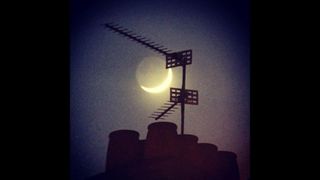 Zoom is one thing that smartphones lack, but any pair of binoculars can be used to get in a lot closer. With a pair of binoculars on a tripod – which may require a mounting bracket – all you have to do is place a smartphone's camera optics over the eyepiece. It will need nudging and it does require patience, but it can work well enough for basic, even arty, Moon shots.
• The best binoculars for astrophotography, nature and more
Reasons not to photograph the night sky with a smartphone
Although the latest smartphones can technically take photos of the night sky, don't believe all of the bluster the manufactures tell you. I've been cockily shown many images of the northern lights, of star fields and even of the Milky Way by several brands that left me cold.
Compared to what phones could do a few years ago, the results are impressive. Compared to what is possible to achieve with a full-frame DSLR or full-frame mirrorless camera, they're often unimpressive. The main problem is noise; despite better sensors and new kind of computational photography software the images you can create are good enough only for sharing on social media.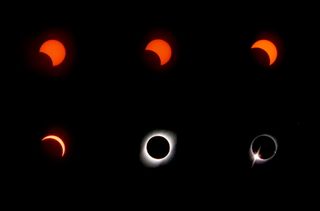 Here's an example direct from Samsung, which aims to persuade us that its Galaxy S10+ can be used to take images of a total solar eclipse. Compared to what's possible using a DSLR or mirrorless camera, the images and blurred, noisy and second-rate. But for a phone, they're really really good.
Night photography used to mean lugging around a big camera, a tripod and other accessories. With either the right handset, or the right accessories, it is now possible to create some usable images of the night sky using very limited equipment. However, if you really want to impress with your astrophotography, you're still going to need a bigger camera.
So why bother with a smartphone for astrophotography? It's because night sky photography often involves long exposures over long periods – perhaps for a star-trail. In that scenario, having a second, pocket-sized astrophotography rig to amuse you will make you thank your lucky stars.
Read more
• The best lenses for astrophotography
• The best camera and gear for shooting the night sky
• Best light pollution filters
• The best telescopes for astrophotography
• The best binoculars