Your computer has a built-in mic, but the quality that it captures will probably sound flat and tinny. If you want to boost your presence in a Zoom meeting or capture professional sounding voice-overs for your YouTube channel then it's well worth investing in a USB microphone.
USB microphones are 'plug and play' devices that enable you to record (or live stream) clean, clear and full-bodied audio on your Mac or PC. Although you may not need to spend time downloading drivers to get a USB mic to talk to your computer you will need to go to its Settings menu and select the attached mic.
The USB mic's audio input will then replace the inferior sound quality captured by your computer's built-in mic. It's not just that in-built mics are inferior quality. Your computer's built-in mic will be also picking up unwanted ambient sounds such as your voice echoing from the office walls or the whirr of your PC's cooling fan.
Most of the USB mics featured in this buying guide have a selection of polar patterns (areas of sensitivity) to suit your recording needs and reduce unwanted ambient sound in your recordings.
For example, if you simply want to talk into the mic (for a voice-over ,perhaps) then setting the mic's polar pattern to cardiod causes the mic to be sensitive to sound from directly in front of it, whilst ignoring unwanted sounds from the sides and rear. This selective sensitivity leads to a cleaner sounding audio track.
However, if you need to interview someone on the opposite side of the mic then you can switch to a bi-directional setting to pick up both your voice and that of the interviewee.
An omni-directional polar pattern will pick up audio from a 360º sound field, making it useful for recording live music or ambient audio for your video editing software's sound effects library.
The USB mics featured our buying guide have a range of features and prices but any of them will significantly improve the quality of the sound recordings or live-streaming audio broadcasts that you make on your computer.
Best USB microphones in 2023
Why you can trust Digital Camera World Our expert reviewers spend hours testing and comparing products and services so you can choose the best for you. Find out how we test.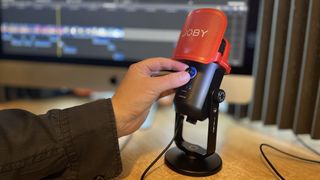 This is a budget alternative to the similar but well-established Blue Yeti USB mic that's already popular with podcasters and voice-over artists. It has fewer polar patterns than the Yeti but it will capture great sound if you're podcasting via the front of the mic on the cardioid setting. A detachable orange pop shield adds a splash of colour (if you need to show off the mic via YouTube) and it helps soften audio bangs caused by plosive consonants. A handy multi-function knob adjusts headphone volume or the strength of your input sound levels. Great value for money.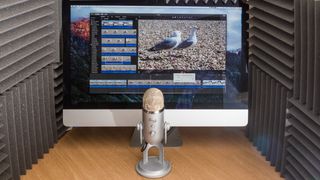 One of the most well known USB microphones worldwide, the Blue Microphones Yeti is also one of the best. Its solid construction and sturdy base make it a mainstay in home studios or on location for streamers and musos alike. Inside, the three capsule array allows users to choose from four different polar patterns, to record everything from an entire room, to just two people having a conversation. Its big, tactile buttons and switches make it easy to use, and the no-latency headphone output means musicians can have a foldback without the delay associated with running through a DAW (digital audio workstation).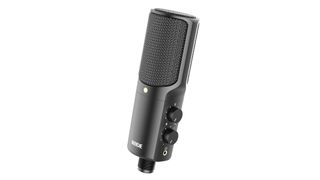 With a noticeable frequency response peak at around 4kHz, the NT-USB is most suited to vocals, but will also extend to other instruments of comparable tone such as guitar and piano. A single USB connection provides both power and connection to recording devices also compatible with Apple iPad (with compatible hardware). The Rode NT-USB comes with some useful accessories, including a pop shield, ring mount, tripod desk stand, storage pouch, and impressively long 6m USB cable. A two year extended warranty denotes what Rode is known for – reliability in the long-term. Simple control knobs on the side for input gain and headphone volume control combined with sleek aesthetic makes for a gorgeous USB microphone.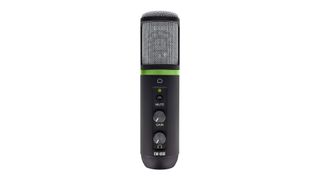 Another pro audio giant, Mackie has been running for several decades and provides a range of USB microphones, but at this price point Mackie has hit a home run. Its Built-Like-a-Tank trademark means this mic should be recording for eons, and comes with a whole host of additional software and DSP plug-ins including compressors, limiters, equalisers, and much more. Unfortunately, the headphone monitoring does suffer from some latency which might be off-putting for musicians or those who don't like delay in their foldback. But it does feature independent volume and gain control and includes an instant mute button.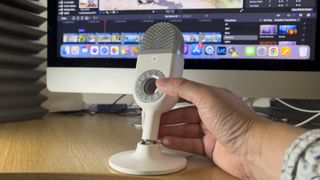 Standing at approx 17.5, cm the Wave U1 is around half the height of the established Blue Yeti, making it perfect for discreet Zoom calls where the mic is out of sight (instead of poking up into your PC camera's field of view). It's easy to transport as a portable field recorder that you can attach to an Android smartphone via the USB-C to USB-A adaptor. The Wave U1 has an eye-catching shape, with an audio input level dial surrounding a hollow center. Despite its small stature (and budget price), it produces a strong rich sound that won't require any post-production boosting to give it more impact.
See also our guide to the best budget microphones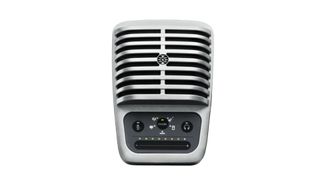 A vintage-style USB microphone this one will appeal to hipsters and traditionalists alike. Don't be fooled by its ancient looks, though, as it comes equipped with some contemporary on-board DSPs for controlling different audio inputs such as Speech, Singing, Flat, Acoustic Instrument, and Loud options all operated via the touch buttons on the front. It has automatic adjustment for gain, EQ, and dynamic range control, and even features a built-in kickstand for quick and easy setup anywhere, anytime. A little pricier than others, but with the Shure sound quality and elegant design it should perform perfectly for singer songwriters or podcasters alike. 24-bit depth also improves dynamic range recording and multiple polar patterns mean it's versatile in a number of situations.
Read more:
• Best microphones (all types)
• Best XLR microphones
• Best boom arms for microphones
• Best iPhone microphones