The Google Pixel 4 XL is a big-screened, notch-free phone with dual-camera and stargazing credentials – but at a cost of £829 / $899 for the 64GB version, is Google taking the biscuit? The short answer is yes, but there's obviously more to it than that. And besides, it's still the best Android camera for a certain type of photographer.
It's a quirky, handsome phone to look at, with the matte-glass backs of the white and orange versions playing off nicely against the squircle camera surround, and repelling fingerprints like two magnets with the same polarity. It always looks flawless from the back, and that really can't be overstated.
Its camera also sees a new 2x zoom telephoto module added (when compared to last year's Pixels) and the 6.3-inch OLED screen is sharp and smooth, with a 90Hz refresh rate, as found on the OnePlus 7T. Stock Android has never scrolled this smoothly.
However, when even Apple is loading up its latest flagship with three cameras and updating its entire line of 2019 iPhones with night mode, is Google resting on its laurels by not including an ultra-wide camera?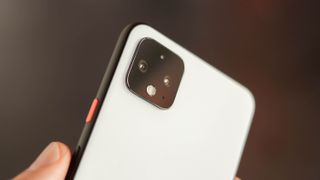 Key features
The Google Pixel 4 XL's primary camera features a 12MP 1/2.55 sensor with 1.4µm pixels, dual-pixel and phase detection autofocus, as well as OIS and a 28mm focal length. All those numbers are identical to the Google Pixel 3, but this time the camera's aperture is f/1.7 versus f/1.8 on last year's model; hardly earth-shattering, but then Google has always been about the software.
More substantially, the Pixel 4 XL now features a 16MP secondary camera with an f/2.4 aperture and a 45mm focal length, equating to a roughly 1.6x zoom, though you'll see this being rounded up to 2x in much of the coverage surrounding the phone launch.
Google keeps things simple with its Pixel camera interfaces for the most part; shooting modes consist of Night Sight, Portrait, Camera, Video, Panorama, PhotoSphere, Slow Motion, Time Lapse, Playground (AR effects) and Google Lens (Google's visual assistant).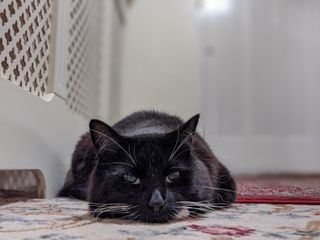 More innovative is the option to separate highlights and shadows when manipulating the exposure slider within your viewfinder. This can be a fantastic tool when you want to slightly ramp up the lowlights, though don't get too trigger happy with it or noise creeps in.
Swipe down in the camera interface to toggle options like a self-timer and access the camera's settings. Here, you can access a range of options such like framing hints, which help you frame shots, telling you to raise the camera when taking a selfie and so on. The Pixel can also recognize frequent faces, show a dirty lens warning, and shoot RAW+JPEG.
Photos are captured at 12MP by default, and video is shot at 4K from the rear camera. This year, the Pixel's selfie camera has been demoted; for starters there's only one, and it's also fixed focus.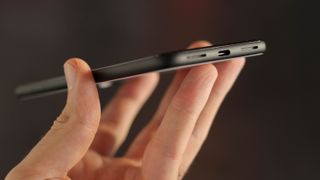 Google Pixel 4 XL image quality
In automatic mode, the Pixel 4 XL does a fantastic job at acting as your always on-hand photography companion. In good lighting it captures punchy images that still pack balance, as well as plenty of detail when compared to the competition. It's similar to the Pixel 3, though not identical, with color balance in some shots looking a bit pinker. It isn't bad, it's just a characteristic of the 4 XL at the time of writing.
The addition of the lowlights exposure slider is welcome, supplementing the touch metering of the core UI nicely. Compared to the iPhone 11 Pro Max the Pixel exposed scenes a little darker, thereby creating a more realistic image most of the time – even if it wasn't always as well lit or as high-impact.
The Google Pixel 4 XL's dynamic range is exceptional; it always has been on the Pixel line, with the 4-series doing a particularly good job of evening out extreme highlights. However, when the lights go down, the Pixel 4 is a noisier phone than its key competition. Some photographers will actually like this, as it illustrates less noise reduction and more room for maneuver in Lightroom if you plan on editing your shots. Happy snappers, though, will likely prefer darks captured on an iPhone 11.
Speaking of nighttime photography, the new Astro mode is without a doubt the biggest selling point of the latest Pixel's camera,– especially given the fact that it's missing an ultra-wide lens. This holds the shutter open for in excess of four minutes to grab incomparable detail from night skies, provided that the camera is being held perfectly still.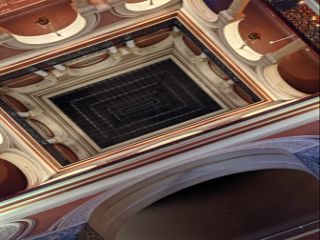 This mode isn't selectable, though; to activate it, you have to launch Night Sight, then get the camera stationary before hitting the shutter release. We used a self-timer and it worked well, though we wish there was a way to manually fire the feature up – a toggle in Night Mode, for example, to make it more obvious.
To actually see galaxies, you need a perfectly clear sky – something we sadly didn't have in London in our time with the phone. Having said that, as you can see from the examples below, it does still deliver a sensational image despite the almost pitch-black backdrop.
Now that the iPhone can capture long exposures, too, it's in the same league as the Pixel 4s. Its handheld night shots produce less noise and its colors are also truer to life in the dark. So while for Astrophotography specifically we'd pick the Pixel, we're not sure we would for standard night shots any more.
Onto Portrait mode, the Pixel 4 XL shoots both inanimate objects and people alike with soft backgrounds that are a bit more pronounced than those shot on an iPhone. That the Pixel 4 XL captures both a defocused and standard shot is a boon, giving you flexibility after the beat.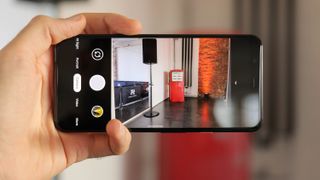 While the new 8MP Pixel 4 XL selfie camera with fixed focus lens is a downgrade on paper, it still performs very well and captures flattering shots. Packing its own night mode, it's also the best front camera we've used in low light conditions when a flash is out of the question. Having said that, its video is capped at 1080p.
Speaking of video, this is one area in which the latest Pixel definitely doesn't shine. Both the Samsung Galaxy Note 10 Plus and the iPhone 11 Pro give you video capture across the ultra-wide and telephoto cameras, and 4K selfie capture too.
We really miss the having an ultra-wide camera when using the Pixel 4 XL, there's no getting around it. It's never our most used camera, but looking through our samples from other phones we use it about 15-20% of the time, which makes its absence felt.
Google still has one of the best camera phones around in its latest Pixel. That said, when you consider the fact that its video capture falls behind the key competition, and it isn't as versatile with no ultra-wide third camera, calling the Pixel 4-series the best camera phone is anything but a no brainer.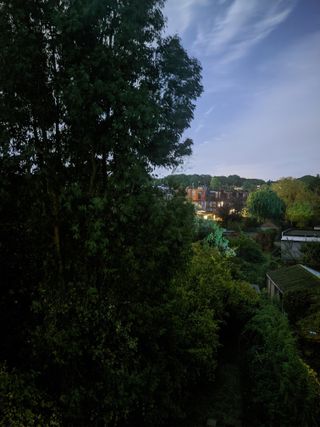 Google Pixel 4 XL battery, OS and connections
If you're going to get a Google Pixel 4, get an XL. Its battery lasts a full day with regular use, thanks to its 3800mAh capacity, unlike the standard Google Pixel 4 that dies by about 5pm. With support for 18W fast charging, it powers up relatively quickly and there's also 11W fast wireless charging. Not quite the 15W of the Note 10 Plus, but it's still speedier than most.
Running Android 10 it's future-proofed, and with new secure face unlocking its biometrics have seen an Apple-tastic overhaul, ditching the fingerprint scanner just like the iPhone XS.
Despite being accurate and getting you into your new Pixel quickly, at the time of this review it even unlocks your phone if your eyes are closed – something that Apple's Face ID and the Huawei Mate 30 Pro's face unlocking don't do. The security implications of this are far-reaching, and Google is working on a fix.
There's fantastic app support, too, and the interface looks slick with the display's 90Hz refresh rate. We had a couple of freezes in our time with the phone, requiring a reset, though Google did flag that we were using early software. The phone also got warm, though not disconcertingly so like the standard Pixel 4 did on occasion.
Our main issue with performance was in the camera app, though. Frequently, when we came to review the last picture we took, it would show us an older picture. This happened about 20 times and was incredibly frustrating, and it also happens on our Pixel 3, so we're less inclined to chalk it down to early software.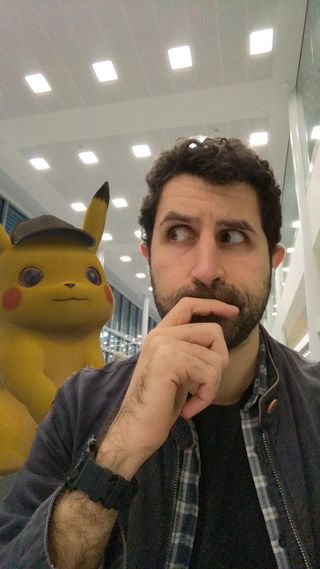 More frustratingly, in just over a week with the phone, we've taken over 20GB of photos and videos and have filled up its internal storage. At £829 for a 64GB version in the UK, it's as if Google doesn't want you to capture content freely; the fact that the Pixel 4 is also the first of its series to ditch the free full-resolution backups feature is another black mark against the value proposition here. Instead, there's three months of Google One cloud storage… after which you have to pay £1.59 a month or £15.99 a year for 100GB.
Meanwhile, the Snapdragon 855 processor combined with 6GB RAM is good, but isn't class-leading. Despite this, it powers the Google experiences well and there are some great software flourishes here. The recording app, for example, can capture live transcription that is incredibly accurate. The front sensors can detect motion around the Pixel, pulsing the screen on. This motion-sensing also enables an interactive Pokémon wallpaper that is adorable, if you're a Poke-fan.
Additionally, if music is playing the phone identifies the track on your lock screen (just like last year's Pixels) and the squeezy sides are back if you want to wake Google Assistant without your voice. These are all thoughtful touches that help ease the sting of the phone's price.
With other phones like the OnePlus 7T costing £549 ($706), packing three cameras, a 90Hz display, more power and 128GB storage, though – not to mention the fantastic value Xiaomi Mi 9T Pro – there are other options that offer better value for money.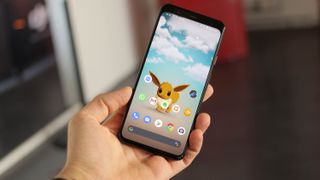 Verdict
We loved reviewing the Google Pixel 4 XL – it looks great, runs stock Android 10 (the latest version of Google's operating system) and does a fantastic job when it comes to taking stunning pictures time after time. Is it the best Android camera phone around? If you're only talking about the primary camera, yes, absolutely. Is it perfect? Definitely not.
For starters, if we've filled up the 64GB version in just over a week, we'd obviously recommend the 128GB version to most, which costs £929 / $999. That's significantly more than a 128GB iPhone 11 (£779 / $699), though less than an iPhone 11 Pro (64GB for £1,049 / $999).
That said, the Pixel's main competition this year comes in the form of Android phones from OnePlus, Samsung and Huawei – with the P30 Pro still delivering class-leading zoom, the OnePlus 7T and 7T Pro offering much more for less, and the Galaxy Note 10 Plus charging a bit more and outclassing it in almost every way.
Read more:
The best camera phone in 2019: which is the best smartphone for photography?
Google Pixel 3a review
Apple iPhone 11 Pro Max review