Watch video: 5 essential apps for photographers
The best camera phones aren't just good for taking photos – their apps have dramatically changed photography workflows. You can edit, transfer and upload raw images without ever touching a laptop or computer. Some photography apps are so complex that they even rival their full-fat computer counterparts, but it's very often the simplest apps we find ourselves returning to time and again.
The five apps listed here aren't particularly complex, nor will they push your device to its limits. Several of them have precious few features – and that's exactly what makes them so useful. These are the best camera apps you instinctively pull from your pocket and quickly refer to before going about your photography business. They're the software equivalent of an L-bracket or tripod spikes, understated but infinitely useful.
Long Exposure Calculator instantly calculates what shutter speed you need when using 1- to 24-stop ND filters. Pocket Bubble Level turns your smart device into a real-time working bubble level. My Tide Times allows you to research tidal information in over 40 countries. Clear Outside provides a wealth of weather information for the coming days. And Snapseed is a functional image editor with a streamlined interface that's extremely easy to use. Best of all, each app is free to download and use.
5 essential apps for photographers
1. Long Exposure Calculator
You can spend time calculating in your head what shutter speed you need when working with a neutral density filter, or you can simply open Long Exposure Calculator, input the strength of filter you're using and your base shutter speed, and you're good to go. Get it on iOS.
2. Pocket Bubble Level
It doesn't get much simpler than this. Bubble Level features one bull's eye and two tubular levels. It's extremely useful if your tripod or head doesn't have a bubble level or if you're aligning props. The app is free to download, but for 99p you can remove the adverts. Get it on iOS. Get it on Android.
3. My Tide Times
It's important to know tide times in order to capture seascapes successfully and safely. This app maps out tidal spots across 40 countries and contains a plethora of info, including times and depths for low and high tide, and even predicts conditions in advance. Get it on iOS. Get it on Android.
4. Clear Outside
This weather app is built for astronomers, but its seven-day forecast is useful for outside photography, and astrophotography in particular. Information includes cloud cover, sun and moon rise/set times, and times for civil / nautical / astronomical twilight. Get it on iOS. Get it on Android.
5. Snapseed
Snapseed is owned by Google. It's a free, no-frills editing app that's delightfully simple to use. It comes with a variety of Looks, which instantly transform an image (much like a filter) and has all the tools required to perform a base edit including highlights, shadows and contrast. It also has some more advanced features, such as double exposure, healing and selection tools. Get it on iOS. Get it on Android.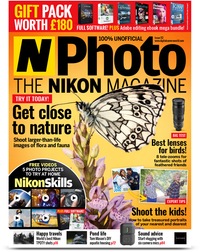 N-Photo: The Nikon Magazine is a monthly publication that's entirely dedicated to Nikon users. For the best news, reviews, projects and more, subscribe to N-Photo today!
Read more:
Best camera apps for iPhone and Android
The best phone cases
Best budget camera phone