Once thought of as just an app for teenagers posting dance videos, TikTok has quickly exploded into a cultural phenomenon. Not only is the algorithm able to uncannily predict exactly what content you'd like to see, but it's also capable of boosting smaller creators' videos in a way that other social media platforms don't.
Last Wednesday, I had around 50 followers and six videos up on my TikTok account @fablesandlouise. To be honest, I was really only using TikTok to edit videos so that I could post them on my Instagram, as the Instagram Reels functionality just isn't as good as TikTok's. However, much to my surprise, it completely blew up over the weekend.
• Read more: TikTok lights • Best camera for TikTok
At the time of writing, this video has had 148,200 views, 55,500 likes, 1,349 comments and 1,353 shares. And for the cherry on top, I've also gained about 3,980 TikTok followers as well. This proves how one well-planned and well-executed video can give you an incredible social media boost (I've even gained a few followers on Instagram from the success as well).
While I'm no social media expert, I have identified four things that may have helped my video go viral – and I've explained how you can utilize them for your own content too.
Go viral on TikTok: Find a niche
Yes, this is the standard social media advice – but that's because it's very true. The more niche your content is, the more likely it is you'll be able to reach your intended audience. Try to avoid jumping from niche to niche, as this means that users won't have a reason to follow you. My account's niche is classic literature paired with beautiful aesthetics, so I used a shot of me running through Castle Combe, Wiltshire, UK and did a voiceover of a quote from Emily Brontë's Wuthering Heights.
Period fashion, art and literature is very popular on TikTok, so I believe that this helped to contribute to the video's success. Castle Combe is also a beautiful photo hotspot that helped drive user interest in the video – I had multiple comments asking where I'd shot it (and the more comments the video receives, the more TikTok's algorithm will push it out to other people).
There are plenty of niches that you can explore – you can even create your own! The most important thing is that it's a genuine passion and that it's something that you can sustain over a long time. Truthfully, I already know that I've made a mistake with my niche, as I simply don't have the time to regularly shoot similar content. So, try to come up with a clear, simple concept that you can repeat without too much trouble.
Go viral on TikTok: Consider your sound
Before this video went viral, I had never considered how important sound is on TikTok. While I knew that TikTok relies heavily on viral sounds, I didn't know how I could wield that for myself. I designed my audio to sound pleasant, but didn't put any other thought into it.
However, I believe that one of the reasons my video was so popular was because of its sound. The quote that I used is one of the best known quotes from Wuthering Heights. This meant that those who knew the book would instantly recognize it, which increases the chance of engagement.
I didn't just use a voiceover though – I also used a popular audio of a slowed down version of 'Another Love' by Tom Odell from the TikTok account @creepyslowedaudios. Using a trending audio can help increase the possibility of getting onto the #ForYou page.
One of my earliest comments asked if I could make this video into a sound (this is done by downloading your finished video from TikTok and re-uploading it). This meant that other users could use my sound for their own videos, which is essentially free advertisement for my original video and account. At the time of writing, there are currently 25 video that are using my original sound. If you can create a sound that other users will want to incorporate into their own videos, then this might help boost your chances of success.
Go viral on TikTok: Don't sweat the views
This might sound contradictory, but hear me out. Social media success always involves a certain amount of luck, no matter what platform you're on. Never post a video expecting viral success, as you could very well just end up disappointed. Instead, see your account as a portfolio designed to argue why someone should click the follow button. That way, if one of your videos does go viral, users can look through your past posts to see whether you're worth following or not.
In all honesty, I wish I'd had more videos up before my video went viral. I'd only recently stumbled upon the idea of doing classic literatures voiceovers with my own self-shot visuals, so there wasn't a very big 'portfolio' for users to scroll through. If I'd had a few more videos for people to watch, perhaps I would have gained more followers than I did!
This is how I treated my Instagram account as well – I focused on building up a portfolio of images that showed users what they could expect if they decided to follow me. That way, not only am I prepared if something becomes popular, but I'm also not left disappointed if I don't get the success I was hoping for.
Go viral on TikTok: Plan for engagement
I've identified a few different things that drove engagement for my video. As previously mentioned, the beautiful location and the audio were both mentioned in comments. Other recurring themes within the comment section were discussions about Wuthering Heights and the fact that the quote I'd used was also featured in a young adult romance book series called After.
I couldn't have predicted the ways that this video seemed to resonate with some of the viewers – for example, I had never heard of the book series After before my comment section was filled with people talking about it. However, what I can do is analyze the themes to figure out how I can try and replicate this success in the future. I now know that I'll be trying to source book quotes that are particularly emotive and that I'll be pairing them with dramatic visuals in beautiful locations.
While I'll be using data from my own video to help replicate my success, there's no reason why you can't draw your own conclusions from researching TikTok trends. Spend an hour or so each day scrolling through TikTok and examine what users are responding to. Look at content creators you admire and look at their comment section to see what it is that makes their videos popular.
A disclaimer
At the end of the day, I've only had one video go viral, so I'm certainly no expert. However, there are huge creators out there who are giving away amazing amounts of information for free (one of my favorites is @socialfeed). If you're truly invested in growing your social platform, the best thing you can do is do your own research.
Want to see more images from this shoot? I shot this content with N-Photo magazine – so make sure to pick up a copy of N-Photo 122 to see more!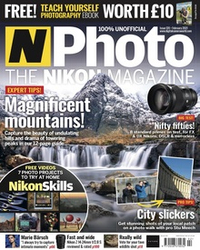 N-Photo is 100% Nikon-devoted, and 100% editorially independent. If you're a Nikon owner and want to improve your images, get the best buying advice and reviews, see some of the world's best Nikon photography, N-Photo is the title for you.
Read more
How to get TikTok famous
Best camera phone
Best iPhone tripod
This smartphone hack for making TikTok videos will blow your mind!
Will Instagram Reels topple TikTok? Well, it depends…
8 tips for using TikTok to promote your photography