After being delayed by a year due to you-know-what, the Olympic Games are finally here – and so are the three latest flagship sports cameras from the big three manufacturers, which have been sent to Tokyo to capture all the action.
Professional sports cameras are released in Olympic cycles, so it's no coincidence that the Canon EOS-1D X Mark III, Sony A9 II and Nikon D6 were all released last year, in time for the original Tokyo 2020 start date.
• Read more: Best professional cameras
We have used all three bodies extensively to shoot sport, stills and video in equal measure – so we've pitted these three titans head-to-head-to-head in our own Olympic shootout.
Which camera will take the gold in each of the all-important categories, and which will go home as the official champion? Read on, get ready to wave your flags and find out!
Sensor resolution
Gold: Sony
Silver: Nikon
Bronze: Canon
In terms of raw resolution, the Sony A9 II takes the top of the podium with its 24.2MP image sensor, followed by the Nikon D6 at 20.8MP and the Canon EOS-1D X Mark III in third with 20.1MP.
What's interesting is that, while the A9 II and D6 both share the same sensor resolution as their predecessors, the 1D X Mark III's brand new sensor actually has slightly lower resolution than the one in the Mark II, which is 20.2MP.
Many have questioned why Sony's rivals haven't returned with a 24MP sensor of their own. Canon told us that 20MP is the "sweet spot" for optical performance – and also claimed that its redesigned low-pass filter, with quadruple the subsampling, actually resolves images as sharply as a 24MP sensor.
Our lab tests don't quite bear that out, but it's interesting to hear the strategies of the various manufacturers. Regardless, Sony clearly takes the gold in this round.
ISO sensitivity
Gold: Nikon
Silver: Canon
Bronze: Sony
It's another runaway winner in the ISO contest. While the 1D X III and D6 both possess the same standard range of ISO100-102,400, the Canon is expandable to ISO50-819,200 while the Nikon goes all the way to ISO50-3,280,000. Yes, the D6 has a maximum ISO of 3.28 million!
Obviously images taken at that sensitivity are going to resemble a being inside a magenta snowstorm. However, if you're a photojournalist, undercover reporter or war correspondent who might have to capture a shot that's about the moment (not the image quality), then having four times the ISO will make all the difference.
The A9 II places a distant third with its 100-51,200 ISO range (expandable to 50-204,800) which, while still respectable, is clearly no match for its DSLR rivals.
• Read more: The 10 highest-resolution cameras
Autofocus performance
Gold: Canon
Silver: Sony
Bronze: Nikon
This is one of the most closely contested categories, as both the Canon 1D X Mark III and Sony A9 II have truly phenomenal autofocus systems. However, there's no doubt about it in the eyes of the DCW judges: Canon's flagship is a cut above – and, shockingly, Nikon's flagship falls distinctly short.
As fast and as accurate as Sony's AF tech may be, it doesn't have the intelligence of Canon's AI-powered system. Much has been made about the Deep Learning algorithm that drives the 1D X III's autofocus (featuring 191 points AF points optically and 3,869 Dual Pixel positions in Live View), but it's a bit like The Matrix – you can't simply be told what it is, you have to experience it for yourself to understand it.
The intelligent head tracking enables Canon's camera to recognize the shape of a human being and make the head the point of focus for any image featuring a human subject – regardless of whether it is turned the other way or even completely obscured by a helmet or other apparatus. It will even prioritize the head if it's the only thing visible, such as the helmet of a driver in an Formula One car.
• Read more: What is Deep Learning AF?
That said, Canon's champion doesn't have a dedicated animal autofocus mode while Sony's does. The 1D X Mark III does a good job of focusing on many animal species, but the A9 II (with its hybrid 693-point phase detect / 425-point contrast system) definitely has the advantage if your primary subjects have the body and head structures of wildlife. It's worth mentioning, though, that Canon has suggested that further Deep Learning AF algorithms (such as for animal tracking), could be made available via firmware.
While both cameras perform brilliantly in both stills and video, it's in the latter area that the Nikon D6 truly lets itself down. While the stills autofocus system is quite formidable, with 105 cross-type phase detect AF points and a new engine, for video it's quite another story. That's because the D6 is limited to lowly contrast detect AF when shooting in Live View – and the result is quite pronounced.
We found that video shooting with the D6 suffered from pulsing, hunting and erratic shifts in focus, whether in subject tracking (which would jump between different players, and even the ball) or face detect (where faces were often not recognized, or even picked up in scenery). If you've ever wrestled with the contrast AF systems of the Panasonic GH5 or Panasonic S1H, you'll know what we mean.
Continuous shooting speed
Gold: Canon
Silver: Sony
Bronze: Nikon
For professional sports cameras, the frames per second is where the rubber meets the road (literally, if you're shooting motorsports!). When you're shooting fast action that takes place in the split seconds between split seconds, you need the fastest shooting rate possible.
While the Canon and Sony both share the same blistering 20fps speed when shooting electronically, the 1D X Mark III still reaches 16fps using the mechanical shutter while the A9 II maxes out at 10fps.
This obviously means that, in situations where rolling shutter or banding are likely to be an issue, the Canon has the clear advantage. So if you want to maintain the top shooting speeds in all environments and lighting conditions, the 1D X III is undoubtedly the king.
It should be noted that while the Nikon D6 can 'only' muster a top speed of 14 frames per second, that is still plenty fast enough for shooting fast-moving sports!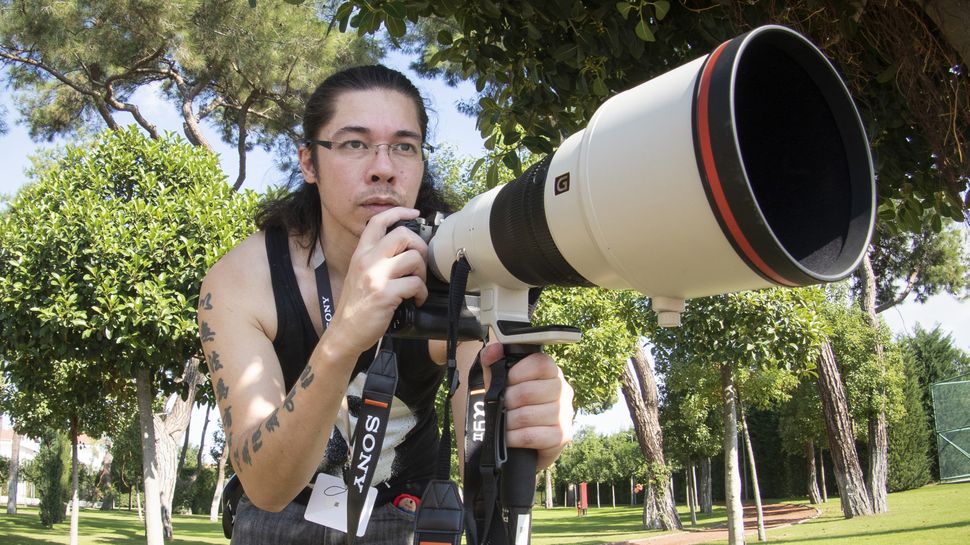 Connectivity
Gold: Sony
Silver: Nikon
Bronze: Canon
For working professionals, this category is every bit as vital as any other on this list. Whether you're covering the Olympics, a regular season NBA game or lower league soccer, it doesn't matter how great your shots are – if you can't get the files from your camera to your editor or picture agency as fast as possible, someone else's shots will be used for the story.
Remember, a pro environment isn't like your casual Sunday afternoon shoot, where you have a leisurely coffee while you put your card in your reader, then patiently upload from your laptop to the cloud using your comfy home broadband.
Professional shooters need to send images directly from their cameras using FTPs and file servers, often in the middle of a stadium or on the side of a race track with no internet infrastructure.
All three cameras have Wi-Fi and Bluetooth, though Canon has shortchanged the 1D X III by limiting it to 2.4GHz Wi-Fi; to achieve the essential 5GHz communication, you need to purchase the separate Canon WFT-E9 Wi-Fi module. A very curious decision, given that the Mark III is technologically so far ahead of its rivals in most respects.
The three bodies also possess crucial 1000BASE-T gigabit ethernet support, so it's down to the software and interfaces that drive the common technologies. While the D6 has some very clever tricks, such as the ability to prioritize the most important files in your uploads (so, for example, if you're uploading 100 files but the killer shot is halfway down the list, you can shunt it to the top to that your editor receives it first), the A9 II has some truly inspired ones.
The fact that the Sony can save up to 20 FTP settings is a godsend for professionals working for multiple agencies, enabling them to send files to clients without having to keep changing and re-entering server info all the time.
Further streamlining the pro workflow is the voice tagging feature, which enables you to attach audio descriptions with files (providing caption data, such as player names, numbers, stats, locations, date and so on). While the Canon and Nikon also offer this, somebody still has to physically listen to and transcribe them; Sony's companion app has a Transfer & Tagging function that automatically transcribes your audio into a text caption – invaluable to picture editors and agencies!
Video
Gold: Canon
Silver: Sony
Bronze: Nikon
While Canon knowingly let its video capabilities fall behind the times in recent years (which, cynics would say, was a deliberate decision so as not to cannibalize its Cinema EOS lineup), the 1D X Mark III represents the company coming out guns blazing to snatch the crown back.
The DSLR flagship shows absolutely no mercy in the video stakes, with full-width internal 12-bit 4K RAW recording at 5,472 x 2,886 (oversampled 5.5K) at up to 60fps (with a 2,600Mbps bitrate) – though AF / E and tracking are only supported up to 30fps (1,800Mbps bitrate).
In addition to a selection of 4K crops, it also supports 1080p video at up to 120fps with AF / E and tracking. Canon Log offers 4:2:2 10-bit with HEVC using the H.265 codec, with a claimed 12-stop dynamic range (at a recommended ISO400 recommended). The camera can also record RAW and MP4 video simultaneously to two separate memory cards.
By contrast, Sony – which led the coup that cost Canon its video throne in the first place – is now the predator that has become the prey. While the A9 II is a capable 4K 30p video performer, it's basically the same camera that the A9 was in this regard – it's limited to internal 8-bit 4:2:0 recording (4:2:2 is only possible externally) and there is no log support.
As for the Nikon, while it likewise offers 4K 30p video, unfortunately the imposed 1.7x crop and inferior video AF makes it a very distant third – its contrast detect system is simply no match for Canon's supercharged Dual Pixel CMOS and the real-time tracking of the Sony.
• Read more: Best camera for video
Memory format
Gold: Canon / Nikon
Silver: Sony
This one's a no-brainer: while all three cameras come with the mandatory dual card slots, the Canon and Nikon both take CFexpress memory cards while the Sony is still using the SD card format.
There is something to be said for SD cards, insofar as everybody already has them, they're much more affordable and you won't have any problems plugging them into most devices as pretty much everyone you know has an SD card reader. However, SD cards are also older, slower and far less reliable.
CFexpress, by contrast, is an absolute revelation for photography and videography, and its benefits are most profoundly felt when shooting with professional sports cameras. With one of these cards in the 1D X Mark III, you have a virtually unlimited buffer capable of capturing bursts of up to 1,000 RAW or RAW + JPG images; you can literally hold the shutter down for a two-minute burst, and the buffer still won't fill up. It's utterly insane.
Indeed, the SanDisk Extreme Pro CFexpress Type B Card with its 1700 / 1200MB/s read / write speeds might even have been too fast for our testing equipment! Thankfully, the Nikon D6 fully supports SanDisk cards (which had previously wreaked havoc on the Nikon Z6 and Nikon Z7), and of course it's also compatible with the XQD format – though these overpriced cards are now largely redundant.
Clearly it's still very early days for the format, but we've yet to hear of or have our own CFexpress card failure or corruption. Though since we started shooting with CFexpress cards in December, we've had an SD card fail on us. In terms of reliability alone, if not pure performance, the two DSLRs have the superior format.
• Read more: Best memory cards
Handling
Gold: Canon
Silver: Sony
Bronze: Nikon
This is sure to be a contentious point, and one that many will take issue with. Obviously, your own familiarity with the bodies plays a big part in this; if you've been using the 1-series cameras since the original Canon EOS-1 came out in 1989, then of course your hands will instinctively know where everything is.
However, being completely detached from familiarity – as well as from factors such as the reduced size and weight of the A9 II, given its mirrorless construction – there are a couple of very real handling factors that differentiate these cameras in positive and negative ways.
Chief among these is the ability to seamlessly use each camera in portrait and landscape orientation. When shooting fast action sports, you need to quickly spin your camera from a horizontal to a vertical position to capture a different perspective – and you simply need the key controls to be in the same position when you do so.
The 1-series has long had this nailed, with the joystick, AF-ON and dials in the same position on both the horizontal and vertical grip. Sony has also addressed this issue, and the A9 II can be seamlessly 'spun' in orientation with your fingers landing where you expect them. The D6, however, stubbornly insists on placing the controls in different positions in each orientation.
When a basketball player is driving the lane, and you spin your camera into vertical shooting, you put your thumb back where you expect the joystick to be – but instead you find an awkward space and the AF-ON button; the joystick is in a different position when held in the vertical grip. Yes, it's something that you do get used to, but in the languages of design and ergonomics (which even Olympus has mastered with its own pro offering, the Olympus OM-D E-M1X), it must count as a handicap.
At the opposite end of the scale, Canon has introduced an all-new input that revolutionizes control for cameras – sports cameras in particular. Its new Smart Controller is an optical controller that enables you to flick your AF points around the frame as fast or as slow as you want to; the joystick offers granular and snail-like precision, but the Smart Controller can move as fast as you shoot.
This input genuinely impacts how quickly you can find focus – and for video, it enables you to manually track subjects incredibly well – giving Canon the victory here by a nose. Check out the video below to see how it works.
Watch video: The Canon EOS-1DX Mark III's optical Smart Controller
Battery life
Gold: Canon / Nikon
Silver: Sony
Another no-brainer here. As a mirrorless camera, the Sony basically has a miniature TV screen running full-time – either the rear LCD or the electronic viewfinder. That means that just seeing through the lens causes a constant drain on the battery, even when you're not shooting or reviewing images. Further, the 5-axis in-body image stabilization is constantly keeping the sensor stable, adding further power drain.
From our non-scientific usage, we've been getting about the same battery performance out of the Nikon D6 as we did the Canon EOS-1D X Mark III. No doubt on paper, CIPA (and the manufacturers themselves) claim differently, but we've spent solid days shooting stills and video with both cameras and still come home with plenty of juice left in the tank.
For all intents and purposes the DSLRs deliver very similar in the battery life stakes – and as expected, they far exceed the power-hungry mirrorless.
The winner is…
Swipe to scroll horizontally
Medal tally

| Header Cell - Column 0 | Gold | Silver | Bronze |
| --- | --- | --- | --- |
| Canon | 6 | 1 | 2 |
| Nikon | 3 | 2 | 4 |
| Sony | 2 | 6 | 1 |
Canon claims the most gold medals with 6, followed by Nikon with 3 and Sony just 2. However, all that glitters is not gold; if we add up the medal counts based on points, with a gold medal worth 3 points, a silver 2 and bronze 1, then we get some very interesting results.
Canon claims the top spot with 22 points, while Sony comes in second by the skin of its teeth with 18 and Nikon just missing out with 17.
In short, if you want the sports camera with the best AF, the fastest shooting speeds, the best video and best handling, you want the Canon EOS-1D X Mark III. If you want a camera with the best stills resolution and connectivity, you want the Sony A9 II. And if you want the camera with the best ISO, then you want the Nikon D6.
There are the intangible factors, of course – like lens selection and in-body vs in-lens stabilization – and of course pricing. But at the professional level, price is less important than performance – and all systems offer comparable optics, with the lens-IS of the DSLRs performing on a par with the IBIS of the Sony.
And obviously there's far more to a camera than can be 'measured' by a head-to-head like this, so make sure you check out the full reviews of each body for a far more in-depth verdict!
Read more:
Canon EOS-1D X Mark III review
Sony A9 II review
Nikon D6 review
Best mirrorless camera
Best DSLR