While Realme hit the scene with budget spec-beasts like the Realme X2 Pro and X50 Pro, it took a break from launching flagship-powered low-cost phones until now – this is the incredible value Realme GT 5G.
With its 6.43-inch display packing a silky smooth 120Hz refresh rate, its screen specs match those of much pricier phones like the OnePlus 9 on paper. This makes it a killer phone for enjoying the finest Netflix and Prime Video content, or swiping through and double tapping social feeds.
Dig a little deeper, and you get a Snapdragon 888 chipset powering the Realme GT 5G, which delivers the same power found in the US version of the Samsung Galaxy S21 Ultra. That means flagship-grade gaming at anything but a flagship price. So how much does the GT 5G cost? 450 euros, which is roughly £385, or $550.
For such a tidy sum, the phone still packs an ample 4500mAh battery, as well as 128GB or 256GB storage. So where's the catch? If we were pressed to pick one, it would be the GT's camera system. There's no telephoto camera, and the primary 64MP sensor lacks highlights like OIS, which can be had on some lower-cost phones like the OnePlus Nord. Still, as a package, the Realme GT is as good as it gets for the price, at least on paper. So after a week with the phone, can it win us over and make its way into our best budget camera phone hall of fame?
Design and screen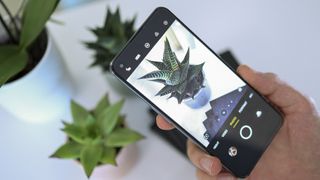 If you're thinking about buying a Realme GT 5G, you have options. You can either pick it up in a traditional finish, with a glass back and a polished plastic frame, or you can switch out the glass for something Realme calls Eco Leather; in other words, pleather/vegan leather by another name. While we haven't used the Eco Leather version, we can attest to the quality of the glass GT 5G's design.
At 8.4mm thick and with a 6.43-inch screen, the Realme GT 5G isn't too thick or big – dwarfed by the Xiaomi Mi 11 Ultra, but less elegant than the OPPO Find X3 Pro. Also worth noting, despite its plastic frame, the GT 5G feels solid in hand.
Unlike most of the best camera phones you can buy, the Realme GT 5G features a headphone jack at the base, which sits alongside its USB-C port and loudspeaker. In addition, the phone packs stereo audio, with the earpiece doubling up as speaker number two, and there's a power button to the right and volume buttons on the left.
While the design is a four-star experience for the price, the screen gets full marks. Combining an ample 6.43-inches of 120Hz Super AMOLED tech with a 1080 x 2400 resolution, its specs are excellent, and in the flesh, the experience doesn't disappoint. The phone goes toe to toe with the Xiaomi Poco F3, and it's fantastic to see phones below £400/$600 featuring such excellent displays matched with ample power.
Realme GT 5G: Cameras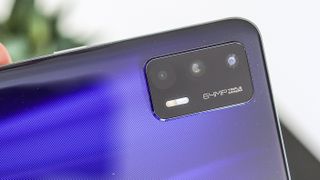 The Realme GT 5G's main camera module features a 64 MP Sony IMX682 sensor matched with an f/1.8, 26mm wide-angle lens. We've seen this primary camera before on the Poco X3 NFC, so know what to expect from the 1/1.73-inch sensor, with its 0.8µm pixels. That said, this is the first time it's combined with the Snapdragon 888's ISP, so we're hopeful the GT delivers impressive results compared to the admirably plucky Poco phone from September 2020.
With an 8 MP resolution ultra-wide camera, the Realme GT 5G misses out on the super high-resolution secondary cameras on phones like the OnePlus 9 Pro, so it's clear that imaging has taken the hit from a specs point of view to keep the phone cost down. Still, the ultra-wide lens features an open f/2.3 aperture and a nice, wide 16mm equivalent focal length.
There are two types of macro cameras on smartphones these days. There's the 5MP telephoto camera found on the Redmi Note 10 Pro and Xiaomi Mi 11, and then there's the 2MP fixed-focus macro module we see on most other low cost smartphones, which are, frankly speaking, a waste of space. Why? Because the main camera takes better macro photos than the dedicated macro camera, as evidenced below. Sadly, Realme opted for the latter in its GT 5G, and the less said on the subject, the better.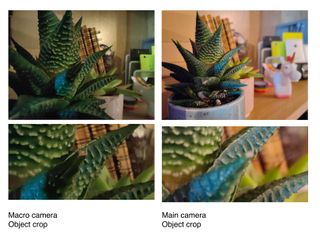 With a front camera resolution of 16 MP, selfies should be sharp, and paired with an f/2.5, 26mm lens, are captured at a relatively wide angle.
It's great to see Realme not pare back the shooting modes on the GT 5G, something we found the brand did with its Realme 8 5G. In turn, the phone features Night, Video, Photo, Portrait, 64MP, Dual-View video, Slo-Mo, Time-Lapse, Film, Pro, Pano, Text Scanner, and Ultra Macro.
Camera performance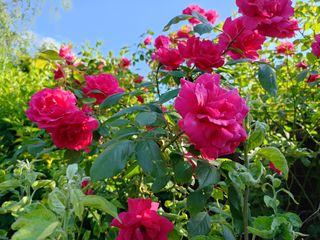 We had some great weather and beautiful flowers helping the Realme GT 5G capture some of our sample shots, and it did a fantastic job in near-ideal conditions, which got it off to a great start. When you pinch right in on a subject, you can see some sharpening going on, but it's elusive until you hunt for it.
The phone can balance colors and saturation levels very well in bright environments, though when the lights dim, muddier tones creep in. It can't stack up to pricier phones with OIS at registering dimly lit subjects with complete fidelity.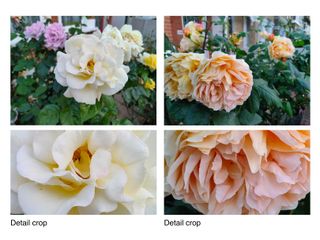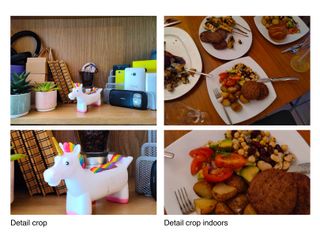 Noise handling is nonetheless respectable for a phone with no OIS. Yes, you can get better results at the price on the OnePlus Nord (not the OnePlus Nord CE) – though the Nord's power pales in comparison to that of the GT. Additionally, the GT stacks up favorably when set aside phones like the Poco F3, with its 48MP sensor and no OIS.
While the main camera features some mighty dynamic range, likely owing to bracketing wizardry matched with its high-resolution sensor, the ultra-wide camera can't deliver the same HDR-grade tonal range. In dark areas, it gets grainy, in bright areas, it blows out. This means the Realme GT 5G is primarily a wide-angle camera, with an ultra-wide used sparingly and a macro camera that can, for the most part, be ignored.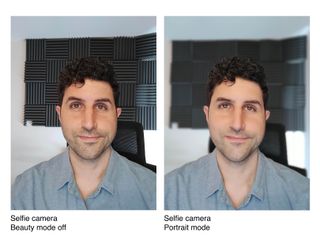 If you're a fan of selfies, the Realme GT has a heavy-handed beauty mode when taking portrait shots and you'll want to switch it off if it does to your face what it does to ours. If you have it, it will smooth out parts of your stubble and not others, making for a less than flattering portrait. Turn off beauty mode though, and it's just fine – nothing special, but does exactly what you'd expect at the price.
Video is captured at up to 4K resolution at 60 frames per second (fps), and while quality could be better in dim scenes, Realme's video capture is super-steady, sharing the same stabilization smarts as found on OPPO phones. There's even an ultra-steady mode which caps recording resolution at Full HD, though this reduces performance in dark environments further still.
Realme GT 5G: Additional specs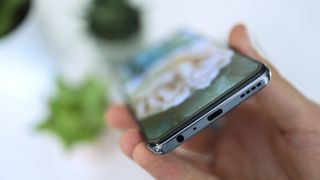 The Realme GT 5G is the only phone at its price that is powered by a Snapdragon 888 chipset. Paired with 8GB or 12GB RAM, it has more power than some modern-day flagships, like the very expensive filmmaker companion, the Sony Xperia Pro.
Running Android 11 with Realme's interface over the top, the phone also sports a more reliable interface than competing Xiaomi phones, with no in-UI adverts or Dark Mode gremlins found on Xiaomi's MIUI.
Nailing all the fundamentals, the Realme GT's 128GB or 256GB storage is ample, and with its 4500mAh battery, which charges at up to 65W - from 0-100% in 35 mins, it lasts a day with moderate use.
Realme GT 5G: Verdict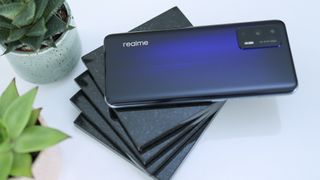 It's obvious that the Realme GT 5G cuts back on camera clout in order to keep costs way down. It prioritizes gamers and folks in need of top-shelf performance, fantastic visuals thanks to that 120Hz AMOLED display, and a smooth interface experience.
The phone's main camera is good. It takes sharp photos with zing, and is competitive across lighting conditions, even if it isn't best-in-class. While the secondary cameras are a bit lackluster, that's the case for every £400/$600 smartphone we use. That said, please, Realme, no more 2MP filler macro cameras.
As a package, therefore, the Realme GT 5G is a nine out of ten. As a camera phone though, it's just too far behind some of our best budget phones to score as well. Easy to recommend, but if you don't mind less power, have a look at the Galaxy A52 5G or the original OnePlus Nord which both pack OIS.
Read more
Best camera phone in 2021
Best 5G phone
Best Sony phone
Best iPhone for photography
Best fold phone
Best camera for TikTok
Best TikTok lights
Best student laptop