The Realme X50 Pro 5G costs €550, but take a glance at its spec sheet, eye over that intimidating quad-camera array and slide a finger along its frosted glass back or blasted metal sides, and it will leave you scratching your head. This phone should cost more than it does - and we haven't even turned it on yet.
Fire up its zingy OLED screen, swipe through its silky 90Hz interface and revel in its mind-bogglingly fast charging, and the price gets even more confusing.
As for the camera, it's primary sensor is the same 64MP module found in the Realme X2 Pro, but having reviewed the older Realme phone, the X50 5G seems to pack better camera software. The snaps we took with it in our afternoon out and about London look more balanced than those shot on the X2 Pro when we tested it - despite the fact we're using a pre-production device.
That said, watch out for the full review - we'll be much more conclusive in that, and let you know how it stacks up against some of the best camera phones of 2020.
Realme X50 Pro 5G camera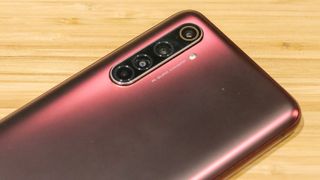 On paper, it isn't just the primary sensor that's the same across the X50 Pro 5G and the Realme X2 Pro - it's the entire camera setup. Recapping, that means you get a primary 64MP sensor with an f/1.8 aperture and a 26mm wide-angle. The X50 Pro 5G doesn't feature OIS on any of its lenses, but PDAF is accounted for, so you'll get relatively zippy focusing.
The telephoto camera clocks in with a 54mm focal length, which equates to a 2x zoom. With an f/2.3 aperture, you're getting pretty respectable light-grabbing specs on paper, and that lens is matched with a 12MP sensor.
Completing the holy trinity of smartphone camera angles of view, the X50 Pro 5G also adds an ultra-wide-angle to the mix with a 13mm focal length, an f/2.3 aperture and an 8MP sensor.
There's a fourth 2MP monochrome depth sensor as well, and on the front is a dual camera for selfies. The primary choice is a 32MP pore-tastic resolution option, and it's accompanied by an ultrawide 17mm, 8MP camera.
Firing up our early version, it doesn't look like there are any nasty surprises within the camera UI. The X50 5G still packs Photo, Video, Night, Portrait and 64MP mode, just like the X2 Pro did before it.
Within the More tab, you can also access a few extra modes - Pano, Time-Lapse, Ultra Macro, HyperText (a document scanner), Slo-Mo and Expert (manual mode).
Enthusiasts can manually ramp the phone's ISO up to 6400, and the shutter speed down to 32 seconds. Additionally, there's RAW support as well, which could be interesting when matched with the phone's 64MP resolution.
Design, screen and specs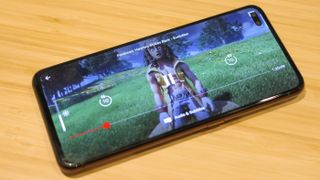 Flagship phones evolved from plastic to metal, then from metal to glass, and now, the latest signifier of premium seems to be frosted glass.
Just like the iPhone 11 Pro and OnePlus 7T, the Realme X50 Pro 5G's frosted glass back feels refined. It's elegantly rounded and available in two colours, Moss Green and Rust Red, both looking rich and demure.
A blasted aluminium frame is sandwiched by the phone's curved Gorilla Glass 5 back and flat front. On the right side is a power button, while to the left, volume buttons. There's no 3.5mm headphone jack on board, but you do get stereo speakers as well as a USB-C port.
The screen is a tour de force. Measuring 6.44 inches, it's big, but not too big. With a resolution of 1080 x 2400, and a 20:9 aspect ratio, the numbers stack up well, and when combined with Super AMOLED tech and a buttery slick 90Hz refresh rate, to say the X50 Pro 5G punches above its weight is entirely accurate.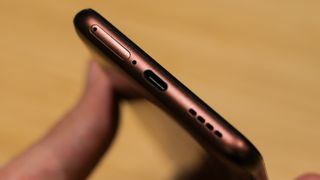 Running Android 10, combined with Realme UI 1.0, the challenger brand, that falls under the same parent company as Oppo and OnePlus has stripped back its ColorOS UI, as found on the Reno 2, in favour of a more straightforward, cleaner interface - and we like it upon first impression.
Part of the appeal is just how nippy the phone seems to be, and with a Qualcomm Snapdragon 865 inside, that's no surprise at all. The X50 Pro 5G is paired with either 128GB storage and 6GB RAM, 128GB storage and 8GB RAM, or 256GB and 12GB RAM.
We haven't wrapped up with the highlights just yet. In addition to packing a hefty 4200mAh battery inside, the phone powers up at an astonishingly quick 65W charging speed. That means it fills up from 0-100 per cent in about 30 minutes, which is convenient and flagship beating all at the same time.
Early verdict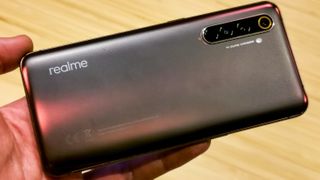 There's very little to find fault with when it comes to the Realme X50 Pro 5G's back to buck ratio. Sure, there's no headphone jack, but if you pick one up, you're getting flagship specs and high megapixel imaging at a midrange smartphone price. Add to the mix 5G, which is a luxury generally reserved for top-tier devices like the S20-series, and it looks like Realme is fast becoming the ultimate challenger brand - now all we need are more retail channels across Europe and in the US, so we can easily buy one.
Read more
• Best 5G phones
• Smartphone news, camera phone leaks and mobile rumors
• Best budget camera phone in 2020
• The best camera phone in 2020
• The best add-on lenses for iPhone and Android phones
• The best gimbals for your iPhone, GoPro and camera
• The best selfie sticks