The Sony Xperia Pro was first launched back in January 2021, but only in the US and Japan. Sony has now brought its flagship smartphone to Europe – specifically the UK, Germany and Nordic regions – in a bid to target not just camera phone fans but professional videographers too.
Designed to work alongside your video camera via HDMI as an external monitor, the Xperia PRO can also use its 5G connectivity for live streaming and high-speed FTP transfer – three highly useful functions for pro filmmakers in a single device. Sony claims the Xperia PRO is the first smartphone to offer HDMI input and 5G speed.
If you're looking for a high-quality 6.5-inch external monitor for your camera, this could be it. If you're looking for 5G livestream capability in the field, this is definitely it. If you need both, then start saving now!
• Read more: Sony Xperia Pro review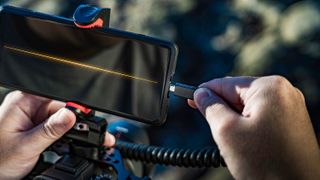 The world's first smartphone with HDMI input
Obviously Sony would like customers to use the Xperia PRO with Sony cameras, but in principle it should work with any camera that offers HDMI output. You get the advantages of a larger display that's mounted separately from the camera and angled to be visible while filming.
Most mirrorless cameras have 3-inch or 3.2-inch screens, but the 6.5-inch 4K OLED monitor on the Xperia PRO is a substantial step up in both size and image quality, and the device has an External Monitor feature pre-installed, with a screen lock function, screen brightness adjustment, zoom capabilities, adjustable grid lines and more.
The Sony Xperia PRO does not, however, offer internal recording, or any of the advanced waveform monitoring, zebra patterns or higher-quality CODECs of a device like the Atomos Ninja V.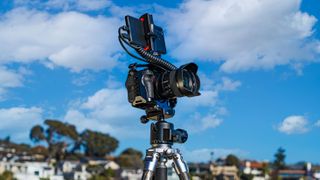 Live streaming via 5G
What the Xperia PRO does offer, however, that regular external monitors/recorders do not, is inbuilt 5G connectivity. This means videographers can broadcast video in real-time – though third party software is required for certain social streaming platforms. This is because they will accept live streams direct from a phone, but not from a camera connected to the phone.
The Xperia PRO also offers a wired Ethernet or USB connection for fast and reliable transfer of still images – this works with Alpha brand cameras, transferring images automatically to an FTP server.
5G connectivity can be monitored via a Network Visualiser, which shows signal reception status, communication method and communication speed of the device to help pinpoint the best location for live streaming.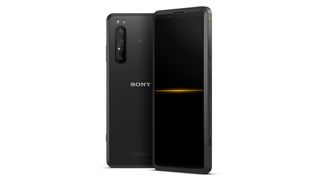 Sony Xperia Pro features
Quite apart from its professional video capabilities, the Xperia PRO is, of course, a very powerful smartphone in its own right, sharing the same imaging technology as the Xperia 1 II.
Sony has leaned on the AF technology of its Alpha mirrorless cameras to include Real-time AF for both humans and animals and the ability to shoot at up to 20fps, with autofocus/autoexposure calculations 60fps. It also offers support.
A powerful video tool in its own right, the Xperia PRO offers advanced features like 'Look' colour management pre-sets, 21:9 movie recording, 4K HDR in 24p, 30p, 60p and 120fps slow-motion and an intelligent wind filter. The 6.5-inch screen has a 21:9 CinemaWide aspect ratio and supports the latest BT.2020 color space.
The key feature for photographers is the triple lens camera with a 16mm ultra wide lens, 24mm wide-angle lens and 70mm telephoto lens, and Zeiss optics.
Other features include IP65/68 water and dust resistance rating, Corning Gorilla Glass 6 screen covering and a 4,000mAh battery.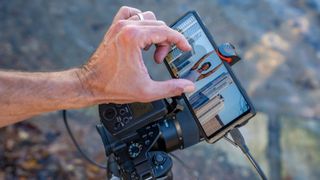 Sony Xperia PRO price and availability
All this tech and video capability comes at a price. Already on sale in the US at $2,499, the Xperia PRO will be available for pre-order from May 6 to May 13 at £2,299 from Wex. If you pre-order, you will get a free kit worth £287, consisting of:
• Sony ECM-W2BT Wireless Bluetooth Microphone
• Manfrotto MH492LCD-BH Micro Ball Head
• Manfrotto PIXI Universal Clamp
Read more:
• Best camera phone
• Best Sony phones
• Best Sony cameras
• Best 5G phone
• Best on camera monitor
• Best camera for video
• Best video accessories