In these are strange times, OnePlus is launching the OnePlus Nord – a midrange camera phone. That's an out of character move for the brand, which has the self-titled nickname - flagship killer. Affordable is the name of the game in a COVID-world, however, and the Nord looks set to be one of the most balanced cost-effective flagship-esque phones around, with its premium styling, competent camera and 5G data speeds. It will cost from £379 when it goes on sale on 4 August... with US prices expected to be sub $500 when it eventually reaches North America.
• The best OnePlus phones & the best Android phones.
Design and features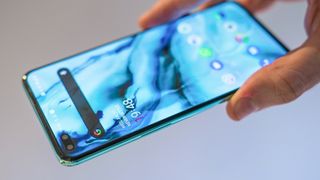 If phones came in small, medium and large, the OnePlus Nord would be a middling medium. The 6.44-inch screen is big, but not too big, its 8.2mm thickness is thin, but not waif-like and its 184g weight is solid, without being overbearing.
Available in two colors, Blue Marble and Gray Onyx, the prior is Nord's hero color and looks like a pared back, high-gloss edit of the frosty finish the OnePlus 8 introduced - we like it.
Rocking teeny tiny bezels surrounding its flat screen, a USB-C port at the base, an alert slider, power keys and a volume rocker, this is clearly a OnePlus phone. The curved glass around the back is interrupted by a slight camera bump, and there's Gorilla Glass and protection and a degree of water resistance, though no official IP rating.
While it might not have a flagship display, the 6.44-inch wide Full HD screen looks great for the price, with its Huawei P40 Pro Plus-matching 90Hz refresh rate, Fluid AMOLED technology and sRGB, DCI-P3 credentials.
Four rear cameras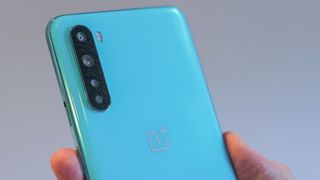 1. Wide
To say the Nord has a flagship camera is a fair statement - but it has a 2019 flagship camera. OnePlus has opted for a tried and tested main sensor, just like the one in the OnePlus 7 and 7T-series - Sony's IMX586. With its 48MP resolution, and 12MP pixel-binned photos. The sensor's combined with a six-piece lens, an f/1.75 aperture, and most impressive at the price, optical image stabilization. This puts it on-par with the OnePlus 8, and a few steps behind the OnePlus 8 Pro.
2. Ultrawide
With an 8MP ultrawide camera, the OnePlus Nord sports half the number of pixels as the OnePlus 8 and Motorola Edge's ultrawide, however, it delivers a slightly wider 119° field-of-view. Combined with an f/2.25 aperture, the camera is respectable on paper, and adds a decent amount of versatility at the Nord's price-point.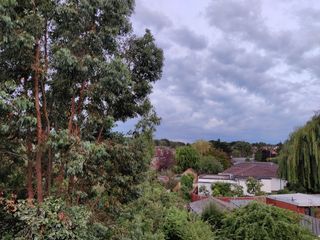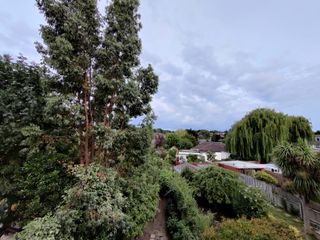 3. Macro
We're not convinced with low-resolution dedicated macro cameras on smartphones. They didn't impress us on the Honor 20, nor did we ever use the OnePlus 8's owing to its mediocre quality in good light, and poor quality in low light. On the Nord, therefore, our expectations are curbed, though we love being proven wrong - so watch this space.
4. Depth sensor
The fourth camera on the new OnePlus Nord is a 5MP depth sensor with an f/2.4 aperture. This won't take photos independently, but acts as a budget alternative to the Time of Flight (ToF) camera loaded up on pricier phones like the P40 Pro Plus.
Two selfie cameras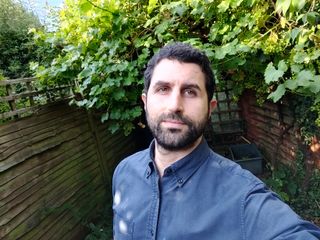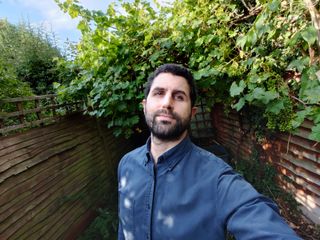 Where the OnePlus Nord really steps ahead of the low-cost pack, and indeed its pricier OnePlus siblings, is in terms of selfie cameras. The primary wide selfie camera is OnePlus's highest resolution module to date - the Sony IMX 616, clocking in at 32MP. It's a fixed-focus lens camera with an f/2.5 aperture, so it won't be beating out the rear camera, but it's still respectable.
Coupled with an ultrawide 105° module, complete with an f/2.45 aperture and 8MP resolution, you shouldn't have any trouble grabbing groups of socially distanced friends in-frame when snapping selfies on the Nord.
Camera performance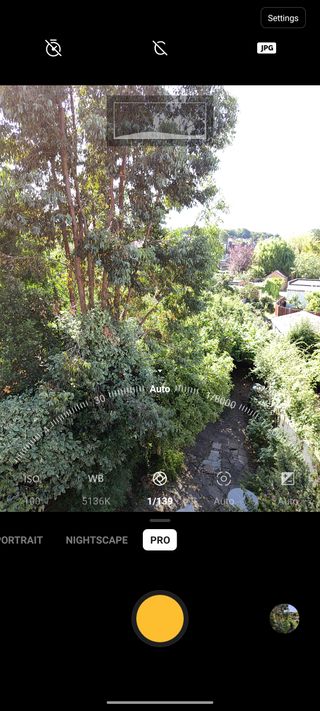 The OnePlus Nord's quad-camera is a very familiar affair. We've seen that 48MP camera many times before, and it's been honed over time to deliver reliable photos in almost all scenes. Clarity is strong, and competes perfectly with other devices at the price. OnePlus includes a smart night mode, which, while it can't compete with the iPhones or Pixels, does a great job of brightening up handheld shots in challenging lighting conditions.
With it, you can shoot 4K video at up to 60fps, or ultra-steady video at Full HD resolution. With optical image stabilization and electronic stabilization for video, footage it captures is steady and amongst the best in its price-class.
Where the Nord drops the ball is with its secondary cameras. First up, that 8MP ultrawide camera, and while it's handy to have in a pinch when the light is right for group shots and landscapes, its low-light capabilities are poor. It also packs weak detail around the edges, so if you've picked up a Nord - we'd definitely suggest you lean on the primary camera.
The same can be said of the Nord's macro camera - compounded by its 2MP resolution, it's confoundingly low-on-detail for a macro camera, with crops from the primary 48MP sensor out-performing the dedicated macro module in all but the very best lighting.
Are any of these deal breakers? No, not at all. The Nord's main camera instantly makes it decent value - and its additional specs edge it further ahead than anything else in its class.
Sample images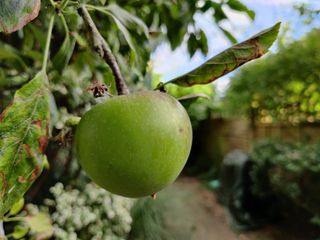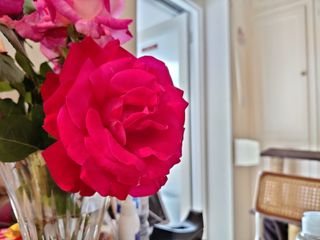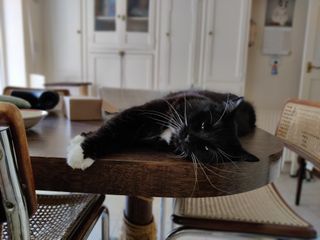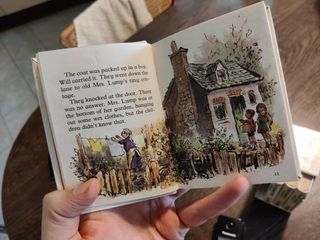 Screen shots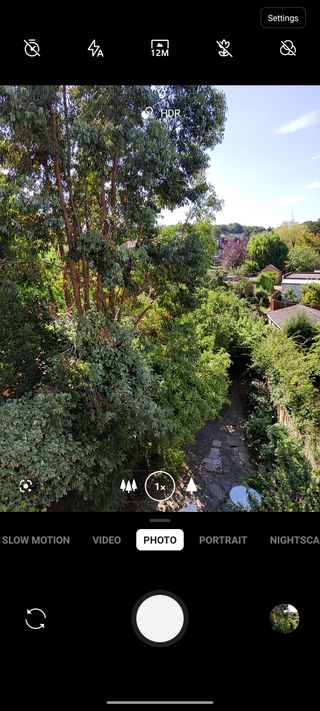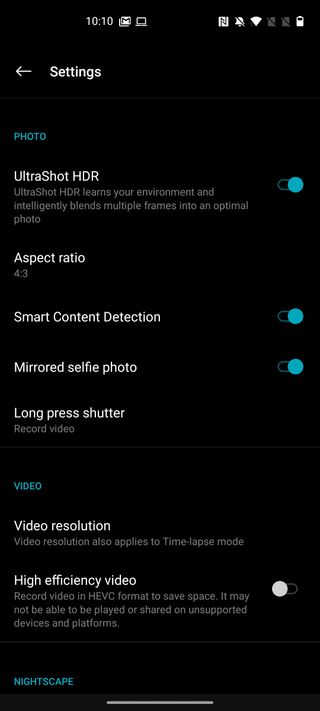 Additional specs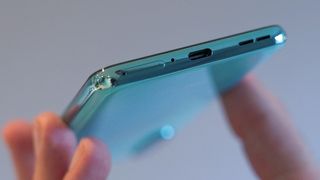 Powered by a Qualcomm Snapdragon 735G chipset, the OnePlus Nord is most certainly no top-ender on the inside, but there are flourishes of excellence. It packs 5G for starters, nicely future-proofing the phone more than many of its peers. Additionally, a responsive on first impression in-display fingerprint scanner combines with OnePlus's premium Oxygen OS, and all the core UI features you get in the top-end OnePlus 8 Pro.
Things feel flagship for the most part with the phone's punchy, OLED display coupled with the smooth 90Hz refresh rate. Performance seldom slowed down, but there are glimmers of midrange thinking that crop-up here and there. Benchmarks explain away this, with the Nord, matching flagships from a couple of years ago, but irrespective, whether you're 3D gaming or 4K shooting, the Nord is up to the task.
Pick up the OnePlus Nord with either 8GB RAM + 128GB storage, or 12GB RAM + 256GB storage, and you'll unlikely be craving additional space or processing power, despite the midrange chipset. Additionally, with the phone's iPhone-beating 4115mAh battery which easily lasts a day, not to mention fast charging at up to 30W, and the OnePlus Nord is a very competent smartphone on paper, as well as in hand.
Verdict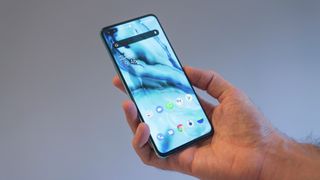 Sure, we would love to have seen wireless charging, stereo speakers and a telephoto camera on OnePlus's latest smartphone. Those features took the OnePlus 8 Pro over the line and made it a serious contender for best smartphone of 2020. That said, out of all the midrange smartphones out now, the Nord is at the head of the pack when it comes to design, refinement and for a certain kind of user, value for money - an excellent, affordable option for anyone who wants 5G and a premium experience on a budget camera phone.
Read more:
• The best camera phones you can buy today
• The best budget camera phone
• The best burner phones
• The best phablet in 2020
• Which is the best iPhone for photography?
• Mobile photography tips