If you're a budding sports or wildlife photographer, a super-telephoto lens is the order of the day. Go for a super-tele zoom and you've also got the flexibility of being able to zoom in so your subject fills the frame, yet still retain the ability to zoom out to more easily track moving action, or take wider shots.
Specifications
Mount: Nikon F
Full frame: Yes
Image stabilization: Yes
Autofocus: Yes
Lens construction: 19 elements in 12 groups
Angle of view: 12-5 degrees
Diaphragm blades: 9
Minimum aperture: f/32
Minimum focusing distance: 2.2m
Maximum magnification ratio: 0.22x
Filter size: 95mm
Dimensions: 267.5x108mm
Weight: 2,300g
Key features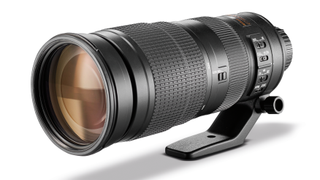 Big, heavy super-tele primes can set you back a five-figure sum, and while Nikon's venerable AF-S Nikkor 80-400mm f/4.5-5.6G ED VR zoom lens is more reasonably priced and delivers excellent image quality, its 400mm max reach could be limiting. This newer 200-500mm zoom is more affordable option for Nikon FX DSLRs and packs in smart additional features. These include a constant-aperture design, and an electromagnetically controlled diaphragm that ensures greater exposure consistency in rapid-­fire shooting. Uprated VR (Vibration Reduction) is good for 4.5 stops and adds a 'Sport' mode for improved stability while tracking moving subjects.
Build and handling
Build quality is typically high for a Nikon lens at this price point, though it's a pity there isn't a full complement of weather seals – only the mount gets a rubber gasket to prevent water ingress. A focus distance window is present though, as is a tripod collar, hood and soft case.
Performance
Good levels of sharpness remain impressively consistent throughout the entire zoom range, and overall image quality is of a high standard. Autofocus and stabilisation systems work quickly and effectively. Our only real gripe is that the maximum focal length falls a little short when compared with Nikon-mount Sigma and Tamron 150- 600mm zooms, but performance levels are nonetheless very good.
Lab data
We run a range of lab tests under controlled conditions, using the Imatest Master testing suite. Photos of test charts are taken across the range of apertures and zooms (where available), then analyzed for sharpness, distortion and chromatic aberrations.
We use Imatest SFR (spatial frequency response) charts and analysis software to plot lens resolution at the centre of the image frame, corners and mid-point distances, across the range of aperture settings and, with zoom lenses, at four different focal lengths. The tests also measure distortion and color fringing (chromatic aberration).
Sharpness: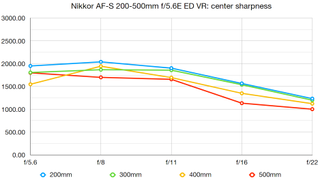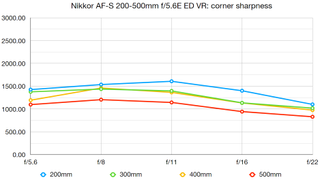 Sharpness in the center of frame is excellent throughout the zoom range. It drops off a bit in the corners at longer focal lengths, but this should rarely be an issue when shooting subjects often set against a blurred background.
Fringing: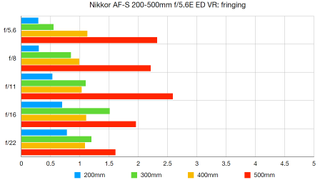 Fringing is barely visible at 200mm, but as you zoom in it becomes progressively more noticeable. However, only at 500mm are aberrations easily visible, and even then, they shouldn't be distracting.
Distortion: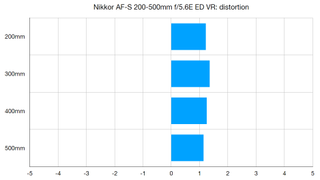 There's minimal pincushion distortion throughout the lens's focal range.
Verdict
If you're after an own-brand super-tele zoom for your Nikon DSLR, the Nikon AF-S 200-500mm f/5.6E ED VR is a high-performing lens which is, at least by Nikon's standards, reasonably priced for the focal range on offer. It's a little disappointing that the lens isn't fully weather sealed, especially as this is an optic designed for sports and wildlife photography, which can take place in all weathers. As such, don't rule out alternative similarly priced lenses like F-mount version of the Tamron SP 150-600mm f/5-6.3 Di VC USD G2 and Sigma 150-600mm f/5-6.3 DG OS HSM | S.
Read more:

The best Nikon cameras
The best Nikon lenses
The best Nikon telephoto lenses
The best lenses for bird photography