If you're constantly struggling to find the best camera bag, the Manfrotto Noreg messenger-30 could be the answer. Life is complicated, and often we can't set aside time solely for photography and have to mix it in with other daily activities... like going to work, for example.
So there are plenty of messenger bags for photographers that can hold your laptop, your lunch, your office paraphernalia and some camera gear, but do you really want to lug that whole lot around when you go out for a wander at lunchtime? Do you really want to lug your bag into a meeting when all you need is your laptop? Do you really want a camera bag packed with padded dividers and compartments when sometimes you just want a briefcase or an overnight bag?
Features
The Noreg Messenger-30 has it all covered. It's a regular shoulder bag with a removable padded insert that has its own shoulder strap, so there's your smaller photography bag for quick photo expeditions straight away. And there's a removable padded laptop sleeve on the back that you can unzip and take in to meetings, or just leave at home if you don't need it. And if you just need an overnight bag that fits airline carry-on regulations you can take off the laptop sleeve, remove the camera insert and stuff in all the clothes, toiletries and other bits and bobs you need for your overnight stay.
The laptop sleeve is big enough for a 15-inch laptop and there's a sleeve for a 9.7-inch tablet too. And on the front of the bag is a pair of straps for a lightweight travel tripod, covered neatly when you clip down the oversized lid. This also has a zipper to allow camera access without unclipping the lid again.
Dig around inside and you'll also find a rain cover which stretches over the top to keep out the worst of the weather.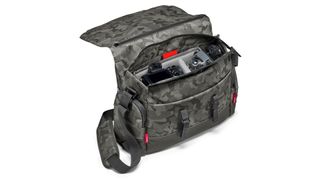 Usability
Manfrotto says the Noreg messenger-30 is desiged for 'premium' mirrorless camera systems, but it also swallowed up our mid-size Nikon D7200 DSLR and a couple of chunky lenses without any trouble. The only thing is, the camera insert doesn't leave a whole lot of space when it's inserted in the main compartment. There's enough room left over for a large water bottle, some food or a single-layer lightweight coat, for example, but that's all.
The main bag does have a pocket at the front for regular office gear like pens, notebooks, cables and chargers, though if you stuff this too full with the camera insert fully-loaded too, the Noreg does get a bit paunchy.
You wouldn't want to stuff the front pockets and strap on a tripod at the same time for that very reason. It would also have to be a pretty modest travel tripod because the straps aren't very long, the lid won't close easily over a larger tripod and the extra weight starts to make the Noreg feel a bit uncomfortable (though that could also be your fault for trying to take too much stuff).
The zip-on laptop sleeve doesn't look and feel that great either. It's secure enough when it's zipped on, but there's a visible gap at the top that doesn't look very good. The rest of the bag is very neat, but this bit of design is just a bit ugly. But hey, it works fine.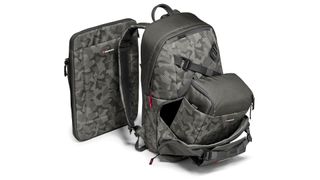 Verdict
The Manfrotto Noreg messenger-30 is every bit as versatile as Manfrotto says. You can use it as your commuter bag, take out the camera insert for a lunchtime photo walk and unzip the laptop sleeve to take it into a meeting. The Noreg is a bit of a lump when it's packed to the brim, and the tripod straps at front suit small travel tripods only, so if you're walking any kind of distance you'll be better off checking out our list of the best camera backpacks. As an everyday bag that can do anything, though, the Noreg messenger-30 is a great idea that works very well.
The only other issue is the finish. It has a pseudo carbon-fibre/camo look which might look cool on an urban explorer but probably isn't quite the vibe that urban office types are looking for. If you're more interested in style than function, you should take a look at our list of the best luxury camera bags, but if you want practicality and versatility, and a camera bag that's not just one but many different things, the Noreg messenger-30 is really rather clever.
Read more:
• The best camera bags and cases
• The best mirrorless cameras
• The best messenger bags for photographers
• The best camera backpacks
• Best camera sling bags
• The best luxury leather and canvas camera bags
• The best roller bags