Canon's latest mid-range PIXMA TR7020 all-in-one printer is available in black or white. Naturally, they're both color printers although the color range isn't as broad as with many PIXMA printers, which combine a pigment-based black ink for crisp mono document printing with dye-based CMYK inks for color photos. Instead, this printer has a pigment-based black ink cartridge and a tri-color dye-based cartridge containing cyan, magenta and yellow inks. Darker tones in photo prints therefore need to be produced by using only the three colored inks to generate 'composite black', which can result in a lack of contrast and vibrancy, and a relatively limited gamut. But more on that later.
Specifications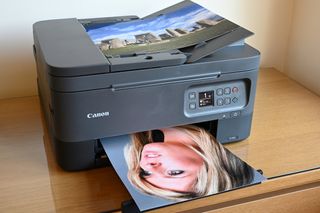 Model names: Canon Pixma TR7020 (North America), Canon Pixma TR7060 (Australasia), Canon Pixma TS7450 (Europe, black version), Canon Pixma TS7451 (Europe, white version)
Inks/type: Pigment black cartridge, dye tri-colour cartridge
Max print size: A4/Letter (custom 215.9x676mm)
Max print resolution: 5800x1200dpi
Input trays: Front cassette, rear tray
Scanner: A4/letter with 35-sheet ADF, 1200x2400dpi
Display screen: OLED, 1.44-inch
Interfaces: USB, Wi-Fi, Bluetooth
Dimensions (WxDxH): 403x364x206mm, 8.2kg
Features
As a 'working from home' wireless printer, there's a generous feature-set which works well for everything from printing mono and color documents, through scanning and photocopying single or multi-page paperwork, to outputting children's homework. It's not a case of 'all work and no play' either, as Canon's Creative Park is fully supported. Ditch the paper for a while and you can create all sorts of fun stuff, from T-shirt transfers, photo stickers and magnetic photos, to greetings cards, cut-out projects and more besides.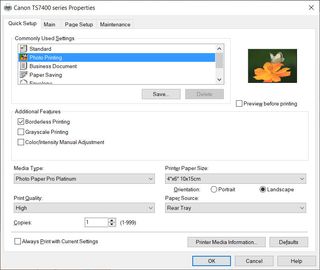 In most respects, the printer is well connected. It has the usual USB port on the back, plus built-in Wi-Fi and Bluetooth. Setup is particularly easy, with the option of scanning a QR code on your smartphone or tablet for an online tutorial covering the complete installation. The link goes further still, enabling you to quickly and easily pair the printer with your smartphone or tablet. With the Canon Print App installed, you can access and print documents directly from the likes of Google Drive, Evernote and Dropbox, as well as from Google Classroom which is becoming increasingly popular in schools. For voice command, the printer is compatible with Amazon Alexa and Google Assistant. Apple AirPrint and Android Mopria are also directly supported.
Onboard controls are simple and intuitive to use for a range of tasks, backed up by a 1.44-inch OLED screen. The screen can also display OLED codes for functions like accessing the online handbook via a smartphone of tablet. Another novel feature is an illuminating LED status bar which runs across the front panel of the printer, so you can check print status, watch out for errors, or see if replacement cartridges are needed, all at a glance.
Performance
Compared with printers that feature individual cartridges for each and every ink, dual-cartridge printers are often criticized because if you use a lot of one particular color, you can end up throwing ink away, as part of a tri-color cartridge. The plus side is that, with only two cartridges in total, ordering supplies is relatively straightforward.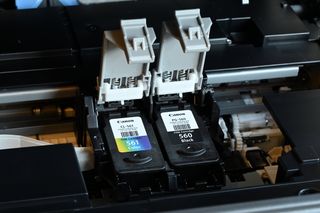 The printer comes with standard capacity PG-560 black and CL-561 tri-color cartridges. If you stick to these when reordering, print costs are a bit on the high side. The standard black cartridge has sufficient ink for 180 mono pages, working out at 8p per page. The tri-color cartridge should last for 180 color page documents or 76 6x4 photos. Switch to 'XL' cartridges and you'll get enough ink for 400 mono pages, 300 color pages or 118 6x4 photos.
The pigment-based black ink cartridge isn't really used at all in photo printing. As we've mentioned, you're therefore relying solely on cyan, magenta and yellow inks to make up the entire color space of a photographic image. The printer makes a reasonable stab at it but, compared with Canon's 5-ink Pixma printers and Epson's more specialist 6-ink photo printers, photo output looks a little insipid. Colors lack vibrancy, from skin tones in portraits to the rich hues of landscape images. Contrast is also relatively poor. Light areas tend to look a little washed out and dark areas are lacking in depth. Black & white photo printing looks seriously lacking in drama.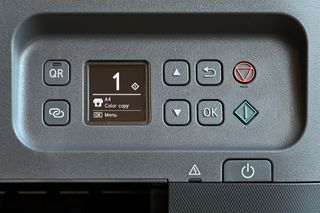 On the plus side, mono document printing looks crisp and detailed, and color documents also look very appealing. Print speeds are pretty reasonable for documents, equating to around 13 pages per minute for mono and 7 pages per minute for color. Auto duplex is available for double-sided printing but you can't use the ADF for automatically scanning or copying existing double-sided documents. A4 photocopying speed is about 20 seconds per page, rising to 4 pages per minute when using the ADF.
In our photo printing tests, 6x4 borderless prints took 56 seconds in standard quality mode and 1 minute 32 seconds in high quality mode. For borderless A4 photo prints, it was 2 minutes 30 seconds in standard mode and 4 minutes 10 seconds in high quality mode. We're used to seeing considerably faster speeds from most of Canon's 5-ink Pixma printers.
Verdict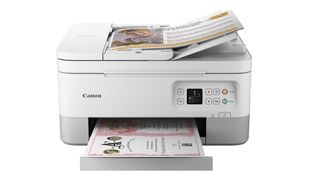 The Canon Pixma TR7020 is a very competent printer for working at home, catering to schoolchildren, students and adults alike. It has a neat range of intuitive features and is very easy to live with. Print speeds aren't particularly quick but running costs are reasonable, especially for a dual cartridge printer that doesn't have separate, individual cartridges for each ink. Mono and color documents are of very good quality and, in our tests, the ADF worked well even with letters received in the post that had one or more folds in them. The only real minus point is that photo print quality is lacklustre, with a lack of vibrancy and contrast. Even so, the printer is good value for money at the price.
Read more:
• Best wireless printers
• Everything photographers need to work at home
• The best large format printer
• The best photo printing online: top services from around the web
• The best photo printer 2021: desktop photo printers compared
• The best portable printers
• The best all-in-one printer
• The best film scanners