Want to get into macro photography? With this one-day deal at Adorama the brilliant Sigma 70mm f/2.8 DG Art Macro is just $479 – a serious saving of $90, but only until midnight tonight!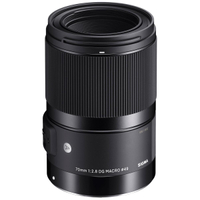 Sigma 70mm f/2.8 DG Art Macro: $569 $479
Save $90 on this great macro lens, with nine aperture blades for stunning rounded bokeh balls, low-dispersion glass and multi-layer coatings to suppress flare and aberrations, and-razor sharp rendering to capture your shots in crystal clear detail.
US deal (global shipping)
The Sigma 70mm f/2.8 DG Art Macro is one of Sigma's best macro lenses, and is part of the manufacturer's prestigious Art lens lineup. Compatible with all Canon EOS cameras, it has been engineered for optimum optical performance with Super Multi-Layer coatings and three types of low-dispersion glass to control ghosting, flare and aberrations. Best of all, its 70mm focal length and fast f/2.8 aperture also lends this lens to portrait shooting – making this a fantastic double-duty optic that can handle all of your close-up needs, whether it's headshots or macro shots.
The Sigma 70mm f/2.8 DG Art Macro is available for Sony E-mount, too:
Read more:
Best macro lenses
5 things to know before buying a macro lens
Best Canon lenses