Tenba's Skyline range of bags has already been pretty popular with photographers – and now we have the good news that it's being extended.
Skyline is pitched at "hobbyist" photographers. According to Tenba, its bags are supposed to be highly functional and useful, but also affordable, with a minimalist design that focuses on keeping things simple.
Previously the range was pretty much limited to shoulder bags, but now has been expanded with six new models designed for a range of setups and users. Let's take a look at what's on offer:
First, there's the Skyline 3 Camera Pouch (£12.00 / €14.00) and Skyline 4 Camera Pouch (£15/€17). These are small pouches designed for small mirrorless systems or compact cameras.
The Skyline 8 Top Load Bag (£25.00 / 29.00) and Skyline 9 Top Load Bag (£25.00 / €29.00) are designed to carry a mirrorless or DSLR camera with a standard lens attached -- such as an 18-55mm zoom in the Skyline 8 or a 24-70mm zoom in the Skyline 9. Alternatively, the bags are a good size for a small drone. They are designed to provide easy access to gear from the top down – hence "Top Load".
The Skyline 13 Messenger (£75.00 / €85.00) is a stylish messenger bag with space for a pro DSLR or mirrorless camera with an attached 24-70mm lens, as well as 3 to 5 additional lenses and a laptop up to 13 inches in diameter. It has a quick access top zip and Tenba's Quiet Whisper Hook, a special system that enables virtually silent opening by pulling the front flap down.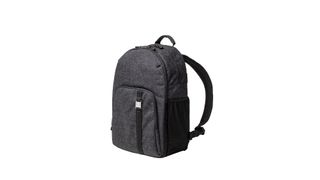 Finally there's the Skyline 13 Backpack (£90.00 / €105.00), a backpack designed not to obviously look like a camera bag while still being capable of holding a pro mirrorless or DSLR system with an attached 24-70mm lens, 3-5 additional lenses and a flashgun. There's also a padded compartment for a 13-inch laptop.
All bags are constructed using water repellent fabric and YKK zips, and are available in black or grey. They're expected to be available from August 2019.
Read more:
The best camera bags and cases for photographers in 2020