Sigma's new full-frame mirrorless camera is getting its first public outing this weekend at the IBC 2019 broadcasting trade expo in Amsterdam. The Sigma fp goes on sale later this year as the company works on finalizing the firmware for the camera ahead of its release.
But the one immediate thing that strikes you about the Sigma fp is its size... or rather the lack of it. This is one seriously small camera. We knew that without a built-in eyelevel view, and without a mechanical shutter, that this was going to be very small for a full-frame mirrorless camera. But you don't really appreciate this until you see it...
The camera is so small small in fact that the man on the Sigma stand, literally pulled it out of the pocket of his chinos to let us get a closer look! Sure it did not have a lens on it at the time... but that is an impressive party trick nonetheless!
But the Sigma stand at IBC also made it clear that the Sigma fp is just the foundation stone for a system that it is building for this camera - and not just through the lenses available on the L-mount roadmap, but also through the cine lenses from Sigma and others that can be fitted to it.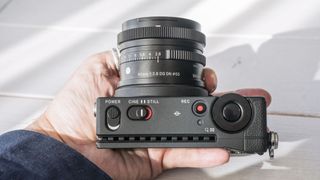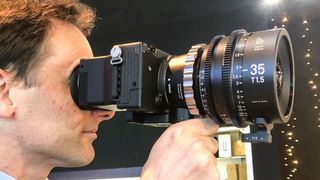 Fitted with a large Sigma cine lens, the fp body is swamped - but shows that this is a camera that is designed in a modular way.... like old medium format film cameras, or high-end modern cinema cameras like those made by Red.
The Sigma fp is due to go on sale later this fall, with an anticipated retail body-only price of 'under $3,000'.
Read more:
• Read our full Sigma fp hands-on review
• Sigma fp accessories we know about so far
• The L-mount lens roadmap: 42 lenses by the end of 2020!
• The best mirrorless cameras you can get right now
• The best cinema cameras in 2019