If you own a Canon RF mount camera – or you're looking forward to purchasing the Canon EOS R5 when it finally arrives – then you might want to consider investing in the Canon RF 24-70mm f/2.8L IS USM lens. This handy zoom lens is one of the most useful pieces of glass you can have in your kit bag.
A standard zoom lens with a wide maximum aperture is arguably the most flexible piece of photographic equipment you can own. It enables you to capture anything from portraits to landscapes to still life – and it's a faithful workhorse that you can bring along to any shooting situation.
• Read more: Everything photographers need to work from home
Even though the UK might still be in lockdown, there are plenty of home projects that you can use a 24-70mm f/2.8 with. Alternatively, now might be a good time to invest in this handy piece of glass in preparation for when lockdown is officially lifted. Either way, with a Nano USM motor that ensures instant and silent AF, a close focusing distance of just 21cm and 5-stop image stabilization, the Canon RF 24-70mm f/2.8L IS USM lens is your next favorite piece of kit.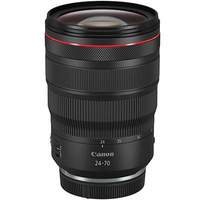 Read more
Best Canon camera in 2020: Canon's DSLR, mirrorless and compact cameras
Best cheap Canon camera deals in 2020: get the best prices on Canon gear
Best Canon lenses in 2020: go longer, wider and closer with your Canon camera