We'll be the first to admit that mirrorless is the future of photography. So why would we still want to buy a DSLR? The Canon EOS 90D is why.
Canon's latest mid-range DSLR brings some mirrorless features, like live view autofocus and video recording, to a body with an optical viewfinder. That means you'll be able to compose images as you see them through the lens, not as the camera's sensor does. It does have its advantages over EVFs used in mirrorless shooters.
And then there's the 32.5MP APS-C sensor that delivers excellent image quality, captures plenty of details and you can't go wrong with Canon's colour science.
With the power of Canon's Digic 8 processor under the hood, the 90D gets a maximum burst speed of 10fps, which is plenty for most wildlife photography scenarios and some sports as well. The imaging engine also gives the camera the ability to capture 4K/30p video using the full width of the sensor – something that's not possible on most of Canon's cameras, mirrorless included.
While we'd loved to have seen dual card slots, a faster burst speed (at least to match its mirrorless cousin, the EOS M6 Mark II) and a bigger buffer, there's no doubt the 90D is one heck of a camera for both beginners and enthusiasts.
It was also won the best advanced DSLR category at the 2020 TIPA Awards – need we say more?
It's also particularly great for anyone deeply invested into Canon's ecosystem, with a huge stable of native lenses already available. And for those just getting started on their photography journey, you can get the Canon EOS 90D – and the EF-S 18-55mm f/3.5-5.6 IS STM lens included in the box – for over AU$400 off from Aussie retailer CameraPro.
That brings the cost of the kit down to a much more affordable AU$1,498 – a great price for the budget-conscious.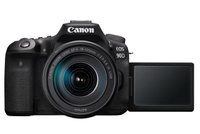 Canon EOS 90D + EF-S 18-55mm f/3.5-5.6 IS STM lens | AU$1,498 (RRP AU$1,899, save AU$401)
Australian retailer CameraPro has slashed the price of the Canon EOS 90D kit by a pretty significant amount, making it one of the best bargains on this camera currently available Down Under. It's the perfect kit to get you started on your photography journey if you are a beginner, while more advanced photographers will be able to snag an excellent DSLR for a bargain price.
Read more
These are the best Canon cameras available right now
The best DSLRs to choose from
Canon EOS 90D vs EOS 80D vs EOS 7D Mark II: 12 key differences
DSLR vs mirrorless cameras: how they compare