When it comes to indoors photography or videography, a reliable continuous light can be worth its weight in gold. Luckily, the Genaray MonoBright Daylight LED 750 has received a 71% discount in price from its original listing of $394.95 to just $114.95 – that's an absolutely incredible saving of $280!
No matter whether you're shooting a home photography project, or you're shooting your next video masterpiece indoors, a continuous LED light is a versatile piece of equipment that can be super useful in a variety of different shooting situations.
• Read more: Everything photographers need to work from home
Genaray MonoBright Daylight LED 750 light employs a HiBrite 5200K microLED PCB to output the equivalent power of a 750W tungsten fixture while consuming only 50W of current. Meanwhile, its high CRI rating of >90 means that you can rest assured that you'll get a faithful rendition of colors in your photo or video project.
If you're interested in this handy piece of lighting kit, then don't delay! This deal will only last for another 10 hours from the time of publishing.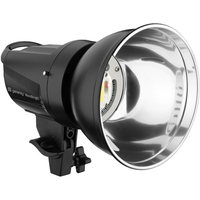 Read more
Best LED light panels in 2020: portable lighting for photography and video
Best photography lighting kits in 2020: for studio, location and video
Best light tents for photography