If you're in the market for a new tripod, you may have already stumbled across the Gitzo GT2542 Mountaineer Series 2 carbon fiber tripod.
However, we're willing to be that you didn't see it for the incredible price of just $829.99! This sturdy pair of legs also comes bundled with the GHF3W 3-way fluid head, which means you're able to pick up a fantastic tripod and head – and save almost 40% at the same time.
The Gitzo GT2542 Mountaineer Series 2 is a 4-section support with carbon fiber eXact tubing-constructed legs. This Gitzo tripod features twist leg locks that unlock with a quarter turn. This, along with the central column, which enables you to extend the tripod from its folded down height of 26.6" to a maximum extended height of 69.6".
B&H is currently offering almost 40% off this tripod and head bundle, with a very competitive price of just $829.99.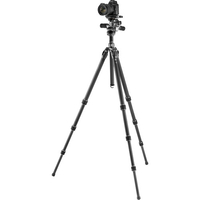 Gitzo Mountaineer tripod + head | was $1,329 | now $829
Featuring a maximum extended height of 69.6", three variable leg angles of 24º, 55º and 83º and the ability to shoot as low as 10.4" from the ground, the Gitzo GT2542 Mountaineer Series 2 carbon fiber tripod with GHF3W 3-way fluid head is a fantastic buy for any photographer – especially with an almost 40% discount!
Ends midnight 09 November EST
Read more
Best tripod for photographers: get sharper shots in any conditions
Best ball heads for tripods: quick and simple tripod heads
Best iPhone tripods and smartphone supports: for night shots, vlogging & more
Gitzo 3-way Fluid Head