Luxury tripod manufacturer Gitzo has announced a major new addition to its range of heads. The Gitzo 3-way Fluid Head GHF3W replaces four existing pan/tilt heads in its range – and borrows engineering features that are found in sister brand's Manfrotto X-Pro 3-Way Head (one of the best pan-and-tilt heads available).
The GHF3W weighs 955g but its aluminum and magnesium construction is designed to support a camera rig weighing up to 13kg.
A key new feature for this head is the innovative ergonomic retractable tilt handle - similar to those seen on the Manfrotto X-Pro head.
An innovative addition is a twisting bubble level, that allows you to check for both vertical and horizontal alignment simply by rotating the device on the side.
The head comes with a 7cm rubberized Arca-Swiss type plate and quick release holder cameras attach to the head by pressing down firmly against the holder base. The base's width is easily adjusted via the side screws for use with other plates.
The plate holder can be rotated through 90° (essentially giving you a fourth controllable movement. Ths is said to allow greater working versatility and framing – helping photographers to switch from portrait to landscape, and make it very easy to shoot overhead and below.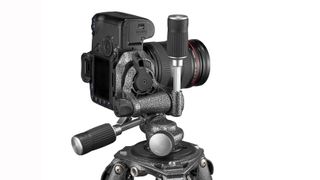 Specifications
Weight: 955 g
Maximum payload: 13 kg
Material: Aluminum, Magnesium
Base diameter: 60 mm
Plate type: GS5370DR
Front tilt: -70° / +90°
Lateral tilt: -30° / +90°
Panoramic rotation: 360°
Working height: 11.5 cm
The Gitzo 3-way Fluid Head features an independent fluid cartridge for each axis and guarantees silky smooth, seamless movement, without a trace of stick-slip. Gitzo's new fluid formula that enables flawless movement control, even in extreme conditions –and can be used in extreme temperatures, down to -30°C, and up to 70°C).
The new head will replace the G2272M, G2271M, G2270M, and G1570M in the Gitzo range.
The new Gitzo 3-way Fluid Head GHF3W is available at £439.95. The head is also available in a kit with Gitzo Mountaineer tripods starting from £1,189.95. US prices have yet to be announced.
Read more:
• Best ball heads for tripods
• Best gimbal heads for tripods
• The best panoramic tripod heads
• The best pan and tilt tripod heads
• The best tripod for your camera
• The best travel tripods
• The best carbon fiber tripods
• The best monopods