If you've been in the market for a good quality Canon flashgun, but you've been put off by high prices, then you might want to pay attention to this fantastic deal. The Bolt VS-560C Wireless TTL Flashgun for Canon is now just $59.95, down from its original price of $179.95 by an incredible $120.
Compatible with Canon E-TTL / E-TTL II, this Canon flashgun from Bolt has wireless TTL functionality up to 33' with four channels and three groups. This flashgun for Canon has a flash duration of 1/1,000 to 1/20,000 and a flash recycle time of 0.5 to 9 seconds with Ni-MH batteries.
• Read more: Best Canon flashgun
This Bolt flashgun for Canon has an adjustable five-position flash head that can be tilted up 0-90º, left 0-120º and right 0-180º. It has seven manual mode power output settings of 1/1, 1/2, 1/4, 1/8, 1/16, 1/32 and 1/64. This flashgun for Canon also has flash exposure compensation of +3 in 1/3 EV steps.
This deal only has just less than 16 hours left until it runs out (from the time of publication), so don't delay!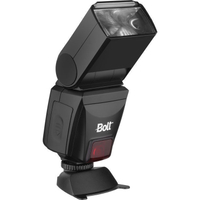 Read more
Best flashgun in 2020: the best strobe units for Canon cameras, Nikon and more
Best Nikon flashguns in 2020: Get sorted with a Nikon Speedlight today!
Best Sony flashguns in 2020: Get your kit sorted today!