If you own a Canon camera, it's only natural to hanker after a Canon Speedlite to accompany it. Also known as flashguns and strobes, they can enhance pretty much any shooting scenario. It's easy to think that Speedlites are only there for the dark times in life, when there's insufficient ambient lighting to photograph your subject. Nothing could be further from the truth.

Sure, a Speedlite is all but essential when there's little or no natural light to be had. Flashguns are often called 'the most available light', and with good reason. A little flash goes a long way in dark times. But Speedlites are also brilliant for outdoor portraits under a glaring sun, filling in unsightly shadows and giving a much more balanced look to lighting. Even when it's not dark or overly bright, a little additional lighting in key areas can bring subjects to life and accentuate what's important in a scene.

Canon offers a range of Speedlites to suit everyone from beginners to seasoned pros, with features, performance and price tags to match. Even the most basic and budget-friendly model has some surprising, enticing extras that add versatility. Even so, you're not limited to genuine Canon Speedlites. Independent manufacturers like Godox, Hahnel and Nissin Digital offer 'dedicated' flashguns that are tailor-made for Canon cameras, often delivering better value for money. As well as considering all the own-brand options, it can pay to take a look the more diverse range of options in the wider remit of our Best Flashguns buying guide.

And let's not forget that a Speedlite isn't the only way to shine a light on your subject. Intriguing alternatives include the best LED panels. These don't match the power of a flashgun, especially when you're competing with outdoor sunlight, but they do provide continuous lighting, which can be helpful for stills and essential if you're shooting video. On a grander scale, you may need more flash power than any Speedlite can provide, so you might be better off with the best lighting kits for professional studio or location photography.

Some of the Speedlite terminology can be confusing but we'll cover that in our Jargon Buster section. A couple of models have recently been discontinued but still make good second-hand buys. Read our full Canon Speedlite 470EX-AI and Canon Speedlite 600EX RT-II reviews for more information For now though, let's dive straight into seeing what each of Canon's current Speedlites has to offer.

The best Canon Flashguns in 2023
Why you can trust Digital Camera World Our expert reviewers spend hours testing and comparing products and services so you can choose the best for you. Find out how we test.
Best Canon Speedlite overall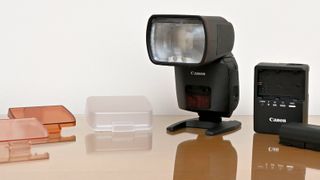 The Speedlite EL-1 reigns supreme in Canon's Speedlite line-up, especially now that the 600EX II-RT has been discontinued. As Canon's flagship flashgun, the EL-1 is designed to meet the challenges that the most demanding professional photographers can throw at it. It's built for endurance and dependability, with a weather-resistant design that uses sealing similar to that of top Canon cameras. We love the top-quality feel of this flashgun and it's reassuring to be able to shoot in any weather. For example, you can't weddings and other events on hold just because of a few raindrops.

We really like the stamina of this Speedlite. It runs on a rechargeable Li-ion battery pack instead of the more conventional array of four AA batteries. We found the flashgun kept going for around 330 full-power flashes from a fully charged battery, which also enables super-fast recycling speeds of just under a second, even after a full-power flash. Another plus point for stamina is that the EL-1 features a new fan-driven cooling system, enabling continuous shooting for up to 170 full-power flashes.

To enhance durability, accuracy, and consistency, we're impressed that the EL-1 has a specially designed Xenon flash tube. This also enables manual power settings right down to 1/8192 power for really subtle flash effects. That's a particular challenge for flashgun technology. As you'd expect, it boasts a full range of flash modes including a programmable strobe, a red AF-assist lamp plus an LED lamp, and full RF and infrared wireless master/slave modes. The only real sticking point is that the EL-1 costs more than most of us would be willing to pay for a flashgun.

Read our full Canon Speedlite EL-1 review for more information.
Best mid-range Canon Speedlite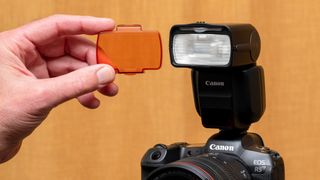 For all of us whose pockets aren't deep enough for the Canon Speedlite EL-1 (physically and moneywise), the 430EX III-RT is the next best option. It's relatively compact and affordable, but we love its rich range of features and its wonderfully intuitive interface, based on a backlit screen and smart selection of control buttons and dials.

Unlike the more basic Canon Speedlite EL-100, this one has a larger zoom range of 24-105mm, and it's motorized instead of being a manual push-pull affair. As such, it uses dedication to track the lens's focal length or zoom setting that's mounted on the camera, along with automatic sensing that caters to both APS-C format and full-frame cameras.

Considering that the 430EX III-RT runs on AA batteries rather than a Li-ion battery pack, recycling speed is pretty swift even after a full-power flash, at around 2.5 seconds if you use NiMH batteries. The Speedlite is supplied complete with a diffusion dome, which is useful for softening the quality of light, and you also get a color filter for matching the color temperature of the flash to tungsten ambient lighting. Full wireless RF (Radio Frequency) master/slave functions are available for use with other compatible Speedlites, including the now discontinued 600EX II-RT, although there's only a wireless infrared slave mode, so you can't use this Speedlite to trigger others that only work via infrared wireless linking.

Read our full Canon Speedlite 430EX III-RT review for more information.
Best Canon Speedlite for EOS R cameras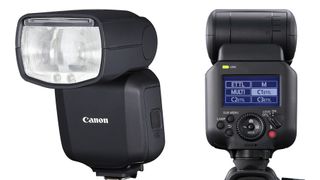 This is Canon's latest Speedlite and there's a lot we like about it. It's the first in the line-up to be designed for EOS R-system mirrorless cameras rather than DSLRs. It's no surprise then that there's no red AF-assist beam, which doesn't work with mirrorless cameras. We're more surprised that it's not compatible with the whole range of EOS R cameras. That's because it's designed to take advantage of Canon's new 'Multi Function Shoe'. However, that rules out use with older EOS R cameras, including the EOS R5 and original EOS R6.

The EL-5 is intended for newer bodies including the EOS R3, R6 Mark II, R7, R10 and onwards, all of which feature the Multi Function Shoe. We're disappointed that the Speedlite isn't supplied with a charger for its Li-ion battery pack. It's a definite drawback if your camera doesn't use a compatible LC-E6 charger, or if you want to charge the batteries for your camera and Speedlite at the same time.

What we do like is the powerful Gn 60 rating (ISO 100, meters) at its longest zoom setting. The zoom range itself is impressive as well, stretching all the way from 20-200mm in full-frame terms. We love the inclusion of an LED modelling lamp, which also serves as AF-assist for mirrorless cameras. Wireless RF master/slave modes are included, albeit with a modest range of 30m, compared with around 100m for some independent flashguns. As well as the high-end maximum power, we like that it's adjustable right down to 1/1024 for really subtle fill-in flash.

Best Canon Speedlite for beginners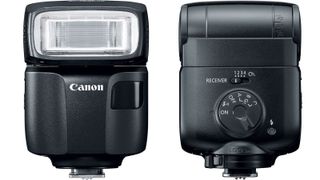 One of the things we like best about this Speedlite is that it's just about small enough to slip into a coat pocket. It's certainly easier to find room for than a big, chunky flashgun when you're out and about. Although compact, the flashgun features a bounce head, with 0-90 degrees of vertical movement, and 150/180 degrees of swivel to the left and right. However, there's no motorized zoom. Instead a rudimentary push-pull manual adjustment gives alternatives to match focal lengths of 24mm or 50mm focal lengths (38mm or 80mm for APS-C). We also miss the wide-angle diffuser panel and catchlight card, which aren't featured, it does come with a carrying pouch and stand.

We're impressed that the little EL-100 packs a wealth of flash modes, including high-speed sync, rear-curtain sync and even a programmable stroboscopic mode, the last of which is lacking on the more up-market 430EX III-RT. Wireless master and slave modes are available via infrared linking but there's no RF connectivity.

We're not so keen on the onboard controls, which are very rudimentary, only really catering to channel and group assignments for wireless modes, and there's no LCD screen. We find it can be more convoluted, needing to constantly dip into menus on the host camera to make adjustments. Maximum power output is modest, compared with other Canon Speedlites and, based on just two AA batteries, recycling isn't very fast at 3 seconds after a full-power flash when using NiMH batteries (5.2 seconds for alkaline). Even so, it's a smart little Speedlite, with 'lite' being the operative word for travel-friendliness.

Read our full Canon Speedlite EL-100 review for more information.
Best Macro Speedlite on a budget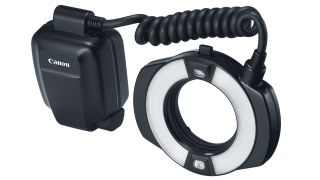 Regular Canon Speedlites are less than ideal for extreme close-ups and macro photography. When mounted in a camera's hot shoe, the flash tube sits high above the axis of the lens, so uneven lighting with deep shadows can plague macro shots. The MR-14EX II puts that to rights. It's based on a separate hot shoe-mounting control unit and a circular flash head that mounts around the front of a lens.

We love that the MR-14EX II can deliver beautifully even, shadowless lighting for macro photography. The mounting system is directly compatible with most of Canon's macro lenses. However, you might need a 67mm or 72mm attachment thread 'Macro Lite Adapter' to suit some lenses.

As they say, power is nothing without control. We're impressed that you can rotate the flash tubes on the lens for changing the effect. In normal configuration, the two semi-circular flash tubes sit on the left and right, and you can adjust their power output independently. This not only enables shadowless macro lighting when both sides have equal power, but gives the option of adding shadows to give a more three-dimensional effect. We also like the LED modeling lamps at the top and bottom, which are really helpful for composition and accurate focusing.

Best high-performance Macro Speedlite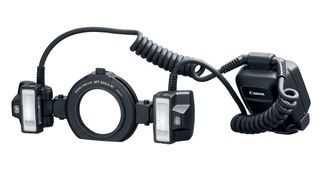 Much more powerful than Canon's older MR-14EX II Macro Ring Lite, this more recent addition has a Gn 26 rating (ISO 100, meters), compared with Gn 14. It also has a completely different design, based on two small flash heads rather than semi-circular flash tubes. We love the greater control this gives us in regard to positioning each of the flash heads independently. The design works really well for extreme close-ups, and the extra power comes in handy when you want to use very narrow aperture settings to increase the depth of field in macro photography.

Although there are significant upsides to the twin head configuration, we miss the ability to replicate the classic ring light effect, sometimes used in portraiture to produce halo shaped catchlights in the eyes.

Back on a positive note, the main hot shoe-mounting control unit has an intuitive layout and connects to the flash heads via chunky coiled cables. You can also trigger other compatible Speedlites with a choice of infrared or RF wireless communication. The whole kit feels very robust and of pro-grade quality, as you'd expect, considering the steep asking price. It's actually nearly twice as expensive as the MR-14EX II Macro Ring Lite.

Read our full Canon Macro Twin Lite MT-26EX-RT review for more information.

How we test flashguns
We test all available features for each flashgun that goes through out labs. To test power output, we used a Sekonic flash meter placed at a distance of one meter from each flashgun. We check the complete range of manual power settings, in one-stop increments. Based on a sensitivity of ISO 100, the figures correlate directly with the Gn (Guide number). The results are double-checked by taking shots of a gray card with the appropriate lens apertures and using the camera's histogram display in playback mode. This is done for flash zoom settings of 24mm, 50mm and 105mm (in full-frame terms), where available.

We also check the accuracy and consistency of electronic/intelligent TTL (Through The Lens) flash metering, and the speed with which each flashgun can recycle to a state of readiness after a full-power flash, using both Ni-MH and alkaline cells, or a Li-ion power pack where supplied.
For more information on how we test photographic equipment, click here.

Jargon Buster
There's a lot of jargon associated with flashguns, some of which can be daunting for the uninitiated. Here's an explanation of the various terms and acronyms, to make light of the situation, so to speak...

AF-assist
You might well use a flashgun in very dull or dark lighting conditions. Traditionally, a red AF-assist beam will give the camera's autofocus system something to lock on to. However, this doesn't work with mirrorless cameras, which often feature a built-in AF-assist lamp.

Battery type
Most conventional flashguns run on either two or four AA batteries. Rechargeable NiMH batteries tend to enable a greater number of flashes and faster recycling times, especially after high-power flashes, compared with alkaline batteries. Some of the latest flashguns run on rechargeable Li-ion battery packs, enabling a greater number of flashes and even faster recycling speeds.

Bounce and swivel
A bounce and swivel head enables you to bounce the light off ceilings and walls, for a softer and more natural looking lighting effect. Typically, you'll get 0-90 degrees of vertical bounce and up to 180 degrees of lateral swivel in both directions, to the left and right. Some flashguns offer more generous vertical bounce, from slightly downward for extreme close-ups to slightly rear-facing. For the latter, you can also swivel the head through 180 degrees and then apply vertical bounce.

Catchlight card
This is a small white card that pulls out from the front of the main flash tube, where featured. It enables some forward-facing light when using the flashgun in bounce mode, to fill in shadows and give catchlights in the eyes when taking portraits.

Color filters
Some flashguns are supplied with clip-on color filter panels. Where featured, two are usually included, for balancing the color temperature of the flash with either tungsten or fluorescent ambient lighting. When fitted, the flashgun often conveys information to the host camera so that the appropriate white balance setting can be selected automatically.

Dedication
A dedicated flashgun is designed to work with a specific make of camera, typically enabling TTL (Through The Lens) automatic flash exposure settings for varying lighting conditions and different subject distances. It also allows various flashgun settings to be applied direct from the camera.

Diffusion dome
This is a translucent white plastic dome that fits over the front of the flashgun's light tube. It gives a softer lighting effect and enables some forward-facing direct flash in addition to flash bounced off walls and ceilings. You'll typically use it with around a 45-degree vertical bounce angle.

Diffusion panel
Many flashguns feature a diffusion panel that pulls out from the front of the flash tube and swings down with a spring-loaded action. It gives a wider beam angle, to cover the field of view when using a wide-angle lens.

e-TTL, E-TTL II
Canon's e-TTL system for 'evaluative Through The Lens' flash metering uses a pre-flash to automatically work out the correct flash intensity for any given subject distance and ambient lighting conditions. It's since been replaced by e-TTL II, an updated version featured in Canon's current flashguns.

Gn (Guide number)
The maximum power output (light intensity) of a flashgun is usually quoted as a Gn (Guide number). It's generally quoted at the maximum zoom setting of the flashgun, where power output is at its greatest due to the relatively narrow beam angle, and tends to be given in meters and/or feet using a camera sensitivity of ISO 100.

HSS
The HSS (High Speed Sync) mode offered by many flashguns enables you to use the flash at a faster shutter speed than the regular sync speed, which usually tops out at around 1/200th of a second. HSS enables you to use flash at super-fast shutter speeds, albeit with a reduction in maximum flash power.

LED lamp
Some flashguns include a secondary LED lamp. It usually comes with an adjustable output brightness. It's useful for close-ups stills and video, as well as for use as a modelling lamp (to preview the effect of flash). You can also use it as an AF-assist lamp, useful with mirrorless cameras that can't use a flashgun's red AF-assist beam.

Red-eye reduction
This is a flash mode that fires a number of pre-flash pulses to narrow the pupils of the eyes when taking portraits. It reduces the effect of people appearing to have red pupils caused by the flash bouncing off the insides of their eyes.

Rear-curtain sync
With rear-curtain sync, the flash is fired at the end of the exposure rather than at the beginning. It can be useful when capturing light trails from vehicles with long exposures, as the light trails will appear to stretch out behind the vehicle in a natural manner, rather than in front of the vehicle.

Slow sync
Slow sync is a mode for combining flash with long exposures. It's good for scenarios like night-time portraits, where you might want to photograph somebody set against the lights of a cityscape.

Stroboscopic mode
A programmable stroboscopic mode enables you to automatically fire a number of flashes at a preset interval, throughout a long exposure. This gives you the chance to freeze an object in motion at various stages through its path of movement.

Wireless modes
For using a flashgun off-camera, or in setups with multiple flashguns, one flashgun is configured as the master, the others are set to slave mode. The most basic wireless linkage is 'optical' mode, which senses the light from the main flash (pre-flash pulses in TTL mode can often be ignored). Infrared linking is more advanced, enabling TTL and other options, but works over a fairly limited distance. Wireless RF (Radio Frequency) linking is best, as it's more reliable especially in daylight conditions, doesn't require 'line of sight' so you don't have to worry about obstacles, and often works over a range of up to 100 meters.

Zoom
Most flashguns feature a zoom head. It's generally motorized in dedicated flashguns, so the zoom setting of the flashgun can be automatically matched to the focal length or zoom setting of the lens mounted on the camera. A zoom range of 24-105mm (in full-frame terms) is common, whereas some flashguns offer a more generous zoom range of up to 20-200mm, giving greater wide-angle and telephoto potential.