There's something for everyone in Nikon's current range of Speedlights, aka flashguns and strobes. The overall range kicks off with the entry-level Speedlight SB-500, shifts up a gear with the mid-range SB-700, and tops out with the fully pro-grade SB-5000. There's also a Speedlight R1C1 kit, catering to macro photography.

The range of Speedlights covers a broad spectrum of price points, with diverse sets of features and varying power ratings. Picking the perfect Nikon Speedlight to suit your exact requirements and budget can be a confusing task, so it's useful to have a guide to steer you toward the flashgun that's your own personal 'best buy'. That's where we come in – helping you choose the best Nikon Speedlight for your needs.

Let's take a step back for a minute though, and take a look at the bigger picture. Own-brand Nikon Speedlights aren't the only flashgun party in town. Independent manufacturers like Godox, Hahnel, and Nissin Digital offer 'dedicated' flashguns that are tailor-made for Nikon cameras, typically with more bang per buck. While considering all the own-brand options, it can pay to take a look at the more diverse range of options in our best Flashguns buying guide.

It's also worth bearing in mind that a Speedlight that mounts on your Nikon camera's hot shoe isn't the only way to illuminate your subject. You might like to consider the best LED panels too. These certainly don't match the power of a flashgun, especially when you're competing with outdoor sunlight, but they do provide continuous lighting, which can be helpful for stills and essential for shooting video. Going large, you may need more flash power than any of these Speedlights can provide, so it can pay to consider the best lighting kits for professional studio or location photography.

Some of the jargon associated with Speedlights can be confusing but we'll cover that in our Jargon Buster section. For now, though, let's dive straight into seeing what each of Nikon's Speedlights has to offer.

Best Nikon flashguns in 2023
Why you can trust Digital Camera World Our expert reviewers spend hours testing and comparing products and services so you can choose the best for you. Find out how we test.
Best Nikon Speedlight overall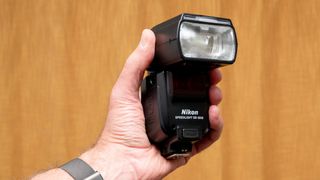 We've always been fans of Nikon's top-end, pro-grade Speedlights, and the SB-5000 is the best yet. It replaces the SB-910 as the Nikon's flagship Speedlight. Compared with the SB-700, it adds a more powerful Gn 55 rating (at 200mm, which changes to Gn 34 at 35mm), as well as a longer 24-200mm motorized zoom range. That gives more wide-angle potential as well as greater telephoto coverage. As you'd expect, there's also a pull-out, flip-down wide-angle diffuser panel, and a white catchlight card.

An addition that we like over the SB-700 is the programmable strobe/repeat mode for setting up multiple flashes during a long exposure. Another bonus is the on-board selection of i-TTL and i-TTL BL (Balanced Light) flash metering modes. And although the SB-5000 runs on a conventional set of AA batteries rather than a Li-ion battery, there's the option of using an external power pack (sold separately). For quick-fire use over extended periods, we like the new integral cooling system that keeps the SB-5000 going for 100 or more shots, even at full output power.

Another neat trick is that the SB-5000 features a built-in RF wireless receiver, which enables remote triggering from Nikon's optional RF transmitters and transceivers, sold separately. To our minds, however, a built-in transceiver would have been preferable, enabling the SB-5000 to work in RF commander mode rather than just as a slave. Continuous shooting stamina aside, the main performance boost over the SB-700 is in maximum output power. Recycling speeds are quick for such a powerful Speedlight that runs on regular AA batteries rather than a Li-ion battery pack. The total number of flashes and recycling speeds can also be enhanced by using Nikon's optional SD9 external power pack, which takes eight AA batteries instead of four.

Read our full Nikon Speedlight SB-5000 review for more information.
Best mid-range Nikon Speedlight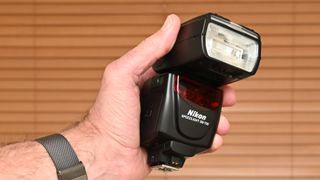 Taking performance, versatility, and cost into consideration, the SB-700 ticks a lot of the right boxes on our Nikon Speedlight wish list. As the company's mid-range offering, it's a significant upgrade over the previous SB-600. We love its elegant and simplified control panel, which is a joy to use. We also like the full master and slave wireless functions, even if they only come with infrared linking rather than RF connectivity. We're also impressed by the range of three alternative illumination patterns, with narrow, regular, and wide coverage options, and that the head has a downward as well as upward tilt, and a full 180-degree swivel in both directions.

The 24-120mm zoom range gives plenty of flexibility, and we're fans of the smart range of high-quality accessories that come bundled with the SB-700. These include a diffusion dome and color-matching filters for both tungsten and fluorescent lighting, plus a table-top stand with a tripod socket, all wrapped up in a padded case. We're not so keen on the fact that you can only switch from Nikon's i-TTL BL (Balanced Light) flash metering mode to regular i-TTL by changing the host camera's main metering mode to spot metering.

The power rating of Gn 38 (meters, ISO 100) is adequate rather than generous and recycling is a little pedestrian, measuring 2.7 or 5.4 seconds in our tests, using NiMH and alkaline batteries respectively. Even so, unless you need full-on pro-grade specs and power, or a low-budget Speedlight, the SB-700 is the pick of the bunch.

Read our full Nikon Speedlight SB-700 review for more information.
Best compact Nikon Speedlight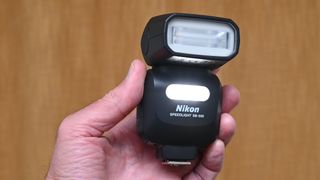 Sometimes the simple things in life are best. If you're in the market for a basic flashgun that simply 'works', without too many fancy features to get flustered by, this flashgun covers the basics. It's a Speedlight that we like for the journey - it's small enough to slip into a small corner of a daily bag or even a coat pocket, and has a lightweight build, running on just two AA batteries.

The flip side is that we're not that enamored by the lack of a zoom facility. The flashgun has a fixed focal length equivalent of 24mm (in full-frame terms) with neither manual nor motorized extension. You therefore can't select longer focal lengths and there's also no wide-angle diffuser panel nor a flip-out catchlight card. The interface is similarly basic, with no rear info screen and only a very rudimentary set of onboard controls. We often find ourselves delving into the host camera's menu system to make any flash adjustments.

What we do like is that the SB-500 is compatible with the Nikon Creative Lighting System, featuring infrared commander/slave modes, although the Commander mode only works with fairly recent cameras. We also like the secondary LED lamp for constant lighting, which is daylight-balanced and has the same 24mm focal length equivalent beam angle as the main flash tube. Maximum flash power is rather modest. And based on running from two rather than four AA batteries, recycle speeds after a full-power flash are on the slow side, at 4.6 seconds for NiMH and 6.8 seconds with alkaline cells. Ultimately, the SB-500 is a good choice if you want something small, simple, and convenient, rather than a Speedlight with more power and sophistication.

Read our full Nikon Speedlight SB-500 review for more information.

Best Nikon Speedlight for macro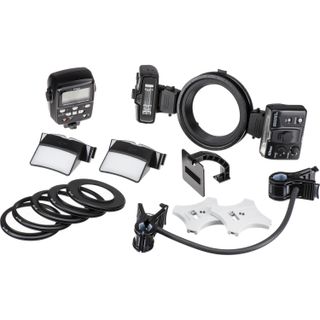 We find that two can be better than one, and that's certainly the case with this twin Speedlight kit. A regular flashgun is far from ideal for extreme close-up and macro photography, as the off-axis flash tends to create dark shadows. To get around the problem, this specialist kit includes a hot shoe-mounting infrared wireless SU-800 commander and two small SB-R200 Remote Speedlight units.

The Speedlights themselves attach to an adaptor ring that screws onto the front of a lens, and the kit comes complete with a range of rings to suit popular thread diameters ranging from 52mm to 77mm. It's a bit fiddly to set up but we found that a little practice goes a long way. By positioning and angling the twin heads appropriately, it's relatively easy to capture shadowless close-ups and macro images. And if you want to add a little shadow to give a more three-dimensional look, we like that the relative power of the two heads can be adjusted quickly and easily.

A less expensive Nikon Remote Kit R1 is also available, which costs around two-thirds of the price to buy. However, this doesn't include the SU-800 commander unit. Instead, it's designed to be triggered from the pop-up flash of a camera, which is a moot point for Nikon Z-system cameras that don't feature a pop-up flash module. Indeed, the kit was originally advertised as being suitable for use with the pop-up flash of the Nikon D70s and D200, which shows its age!

How we test flashguns
We test all available features for each flashgun that goes through our labs. To test power output, we used a Sekonic flash meter placed at a distance of one meter from each flashgun. We check the complete range of manual power settings, in one-stop increments. Based on a sensitivity of ISO 100, the figures correlate directly with the Gn (Guide number). The results are double-checked by taking shots of a gray card with the appropriate lens apertures and using the camera's histogram display in playback mode. This is done for flash zoom settings of 24mm, 50mm, and 105mm (in full-frame terms), where available.

We also check the accuracy and consistency of electronic/intelligent TTL (Through The Lens) flash metering, and the speed with which each flashgun can recycle to a state of readiness after a full-power flash, using both Ni-MH and alkaline cells, or a Li-ion power pack where supplied.
For more information on how we test photographic equipment, click here.

Flashguns: Jargon Buster
There's a lot of jargon associated with flashguns, some of which can be daunting for the uninitiated. Here's an explanation of the various terms and acronyms, to make light of the situation, so to speak...

AF-assist
You might well use a flashgun in very dull or dark lighting conditions. Traditionally, a red AF-assist beam will give the camera's autofocus system something to lock on to. However, this doesn't work with mirrorless cameras, which often feature a built-in AF-assist lamp.

Battery type
Most conventional flashguns run on either two or four AA batteries. Rechargeable NiMH batteries tend to enable a greater number of flashes and faster recycling times, especially after high-power flashes, compared with alkaline batteries. Some of the latest flashguns run on rechargeable Li-ion battery packs, enabling a greater number of flashes and even faster recycling speeds.

Bounce and swivel
A bounce and swivel head enables you to bounce the light off ceilings and walls, for a softer and more natural looking lighting effect. Typically, you'll get 0-90 degrees of vertical bounce and up to 180 degrees of lateral swivel in both directions, to the left and right. Some flashguns offer more generous vertical bounce, from slightly downward for extreme close-ups to slightly rear-facing. For the latter, you can also swivel the head through 180 degrees and then apply vertical bounce.

Catchlight card
This is a small white card that pulls out from the front of the main flash tube, where featured. It enables some forward-facing light when using the flashgun in bounce mode, to fill in shadows and give catchlights in the eyes when taking portraits.

Color filters
Some flashguns are supplied with clip-on color filter panels. Where featured, two are usually included, for balancing the color temperature of the flash with either tungsten or fluorescent ambient lighting. When fitted, the flashgun often conveys information to the host camera so that the appropriate white balance setting can be selected automatically.

Dedication
A dedicated flashgun is designed to work with a specific make of camera, typically enabling TTL (Through The Lens) automatic flash exposure settings for varying lighting conditions and different subject distances. It also allows various flashgun settings to be applied direct from the camera.

Diffusion dome
This is a translucent white plastic dome that fits over the front of the flashgun's light tube. It gives a softer lighting effect and enables some forward-facing direct flash in addition to flash bounced off walls and ceilings. You'll typically use it with around a 45-degree vertical bounce angle.

Diffusion panel
Many flashguns feature a diffusion panel that pulls out from the front of the flash tube and swings down with a spring-loaded action. It gives a wider beam angle, to cover the field of view when using a wide-angle lens.

Gn (Guide number)
The maximum power output (light intensity) of a flashgun is usually quoted as a Gn (Guide number). It's generally quoted at the maximum zoom setting of the flashgun, where power output is at its greatest due to the relatively narrow beam angle, and tends to be given in meters and/or feet using a camera sensitivity of ISO 100.

HSS (Auto FP)
The HSS (High Speed Sync) mode offered by many flashguns enables you to use the flash at a faster shutter speed than the regular sync speed, which usually tops out at around 1/200th of a second. Also called 'Auto FP' mode by Nikon, this enables you to use flash at super-fast shutter speeds, albeit with a reduction in maximum flash power.

i-TTL
Nikon uses i-TTL (intelligent Through The Lens) flash metering to work out the required flash power for shooting at any given subject distance and lighting conditions, to gain a 'correct' exposure. The flashgun fires a number of pre-flash pulses to make the calculation.

i-TTL BL
This is the default flash metering mode for current and recent Nikon flashguns. It stands for i-TTL Balance Light, and takes ambient lighting more into account than regular i-TTL mode, for a more natural overall look.

Illumination pattern
Some Nikon flashguns offer different illumination patterns, either giving wide and even-looking coverage, a more regular angle, or a tighter angle to concentrate the light in the central region of the image frame.

LED lamp
Some flashguns include a secondary LED lamp. It usually comes with an adjustable output brightness. It's useful for close-ups stills and video, as well as for use as a modeling lamp (to preview the effect of flash). You can also use it as an AF-assist lamp, useful with mirrorless cameras that can't use a flashgun's red AF-assist beam.

Red-eye reduction
This is a flash mode that fires a number of pre-flash pulses to narrow the pupils of the eyes when taking portraits. It reduces the effect of people appearing to have red pupils caused by the flash bouncing off the insides of their eyes.

Rear-curtain sync
With rear-curtain sync, the flash is fired at the end of the exposure rather than at the beginning. It can be useful when capturing light trails from vehicles with long exposures, as the light trails will appear to stretch out behind the vehicle in a natural manner, rather than in front of the vehicle.

Slow sync
Slow sync is a mode for combining flash with long exposures. It's good for scenarios like night-time portraits, where you might want to photograph somebody set against the lights of a cityscape.

Stroboscopic mode
A programmable stroboscopic mode enables you to automatically fire a number of flashes at a preset interval, throughout a long exposure. This gives you the chance to freeze an object in motion at various stages through its path of movement.

Wireless modes
For using a flashgun off-camera, or in setups with multiple flashguns, one flashgun is configured as the master or commander, the others are set to slave mode. The most basic wireless linkage is 'optical' mode, which senses the light from the main flash (pre-flash pulses in TTL mode can often be ignored). Infrared linking is more advanced, enabling TTL and other options, but works over a fairly limited distance. Wireless RF (Radio Frequency) linking is best, as it's more reliable especially in daylight conditions, doesn't require 'line of sight' so you don't have to worry about obstacles, and often works over a range of up to 100 meters.

Zoom
Most flashguns feature a zoom head. It's generally motorized in dedicated flashguns, so the zoom setting of the flashgun can be automatically matched to the focal length or zoom setting of the lens mounted on the camera. A zoom range of 24-105mm (in full-frame terms) is common, whereas some flashguns offer a more generous zoom range of up to 20-200mm, giving greater wide-angle and telephoto potential.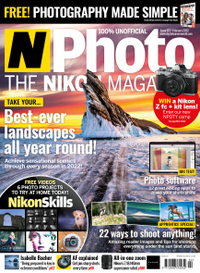 N-Photo is 100% Nikon-devoted, and 100% editorially independent. If you're a Nikon owner and want to improve your images, get the best buying advice and reviews, see some of the world's best Nikon photography, N-Photo is the title for you.