Looking for something to keep the kids both busy and creative during the lockdown? Then check out this great deal on the Toy Story instax Mini camera and film bundle, which has been slashed by 20%.
You can now buy the Toy Story 4 instax Mini 9 camera with film for just $59.99 – and with the saving on the original $71.93 retail price, you can think about adding another packet of film to your purchase!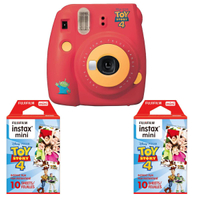 We're big instax fans, and the Mini 9 is among both the best instant cameras and best cameras for kids. Add in some fun colors and Toy Story 4 decals and this is a camera that your little ones will love running around the house shooting with!
This bundle includes the camera and two packs of Toy Story 4-themed instax Mini film. With ten prints per pack, featuring exclusive designs of your favorite Toy Story characters, it's a great way to encourage or support your kids' love of photography.
Read more:
The best camera for kids: family friendly cameras for all ages
The best instant cameras – from best instax to best Polaroid cameras
Best digital instant cameras: hybrid cameras and instant printers