Western Digital, parent company of the SanDisk brand, has launched a new line called SanDisk Professional, delivering pro-grade performance to "professionals whose livelihood depends on mission-critical needs".
Debuting with the new line are three new products: the Pro-Cinema CFexpress VPG400 memory card, a Pro-Reader series of card readers and the Pro-Dock 4 docking station (which works in conjunction with the readers).
• Read more: Best CFexpress cards
While the SanDisk brand had previously occupied the consumer and prosumer space, SanDisk Professional distinctly targets the independent pro, SMB and studio end users. This was an area previously fulfilled by Western Digital's G-Technology brand, which will gradually be phased out and folded into the SanDisk Professional product line-up.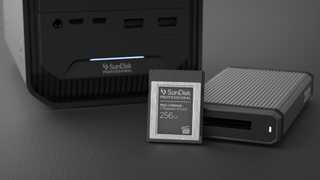 Pro-Cinema CFexpress VPG400
Launching with a 256GB capacity, This card comes with a "video performance guarantee" of keeping a sustained 400MB/s write speed for the entire capacity of the card, and will not drop the write speed below that from the first to the last gigabyte – making it ideal for the demands of 4K, 6K and 8K RAW.
Pro-Reader series
These high performance card readers feature a USB-CTM interface for SuperSpeed USB support up to 10Gbs – and answer the longstanding criticism of the manufacturer not having better readers. They will be available for CFast, CFexpress, CF, SD, microSD and Red Mini-Mag. These stackable, modular readers are also able to be used with…
Pro-Dock 4
A remarkable four-bay reader that scales according to your needs, using the modular Pro-Readers. It makes use of Thunderbolt 3 for remarkable connectivity and speed, enabling to read four bays simultaneously at around 2,800Mb/s!
In addition, a number of G-Technology drives that mostly feature cosmetic changes – including a 4TB G-Drive ArmorLock Encrypted NVMe SSD, enterprise-grade Ultrastar drives and G-RAID solutions – will roll out as part of the SanDisk Professional line.
Most SanDisk Professional products will start shipping in June, with others following in July, prices to be confirmed.
Read more:
Best SSDs
Best card readers
Best external hard drives
Best USB-C hubs