Samsung has announced its new Galaxy Book Pro and Galaxy Book Pro 360 laptops. Both are available in 13.3-inch or 15.6-inch screen sizes, but the Galaxy Book Pro 360 is a convertible laptop with a display that can hinge right back and around to sit against the rear of the laptop to create a tablet-like device. Both laptops run Windows 10, and they feature 4G and 5G connectivity for mobile internet without the need to tether to your smart phone. The laptops are also equipped with Wi-Fi 6E, enabling a super-fast 6GHz connection to Wi-Fi networks.
Portability is key with these devices. The smaller Galaxy Book Pro 13-inch weighs only 870g and measures a mere 11.2mm thin. Despite this portability, Samsung is claiming military-grade durability, as each device is constructed from 6000-series aircraft-grade aluminum.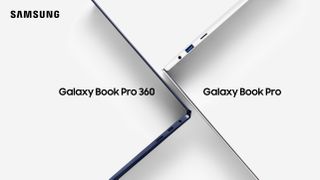 Viewing photos and videos should be a real pleasure thanks to both devices sporting a Super AMOLED display, making them the first Windows laptops to be equipped with this screen technology, although laptops like the latest Razer Blade do already feature regular OLED displays. OLED screen tech is second-to-none for image contrast and viewing angles. Another potentially invaluable feature for photographers is Samsung's Intelligent Color Engine feature, which can automatically change the screen's color profile to suit the current open software. Both the 13.3-inch and 15.6-inch display sizes are Full HD (1920 x 1080) panels, which seems a bit lacklustre next to the current crop of 4K laptop screens. Although even spread over the larger 15.6-inch screen size, a Full HD resolution is still high enough at typical laptop viewing distances to rival the displays on some of the best photo-editing laptops for photographers.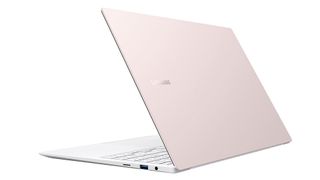 Unlike Samsung's previous Galaxy Book S which was based around a Qualcomm Snapdragon processor, the new Pro models use more conventional 11th-gen Intel Core-series processors. They also qualify for Intel's Evo Platform certification, signifying "an industry-leading balance of power, immersive graphics, always-on connectivity, and long-lasting battery life". Samsung also claims these "are the thinnest 13-inch and 15-inch Intel Evo designs ever".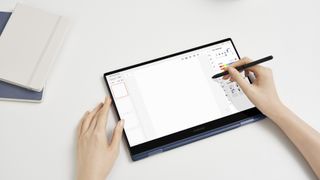 A key feature of the Galaxy Book Pro 360 is that it includes a new S Pen stylus which is 2.5x thicker than a stylus you'd get with a Galaxy Note phone, allowing a more ergonomic writing and drawing experience when the laptop is in tablet mode.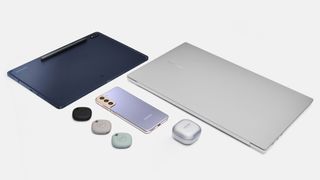 Samsung has also given serious thought to home working when designing the Galaxy Book Pro laptops. With Studio mode, you can enjoy video call environments that help you look as you prefer regardless of your setting. Intelligent Noise Cancelling helps eliminate ambient noise from your microphone, while Samsung's Screen Recorder and Studio Plus allows you to record your screen in combination with your voice and edit the video with easy editing tools.
Another neat feature is the ability to pair the laptop with a Samsung Galaxy Tab to use it as a portable monitor, thereby extending the laptop's image onto a dual screen set-up. The laptops can also link with your Galaxy smartphone to enable phone notifications and messages to be automatically displayed on the laptop, so you needn't look back at your phone while you're working.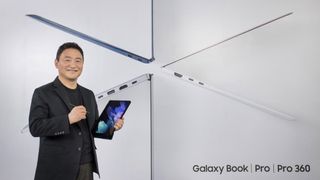 Both versions of the Galaxy Book pro get a Thunderbolt 4 port, a USB-C connection, a USB 3.2 port, HDMI port, 3.5mm headphone socket and a MicroSD slot, along with a nano SIM port for mobile data connectivity.
The Galaxy Book Pro 360 will be available in Mystic Navy, Mystic Silver, and Mystic Bronze color options. The Galaxy Book Pro will be available in Mystic Blue, Mystic Silver, and Mystic Pink Gold. Expect to pay from $999.99 for a 13-inch Galaxy Book Pro, while a 15-inch version starts at £1,099.99. The 13-inch and 15-inch Galaxy Book Pro 360 convertible laptops start at $1,199.99 and $1,299.99 respectively.
All four Galaxy Book Pro models can be pre-ordered now at B&H in the US.
Read more
Best laptop stands
Best photo editing laptops
Best laptops for video editing