The Samsung Unpacked event saw a range of products announced, including the new Samsung Galaxy S21 handsets and the Galaxy Buds Pro. However, there was one product that photographers might be particularly interested in – the Samsung Galaxy SmartTag.
Similar to the Tile gadget, the Samsung Galaxy SmartTag is a small Bluetooth gadget that can be used for locating lost items. No matter whether you want to keep track of your keys, attach one to your camera bag for ultimate peace of mind, or even secure one to your pet's collar in case they wander off, Bluetooth trackers can be endlessly helpful. Apple is rumored to be working on a similar device, which is expected to be called the Apple AirTag.
• Read more: Best camera phone
Designed to be used in conjunction with Samsung's SmartThings app the Galaxy SmartTag is a small BlueTooth Low Energy (BLE) dongle that can be attached with a key ring. To find your lost item, you simply need to open the app, which will show a proximity indicator depending on the strength of the BLE signal. You'll even be able to tap a button to make the SmartTag emit a noise to help you discover its specific location.
Ben Wood, Head of Research for CSS Insight, says, "Although the new SmartTag is similar to the Tile tag, it is a good way to reinforce the value of Samsung's wider range of products and will raise awareness of its SmartThings Find service that allows users to find their phones, tablets, smartwatches and earbuds. It is also perfect to be used as sweetener for sales promotions around the S21 devices and other Samsung products."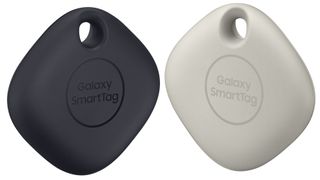 Interestingly, the SmartTag isn't the only Bluetooth tracker we'll be seeing from Samsung this year. We'll also be getting the Galaxy SmartTag Plus later in the year, which will be an Ultra Wideband (UWB) version of the tracker. UWB gives devices the ability to determine each other's location when they're in close proximity.
Meanwhile, Tile CEO CJ Prober has recently released this statement on the Galaxy SmartTag: "For nearly a decade, Tile has worked to pioneer a category focused on leveraging technology to solve the universal pain point of finding lost or misplaced things. Today's announcement further validates this category and will drive interest in the innovative solutions we have developed that make Tile products a clear choice for consumers. We welcome fair competition, and look forward to continuing to deliver best-in-class products to new and existing customers."
The Samsung Galaxy SmartTag will be released on 29 January and will retail for $29.99. Meanwhile, the SmartTag Plus will be released later this year.
Read more
Best budget camera phone
Best iPhone for photography
Best iPhone tripod