UPDATE 21/04: The Apple AirTags have finally been announced! After being rumored for nearly a year, the AirTags join the FindMy ecosystem to help users locate their misplaced belongings. Capable of being attached to keys, wallets, cameras and anything else that can easily be lost, AirTags uses the U1 chip for enhanced precision.
At the recent Apple event, Apple made a point of stating that the AirTags are designed to keep track of products, not people. In order to safeguard people's privacy and safety, the AirTags are designed to give off audible alerts so that you know that they're there.
The AirTags have been stylishly designed with a small, unassuming profile. Users can even personalize the AirTags with emojis as well – or accessorize with specially designed Hermès bag charms, luggage tags and more.
The Apple AirTags will be available for $29 / £29 / AU$45, or a 4-pack for $99 / £99 / AU$149. It will be available to order from 23 April and will ship from 30 April.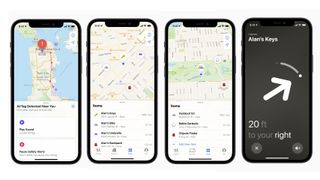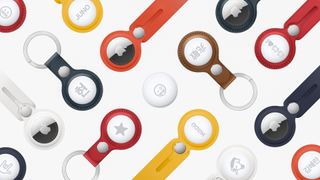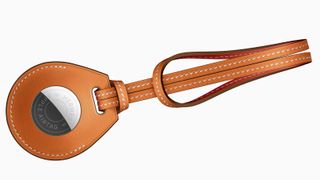 ORIGINAL: Apple AirTags have been rumored for nearly a year now - but they may now actually be scheduled for launch at the latest Apple press event which has now been announced for 20 April.
Designed to help you find missing possessions – and give you a sense of security for your valuables - we first thought AirTags were going to appear back at WWDC in June 2020. Then we thought they were going to be announced along with the new Apple Watch and iPad in September. The latest red herring was this month's iPhone 12 launch event, which also saw the announcement of the HomePod mini – but still no Apple AirTags!
There are rumors that these Bluetooth trackers are ready to be announced and are already being mass-produced. There is speculation that the Apple AirTags will come in a small and a larger size (possibly to accommodate smaller items such as a purse or wallet and larger items such as a suitcase?) and will be announced in April alongside updates to the iPad Pro range.
What are Apple AirTags?
If you've ever gone to pick up your camera or bag and had the gut-wrenching realization that it's not where you last left it, then AirTags could be. These little devices will use the same Find My Phone system that iPhone, iPad and MacBook users have been using for years - allow you to track these little tags (and therefore anything they are attached too).
Apple has also announced that it plans to extend its Find My network for locating devices to third-party companies.This means that compatible devices will be able to sync to the network (even if they don't have internet connectivity), allowing you to locate them through the Find My app (previously known as Find My iPhone).
• Read more: Best mirrorless camera
If you're wondering how this will help you find lost camera equipment, the answer lies in Bluetooth trackers. One of the most popular products is called Tile – and it consists of a small, square Bluetooth tracker that attaches to commonly lost items, such as wallets or keys. However, for months there have been rumors that Apple is gearing up to launch its own tracker called AirTags.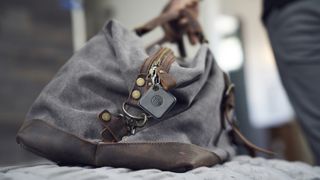 Interestingly, the upcoming Apple AirTags look set to be findable even if the item they're attached to is far away. According to Mac Rumors, if another iPhone user comes across the item, they'll be able to send you a text to let you know that the item has been found. You'll also receive a notification as soon as any iPhone comes across your lost item.
By opening up the Find My app to third-party companies, we might also see a similar functionality appear in trackers such as Tile, where the standard product currently only has a range of 150ft.
You can follow along with the Apple launch, and see for yourself if the AirTags are announced, on 20 April at 10am PDT (6pm BST) on the Apple Event website.
Read more
Best lenses for iPhone and Android phones in 2021: add on phone lenses
Best budget camera phone: these are the best cheap camera phones right now
Best iPhone for photography in 2021: from the iPhone 7 Plus to 11 Pro
Best iPads for photo editing
The best Macbooks in 2021