Update: Parrot has now released a video captured entirely with the new ANAFI drone (below).
After the demise of the GoPro Karma, DJI may have thought itself relatively uncontested in the consumer camera drone scene, but rivals are emerging that should have the firm watching its back.
One such competitor is Parrot, whose new ANAFI drone marks a significant departure from the company's history of smaller toy-like quadcopters.
The beef-up in tech is obvious at a glance: the Parrot ANAFI comes packing a 4K HDR camera that can tilt up to 180°, and it appears to be the first drone to offer this particular combination.
The other feature that has it standing out from the crowd is a lossless 2.8x digital zoom, which allows users to get closer to the action without experiencing any loss of quality. As a nifty extra touch, it's also capable of performing a Hitchcockian dolly zoom, which can be set up at the touch of a button.
The drone can be controlled by the Freeflight 6 app, and this also for image and video sharing. Its battery is said to allow up to 25 minutes of flight time, and it also claims to be resistant to extreme temperatures, and there's also a variety of intelligent flight modes on board, as well as GPS and return-to-home functionality.
The drone is lightweight and portable thanks to its carbon fibre frame. Despite this, its high-efficiency motors mean it can reach speeds of up to 33mph, and resist winds of up to 31mph.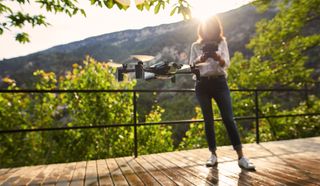 Shooting 21MP stills and 4K video with a 1/2.4-inch Sony CMOS sensor, the Parrot Anafi's camera is set on a 3-axis gimbal, keeping stills blur-free and footage smooth. It shoots through a wide-angle lens with a focal length equivalent to 26mm in 35mm terms, and a maximum aperture of f/2.4, and it can even shoot Raw files in the DNG format.
An especially exciting feature is that the footage captured isn't just 4K, it's 4K HDR, which means that it should have plenty of detail in the highlights and shadows when viewed on an HDR-compatible television.
Parrot ANAFI price and release date
The Parrot ANAFI is available for pre-order now, and is expected to start shipping on 7 July. It's priced at $699.99, which roughly converts to £522.77. To pre-order, head to the Parrot website.
Read more: GoPro is quitting the drone business