Olympus US has confirmed that prices for its high-end M.Zuiko Pro lenses are set to increase on 01 February.
This affirms reports from last year, stating that the manufacturer was planning to increase prices on Pro lenses in its home country of Japan. Thus far other territories have not announced a similar price increase, though with the two primary regions leading the way it is very possible that others will follow suit.
• Read more: Best Olympus lenses
The official word came via a newsletter from Olympus US, featuring a call to action reading: "Time is running out! Pro Lens price increase soon," advising customers, "Don't miss your chance to get these Pro Lenses before their everyday prices go up on February 1."
Interestingly the newsletter only lists a few Pro lens models, suggesting that the price increase may not apply to the full lineup. According to Olympus US, the affected lenses are:
M.Zuiko ED 7-14mm F/2.8 Pro ($100 price increase)
M.Zuiko ED 17mm f/1.2 Pro ($100 price increase)
M.Zuiko ED 25mm f/1.2 Pro ($100 price increase)
M.Zuiko ED 45mm f/1.2 Pro ($100 price increase)
M.Zuiko ED 300mm f/4 IS Pro ($400 price increase)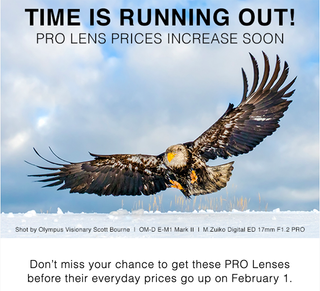 However, the report from Photo Rumors concerning similar price changes in Japan listed increases for all the Pro lenses – which would mean that the 8mm f/1.8 Fisheye, 12-40mm f/2.8, 12-100mm f/4 and 40-150mm f/2.8 might also receive higher prices in the US.
The official reason for the increased pricing is due to "raw material costs". This stands to reason since Olympus famously moved its production facilities from China to Vietnam, where manufacturing may be slightly more expensive. However, the more cynical pundits have suggested that the price hikes are due to the company's ailing financial performance that led to sale rumors last year.
It is worth noting that Sony also increased prices of one of its premium lenses by $200, though there is speculation that politics surrounding its Chinese manufacture might be the cause. And of course, Leica prices are set to increase by 25% in the US, thanks to the new taxation on European goods made in Germany.
Either way, higher prices certainly aren't uncommon in any industry – let along the camera business, which unfortunately is rapidly shrinking…
Read more:
The best Micro Four Thirds lenses in 2020: lenses for Olympus and Panasonic
The best Olympus camera in 2020: for Instagrammers, enthusiasts and pros
Olympus OM-D E-M5 Mark III review