Joining the 16-50mm and 50-250mm kit lenses for the Z 50 mirrorless, Nikon's Z 24 200mm f/4-6.3 VR superzoom is the third Z-mount lens to include built-in image stabilization. The difference here is that it's a full-frame optic, rather than being specifically designed for DX bodies, so will work natively on the Z 6 and Z 7 without engaging the 1.5x crop mode.
Stretching from moderate wide-angle to moderate telephoto, the Z 24-200mm f/4-6.3 VR is pitched as the perfect travel lens. Designed to be one the most compact telephoto zooms around, and weighing in at just 570g, it should easily fit into smaller kit bags. A zoom-lock switch keeps the lens fully retracted when stowed.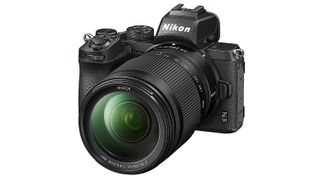 Nikon says that the large Z mount enables a unique design that places larger lens elements to the rear, endowing the lens with superior balance and handling, while the optical design ensures sharp images with vivid colour and deep contrast, whether shooting wide or telephoto.
Videographers will be able to capture beautiful full-frame video footage, and autofocus is said to be whisper-quiet, while focus breathing is reduced, along with focus-shift while zooming.
Minimum focus distance is just 0.5m at 24mm, and 0.7m at 200mm, making it good for close-ups too. Aspherical ED glass and aspherical lens elements ensure minimal distortion throughout the zoom range, while Nikon's ARNEO coat combats ghosting and flare for clearer images. The lens is sealed to protect from dust and moisture, while a fluorine coat effectively repels dust and dirt, without compromising image quality.
Pricing and availability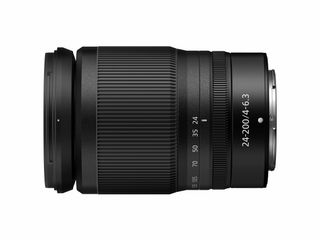 Due to go on sale 16 April priced at £849/€1049, this is Nikon's first full-frame Z-system lens not to boast S-line credentials – so we're looking forward to seeing just how it compares when we put it through our lab tests. It's also the first full-frame Z lens to include built-in VR – so while it's not DX-specific, it's just as much pitched to Z 50 users as it is Z 6/7 shooters. Or, given there's already a Z DX 18-140mm on Nikon's Z lens roadmap, could this hint at a lower-cost full-frame non-IBIS Z mirrorless in the works?
Preorder the Nikon Z 24-200mm f/4-6.3 VR from Adorama
Preorder the Nikon Z 24-200mm f/4-6.3 VR from Wex Photo Video
Nikon Z 24-200mm f/4-6.3 VR official sample images
Read more:
• The Nikon Z lens roadmap, and what's coming next!
• These are the best Nikon cameras today
• Got a Nikon DSLR? These are the best Nikon lenses to get