With the release of the Nikon Z5, Nikon has also officially released an updated Nikon Z lens roadmap with details of all of the Z lenses currently released and planned. On there is the Nikon Z 14-24mm f/2.8 S lens – and it looks as if it's going to appear before the end of this year.
With the Nikon Z 24-70mm f/2.8 having been out for over a year, and the Nikon Z 70-200mm f/2.8 S due to be officially released by late August, the Nikon 14-24mm f/2.8 S lens will be the final piece of the holy trinity puzzle that photographers have been waiting for. Being able to access a focal range from 14mm to 200mm, all at a consistent aperture of f/2.8, is vitally important to many photographers – particularly those who shoot wedding and events.
• Read more: Best Nikon camera
Having all three of this holy trinity of lenses out will be definite boost to the Nikon Z lens line-up – and will help tempt wavering DSLR shooters over to the mirrorless side.
As reported by Nikon Rumors, Nikon says: "Nikon will continue to lead imaging culture by providing products that stimulate the creative imaginations of customers around the world, with a wide variety of high-quality lenses .The NIKKOR Z 14-24mm f/2.8 S is scheduled to be released before the end of the year, and will join the NIKKOR Z 24-70mm f/2.8 S and NIKKOR Z 70-200mm f/2.8 VR S in covering wide-angle, standard, and telephoto ranges, expanding the possibilities of imaging expression for high amateur and professional photographers alike."
You can see the updated Nikon Z lens roadmap below: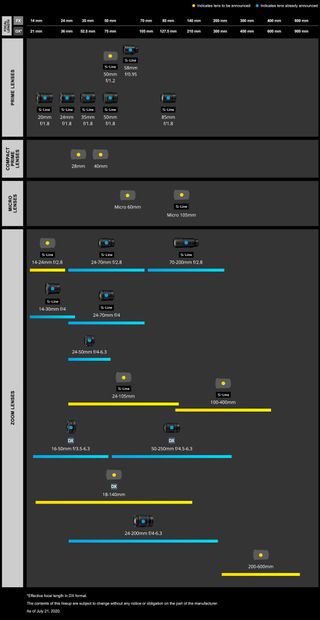 Other than the confirmation that we'll see this lens before the end of the year, there's precious little information on the Nikon Z 14-24mm f/2.8 at present. However, as soon as we hear more details we'll update this story accordingly.
Read more
These are the best Nikon lenses to get
The Nikon mirrorless system explained
Here's the latest Nikon Z lens roadmap