The Nikon D850 has been our top pick for the best professional-level DSLR ever since its launch in 2017, and there are plenty of reasons why it's been so well regarded for so long. Despite improvements in autofocus technology in newer models, the D850 remains one of the best high resolution shooters on the market today.
It's 45.7MP sensor is top-notch and, with a metering system that's near-perfect, you get images that are full of details with superb colour rendition.
While its 153-point AF system might feel a little sluggish as compared to what's currently available on the new Nikon 780 (thanks to all-new hybrid on-sensor AF technology), it still does pretty well. Even its 7fps burst speed feels a little low for what's on offer on newer DSLRs, but the D850's all-round appeal can't be argued with.
However, like all pro shooters, the D850 doesn't come cheap. Despite being on shelves for almost three years, the DSLR still carries a steep RRP tag of AU$4,899 on Nikon's own site. Retailers, though, have offered lower prices for the camera in the last year, but none have managed to drop as low as Amazon Australia.
While the lowest price for the D850 was during Australia's Boxing Day 2019 sale, you can still save a whopping AU$1,531 on the camera from Amazon right now.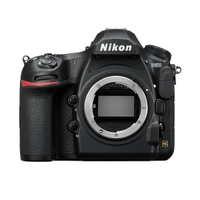 Nikon D850 (body only) | AU$3,367.50 (RRP AU$4,899; save AU$1,531.50)
Despite its age, this is one of the best DSLRs money can buy. It's full-frame, high-res sensor captures amazing shots and the camera itself feels sturdy and beefy in the hand. It's a superb all-round performer and will suit pros and enthusiasts alike. While the lowest price of AU$3,198 was available over Boxing Day last year, you can still save a pretty packet on Amazon Australia right now.
Read more
Best Nikon flashguns in 2020: Get sorted with a Nikon Speedlight today!
Best cheap Nikon camera deals right now
Best Nikon lenses in 2020: expand your Nikon DSLR with these lenses