Usually there's quite a jump between the kind of battery-powered flashguns you can attach to your camera and bigger and more expensive professional flash systems. The original Profoto A1 bridged that gap very well, and the new Profoto A1X improves on it in a host of ways.
It's part of Profoto's process of ongoing development, so that although the A1X looks very much like the original A1, it's been improved in a number of ways.
Battery life is one of them. The A1X now offers up to 450 full-power flashes on a single charge from its rechargeable lithium-ion battery. It also offers very fast 1-second recycle times – the time taken to 'recharge' the flash ready for the next flash. The new model also comes in a version for Sony users, not just Canon and Nikon. In all, Profoto says the A1X incorporates more than 30 updates. It may not have the power of the best lighting kits for studio use, but it's small enough to fit in a camera bag and light enough to handle quickly and easily on location.
The Profoto A1X is more expensive even than the best flashguns from regular camera and accessory makers, but what you're getting is high performance, compatibility with Profoto's highly regarded Air Remote wireless control system and neat touches which will appeal to portrait photographers and other professionals.
• Read more: Portrait lighting tips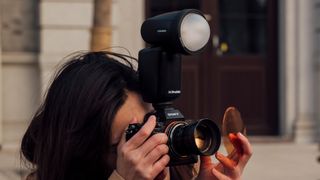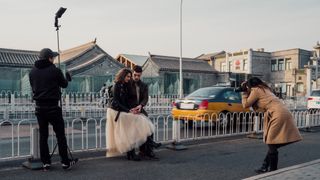 Profoto A1X features
Unlike regular flashguns, the Profoto A1X has a large, circular flash head designed to offer softer and more even illumination with gentler light fall-off. You may not need to use any kind of flash modifier to soften the light, but if you do there is a magnetic click-on mount system for attaching one of size different light-shaping tools – and they can be used both individually and in combination.
With flash, it's not always easy to predict the lighting effect and you won't always have time to shoot, inspect the result and try again. Like a few other high-end flashguns, the Profoto A1X also incorporates a modelling light to simulate and preview the flash effect before you shoot, and this can be especially useful if you're using the flash off-camera. The modelling light doesn't have the power of the best LED light panels, but it's designed simply for visualising the effect rather than making an exposure.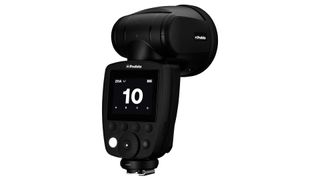 Off-camera control is handled wirelessly using Profoto's own Air Remote radio control system. This now features 20-channel communication to reduce the likelihood of conflicts with other photographers nearby, and the system also supports HSS and AirTTL.
With HSS (high speed sync) you can shoot at shutter speeds higher than the camera's normal maximum flash synchronisation speed, and AirTTL allows simple point and shoot automatic flash exposures – though you can also swap to manual mode for setting the flash power level manually.
Read more:
• What is the best flashgun? We help you choose
• The best Sony cameras you can get right now
• The best lighting kits for home studio or location photography