A new version of the Mitakon Speedmaster 50mm f/0.95 is here – and now it available to fit full-frame mirrorless cameras from Canon and Nikon, as well as Sony. The Speedmaster 50mm f/0.95 Mark III not only is available for these mounts for the first time, but also has an updated design that reduces the size of this manual-focus prime, but also reduces issues with flare.
Made by Chinese company ZY Optics, this lens is constructed from 10 elements in seven groups - including five UD elements, and one high-refractive index element.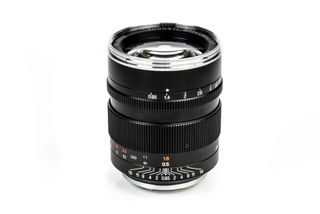 The key feature of this lens, of course, is the super-wide f/0.95 maximum aperture. This is coupled with an 11-bladed diaphragm to give very diffuse out-of-focus areas and bokeh.
There have not been may lenses with maximum apertures wider than f/1 in the history of photography. The best-known is probably the Leica Noctilux 50mm f/0.95 ASPH - which costs north of $11,000. The Nikon Z lens roadmap includes the Nikon Nikkor Z 58mm f/0.95 Noct S which we are promised will go on sale later this year - price yet unknown. The first generation of the Mitakon Speedmaster 50mm f/0.95 launched in 2014 for the Sony E-mount.
The lens will focus manually down to 0.5m, and weighs 720g. It measures 73.3 x 83.5mm, and has a 67mm filter thread.
The Mitakon Speedmaster 50mm f/0.95 lens will sell for $799 and will be available in Sony FE, Nikon Z, and Canon RF mirrorless mounts.
Sample image gallery
Read more:
• The best Sony lenses in 2019
• Canon RF lens roadmap: everything we know so far
• Nikon Z lens roadmap: what we know so far
• Sony considering f/1.2 lenses that are "relatively compact and affordable"