If you're feeling down that Avengers: Endgame waved goodbye to some of your favorite Marvel superheroes, fret not; Xiaomi has revealed the Redmi K20 Pro Avengers Limited Edition camera phone to honor Earth's mightiest heroes.
The device features the same core hardware as the regular Redmi K20 Pro, which means that it's packing a triple-camera array comprising a 48MP, 13MP and 8MP sensor, along with a 20MP pop-up selfie camera, and is powered by Snapdragon 855 processor and 4,000mAh battery with a 6.39" screen (thanks, GSM Arena).
• Read more: Best camera phones
Unlike the decidedly non-mighty versions, however, which come in Glacier Blue and Flame Red colorways, the Redmi K20 Pro Avengers Limited Edition comes with a sleek non-gradient black.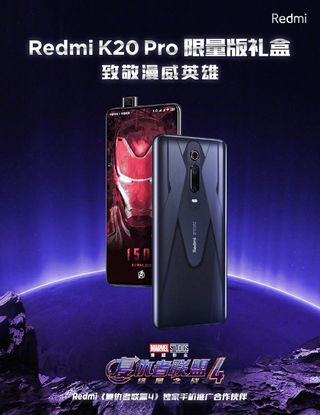 If that doesn't scream "AVENGERS ASSEMBLE!" loud enough for you, however, the package also includes a bright blue rear case with the Chinese logo for Avengers: Endgame (or Avengers 4, as it is known in that territory).
While we love all things Marvel here at DCW, we can't quite match the boundless enthusiasm of the official announcement from Redmi.
"Redmi K20 Pro Limited Edition Gift Box is officially launched! The powerful function is perfectly integrated with the cool look. It is only for sale. It is a hero who loves Marvel and loves you 3000 times," posted the company on Weibo.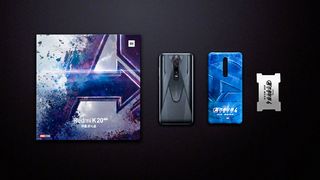 "Incorporate into the mysterious power of the Marvel universe, create a unique armor wind shell, deep blue warfare, full of faith! Redmi K20 Pro Limited Edition Gift Box, tribute to Marvel Heroes."
The special edition, complete with collectable Avengers-branded packaging, is currently only set for release in the Chinese market. Xiaomi hasn't announced any plans for other regions, and we imagine that its deal will be exclusive to the Chinese territory – so you probably won't see these in the West any time soon.
If they do start appearing on more local shelves, though, you can expect them to disappear as fast as Thanos can snap his fingers.
Read more:
Xiaomi to launch the world's first 64MP camera phone?
No more notches: Oppo and Xiaomi reveal under-display cameras for phones
Best camera phones for photographers in 2019