If you've been taking part in video conferences while working from home, you may have struggled to find adequate lighting in your designated office space. Well, now you can save $30 on the Lume Cube Air VC Kit and get well-lit video wherever you're working from.
Right now you can buy the Lume Cube Air VC Kit for just $49.95 which attaches to your laptop, desktop, tablet or smartphone. So now you can video conference from whichever device is most convenient – which means you can work from whichever room is most convenient, even if the lighting isn't on your side!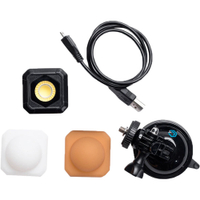 Lume Cube Air VC Kit: $49.95 (was $79.95)
The ultra-compact Lume Cube Air comes with a suction cup mount, to work on your laptop, desktop, phone or tablet. It's also magnetic, to attach to additional surfaces, so it's ideal for video conferencing wherever you are!
With its magnetic backing and the included suction cup mount, the Lume Cube Air VC Kit is a small but mighty LED light that's perfect for video conferencing, live streaming or gaming.
It delivers 400lux brightness at 3.3 feet, and features a 5600K daylight color temperature with 90+/- CRI rating. And it comes with two diffusers (one white, one warming) to keep the light looking soft and natural.
Read more:
LumeCube 2.0 review
Joby Beamo produces pocket-sized pro lighting for shooting on the go
The best LED light panels in 2020: portable lighting for photography and video