The best projectors are well worth considering for your viewing needs, as they offer high-spec picture quality for browsing photographs or watching a movie in your home. Projectors are largely compact enough to be portable, easily moved between rooms – or even buildings – with the capability to beam images well over 100 inches across in their best iterations.
Simply put, the best projectors offer big and bright images that you'd be smart to invest in, especially given the additional smart features, streaming apps, and connectivity options found in the top models out there. In this guide we'll run you through our favorite picks at a variety of prices and use cases, so you can find the best projector for you, whatever it is you're after.
Prices have tumbled over the years, so if you're fitting out a man cave, playroom, garage, in-home movie theatre, or (in the right weather at least) garden cinema you'll find something for almost any budget.
In most rooms, you'll need at least three meters (ten feet) of space to cast a 100-inch display. If that's not possible, consider an Ultra Short Throw projector. These sit up close to your projection screen (or wall), often less than 10cm, but use mirrors to throw a large projection. Remember, in all cases, image resolution will determined by the projector hardware in use.
Best projectors in 2023
Why you can trust Digital Camera World Our expert reviewers spend hours testing and comparing products and services so you can choose the best for you. Find out how we test.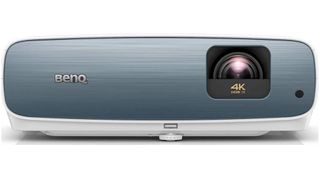 The BenQ TK850 is a great budget 4K projector to consider, with a pleasingly rounded design and simple interfacing that will make it at home in any living room.
It's not a native 4K projector, despite the branding; it replicates 4K resolution by quadrupling a 1080p output. This won't be the best option for recreating true Ultra HD, then, but it does have a 4K effect that should look more detailed than lower-res models.
This DLP model outputs at 3,000 lumens, offering an exceptional brightness despite some resolution trickery, and aiding an above-par colour performance through BenQ's CinematicColor processor. The 1.3x zoom means you can get a 100-inch projection from a little over nine feet away, while a backlit remote means you can see what you're doing while watching in a darkened room.
You'll get a basic OS in the standard model, though there is now a TK850i model that comes with the superior Android TV interface built-in. Either way you'll get a USB 3.0 port and USB Media Reader portal to easily browse and display your own files, and there are two HDMI inputs too.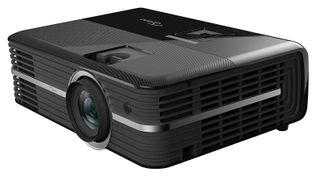 This low-cost UHD projector uses an XPR (eXpanded Pixel Resolution) 0.47-inch DMD chip to produce 4K images. It's a sharp performer, with a strong colour performance and low noise.
There are two HDMI inputs, as well as PC VGA and USB. There's a fair amount of additional configuration on offer. Multiple gamma settings are available, and there's variable colour gamut selection. A six-segment RGBRGB colour wheel claims to cover 100% of the BT.709 colour space.
Images are pin-sharp and colour accuracy is superb. Black level can be tweaked using the Dynamic Black setting. We preferred it Off, however some might like the denser blacks it produces. For the greatest contrast, keep the lamp setting on Bright.
Pocket projectors were all the rage when flatscreens cost more than the monthly shop. But while interest has dulled, they're still a good option for impromptu screen shows – especially the ViewSonic M1+.
This ultra-portable LED projector can stand upright on its own carry handle, and comes with a basic remote, yet still finds room for on-body controls. Connections include an HDMI output and USB, but there's no Bluetooth support. There's a MicroSD card slot, 16GB of onboard storage, and six hours of usage from a single charge. The M1+ also has a fixed zoom and a throw distance of 40-inches to 1m.
The upgraded M1+ offers a slightly brighter projection (300 lumens) over the M1 (250 lumens), though it's still far short of higher-spec beamers – one for dark environments where possible. This models also adds wireless connectivity – so you don't need to reply on a thumb drive to get something playing.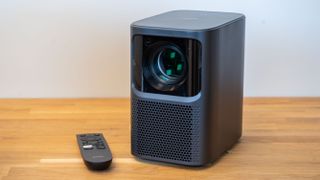 Out-of-the-box support for Netflix via a interface a lot like a smart TV makes the Emotn N1 a great device to have around the home. Wi-Fi or Ethernet supply the app, while an HDMI port offers more traditional input and portability is completed with two 5W Dolby Digital Plus speakers built into the housing.
All of this amounts to a device which – so long as you can run power to it, there are no batteries here – can project a very satisfying full HD image – in HDR10 – onto any surface you find. The auto-focus and keynote adjustments do just fine, in our test anyway, and can even be set to be re-triggered by the device being nudged or moved if you're one of those people who likes to try a few projection spots before settling down.
The speakers might not fill a big room, but they're OK in an average space and since 120-inches (about 3 meters) is the biggest screen diagonal that seems fair enough. The fan is pleasingly quiet, so you'll still hear what's going on. The only real shame is the Linux-based OS, while easy to use with the remote, doesn't have apps for all the video services you might want to use, so you might end up needing a Chromecast in the HDMI socket, or plugging your computer in via HDMI – not so tidy.
On the flip, you get 500 ANSI lumens, brighter than many projectors in the portable space, and a true 1080P image which can stand a bit of keystone correction if you need to project from the side and still look with video.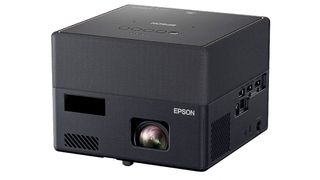 The Epson EF-12 portable projector is a box-shaped all-rounder. It is small enough to store on a shelf in a cupboard, easy to carry around and simple to set-up, it offers itself as an all-in-one solution for your home projection needs - with a maximum 150in image.
Handily there is a 2 x 5W Yamaha speaker system built-in which means you get great audio indoors or out with your videos. There is Android on board too - so you can hook up to Prime Video, Disney+, Spotify, YouTube and other apps to ensure you always something to play without the need for other devices. There is also a generous 10GB of internal memory, so that you can preload your evenings viewing via USB.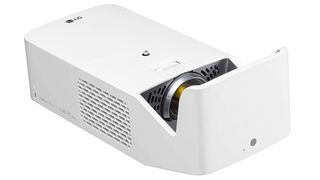 Offering a sharper image than many rival Pico projectors, LG's Minibeam UST (Ultra Short Throw) LED projector is great for busy rooms. You can put the projector extremely close to the wall or screen you want to show your video on, without any issues. So no need to worry about people and furniture blocking the view, or casting shadows.
You need just 38cm to cast a 100-inch display. Move it 16cm from the wall and you get the equivalent of a 50-inch display. If you want something more dramatic, move back to 60cm and you'll fill a wall.
Other than the need for mains power, this projector also offers wireless operation - connecting to your laptop or smartphone via Bluetooth. And if you can't do that, you can also simply plug in a USB stick.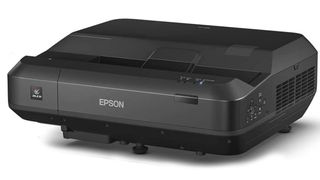 Not everyone will have room for a conventional projector, but that doesn't mean you can't supersize your images. An Ultra Short Throw model can be positioned just centimetres from a wall or screen, and still cast a huge image.
Epson's EH-LS100 is one of the most advanced UST projectors out there. With a laser light engine, it offers ease of use and longevity, and is amazingly bright at 4,000 lumens, more than bright enough to be used in moderate ambient light. That's because it's based on the brand's EB corporate UST projection range. This also explains its size. This is no compact, and it's a bit on the noisy side!
Resolution is Full HD. There are three HDMI inputs, as well as VGA, USB and composite video. The projector works from a distance of just 6cm, but we could effectively fill the best part of an entire room wall from 48cm.
An LCD projector, it uses a T 0.67-inch 3LCD device with a 16:10 aspect ratio. Contrast is rated at 2,500,000:1. It's perfect for club houses and larger rooms.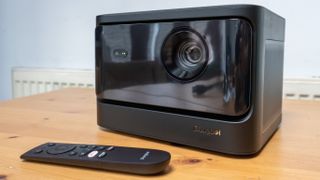 Impressively low fan noise and a reasonably bright image make this table-top projector feel like great value in either the 1080P edition we tested or its flagship 4K cousin. The throw of 120-inches at 3.37m (and up to 200") makes for a genuinely cinematic image and, for a portable device, the Dolby-friendly dual 10W speakers do a good job of filling the room with sound.
Built-in apps mean Netflix, Prime, and YouTube need no more than your Wi-Fi password and a few steps of setup to work, though some of the screen mirroring tools aren't wholly Apple-friendly. On the plus side, the Linux underpinnings are faster than, say, Android TV.
Auto setup uses Time of Flight AF and a CMOS sensor to for keystone adjustment, which can even be set to be triggered by the movement of the projector. Now that's portability.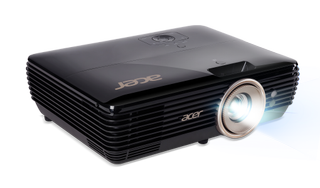 Acer's UHD resolution V6820i isn't just distinguished by its good looks, it's also the first projector to land that's compatible with Amazon Alexa voice control. Once set-up you can use Alexa to change image presets and select sources (useful if you can't be bothered with the backlit remote control). Connectivity comprise two 4K capable HDMI inputs, twin USBs and VGA.
Using the supplied Wi-Fi dongle, you can also stream images directly from a mobile device, using the EZCast app. With a zoom of 1.3x, you'll need around 3m to throw a 110-inch image. If you have problems running physical leads, the projector can also be used with a Wireless HD connection kit.
A DLP XPR model, image quality is good, although perhaps not quite as sharp as rival 4K models available. Colour vibrancy is high and contrast reasonable. It's not that bright though, so you'll want to use it in a light-controlled room.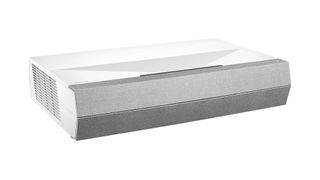 We're huge fans of this tidy, compact short-throw projector. The Optoma CinemaX P2 is a perfect choice for smaller room setups, providing a dazzling image without taking up too much space or dominating a room. Though with 3,000 lumens it isn't as bright as some of the others on this list, it's a solid choice for watching movies in pretty much any conditions, though it's at its best in the dark.
The picture looks great, with a resolution of glorious 4K UHD and a contrast ratio of 2,000,000:1. A nice touch is the integrated stereo sound system, which is of surprisingly high quality, to the point where you could even use the projector as a Bluetooth speaker for streaming music if you wanted.
The main app interface is a bit cluttered and difficult to navigate, so you find it a better option to integrate it with an existing smart home setup if you have one; it can work with Amazon Alexa or Google Home, as well as the conditional-command app If This Then That (IFTTT).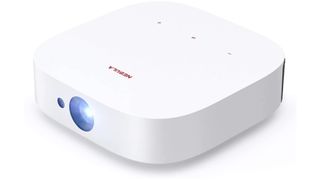 The Anker Nebula Solar Portable may just be too stylish for a portable projector. This great-looking budget beamer sticks to 1080p resolution, a wireless form factor, and a small pedestal stand to help elevate it to a 13-degree angle. You'll get a single HDMI 2.0 port at the back, USB 2.0, as well as a USB-C charging port.
At 400 lumens, the brightness isn't mind-blowing, but it's a small price to pay for the great functionality of this portable projector. Alongside the inputs above, it comes with a Bluetooth speaker mode (x2 3W drivers) that shuts off the picture and plays music wirelessly from a source device like your smartphone, effectively turning the Solar Portable into a two gadgets in one.
Image quality is sufficient for the price, though even in dark environments it struggles to show any shadow detail. Either way, this is the best looking portable projector out there, at least on the outside.
FAQs
Can projectors project photos?
Of course! Projectors are like any kind of display technology, in that any of its inputs or connectivity options can be used to play photos or videos from compatible devices. Many projectors will contain USB ports to plug in a flash drive, with basic smart platforms to help navigate folders containing photos and other files. Bluetooth connectivity in some models will allow you to display photos from smartphones, tablets, and other source devices through your projection too.
Best projector: UHP, Laser, or LED?
There are several lighting technologies that can be used to power a projector. UHP lamps are the closest thing to a standard lighting system for projectors, given their high brightness capability, but lamps only last a few thousand hours, and tend to degrade gradually over time, affecting the colour output.
LED lighting is gaining popularity within the projector market, especially in portable models, given how compact LEDs can be – note that, while LED models will last for much longer than UHP ones, though, brightness output tends to be comparatively lower.
Bigger spenders should consider the laser projectors in this guide, as they offer more vivid and consistent colour over a longer period of time (over 20,000 hours). The technology is more pricey, though is generally used in top-range, home cinema models.
Best projector: DLP or 3LCD?
There are two key projection technologies. DLP models use a digital micromirror device (DMD) allied to a spinning colour wheel to create images. They tend to be competitively priced and because they use a single device, can deliver very sharp pictures. However, that colour wheel can cause an artifact known as rainbow fringing (particularly on cheaper models), where colour flashes can be seen in areas of high contrast. If you specialize in monochrome, they may not be the best choice.
3LCD projectors use a trio of aligned LCD panels. These projectors give the most cinematic of images, with naturalistic color, but often don't seem quite so sharp as DLP.
Do I actually need a screen for a projector?
Not really is the honest answer. Of course you'll get the best view if you project onto a dedicated projection screen, but if you have a white-ish wall that isn't too glossy it will work, but a polyvinyl or fabric screen will be the right color, shape, and reflectivity. Paint can reflect unevenly, with both glare from worn patches and not enough reflection overall for a good picture.
How do we test projectors?
When we review a projector, we test it against a fabric screen and a matt white wall to get an idea of how it looks. We like to view still images and settle in for a whole movie to see if any visual issues become a problem (for example, when testing the Dangbei Mars I watched Gremlins 2).
Where appropriate, we like to use our 'coffee table test', finding how conveniently we can place the projector on a coffee table and aim it at our screen or wall – this is about checking the image size we get for the distance and how far we can push the coffee table to the side, a test of the keystone adjustment.
Obviously we also make sure we test any special or promoted features, like the software / network features, or obstacle avoidance.
Read more:
The best camera phones
The best monitors for photographers
The best digital photo frames
The best VPN