Leica has updated one of our favourite premium compact camera designs. The Leica Q2 keeps the minimal 'reduction to the essentials' design of the original Leica Q, but brings a massive jump in resolution from 24 megapixels to 47.3MP – that's an increase of 95%.
This resolution wouldn't count for much without a lens capable of resolving this kind of detail, and the Leica Q2 keeps the excellent Leica Summilux 28mm f/1.7 ASPH. lens used in the Leica Q. Leica says this is the fastest lens in its class, and while the focal length is fixed at 28mm, the Leica Q2 does offer 35mm, 50mm and 75mm 'crop factors' to simulate longer focal lengths.
See our Leica Q2 hands-on review
Normally this kind of digital cropping wouldn't be taken as a serious alternative to a zoom lens, but the high resolution of the new 47.3MP sensor makes this a much more practical proposition, and both the viewfinder and rear screen have 'bright line' frames to show the angle of view of these different settings.
Leica says the Q2 offers fast, precise autofocus with an AF time of less than 0.15sec, making the Q2 ideal as a classic 'street photography' camera, though Leica is also keen to emphasis its suitability for travel photography, architectural photography, landscapes and even portraits, where the wide maximum aperture could be used to add depth and background defocus to 'environmental' portraits of subjects in their surroundings.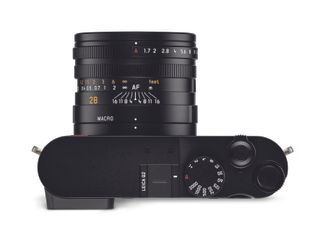 47.3MP and 10fps too
Perhaps most impressive of all is that the Leica Q2'S improved Maestro II processor allows a continuous shooting speed of 10 frames per second, even at full resolution. The new camera can also capture 4K UHD video, making it of interest to anyone looking for the best 4K camera right now.
While the exterior design is the same as the Leica Q, the new camera's body is now dust and water sealed, and Leica says it has also improved the battery life. Other mod cons include integrated Wi-Fi and 'always on' Bluetooth LE connectivity for a permanent connection to a paired smartphone.
The Leica Q2's price puts it out of reach of all but he most affluent enthusiasts, but for a Leica it's actually quite reasonably priced and probably the most accessible model in the range for new users keen to try this legendary camera brand.
The Leica Q2 is on sale now, at a recommended retail price of £4,250/$4,995.
Read more: Leica Q2 hands on review