Pentax has introduced a new fast-apertured ultra-wide zoom lens in its Star series of lenses. Designed to work with its APS-C models like the Pentax K70, the 11-18mm has a maximum aperture of f/2.8, and gives an effective focal length range of 17-27.5mm.
The HD Pentax-DA* 11-18mm F2.8 ED DC AW, to give it is full name, is being launched with what manufacturers Ricoh promise will be exceptional optical performance and is said to be able to accommodate the super-high-performance digital cameras of the future. The Pentax lens range includes both APS-C and full frame lenses – this one is for Pentax's APS-C cameras.
As signified by its AW (all weather) designation the zoom is dustproof and splashproof. It also provides a Focus Clamp Mechanism to lock focus at the desired focal point.
The lens is said to be aimed not only at outdoor photographers, but at astrophotographers in particular. The lens includes a space specifically designed for holding a heating device to prevent condensation, and a metallic frame structure, which more effectively transmits the heat of the device to the lens. These greatly improve the lens' operability when shooting under star-lit skies, says Pentax.
The lens weighs 704g and measures approximately 90x100mm.
The lens is constructed from 16 elements in 11 groups, with a front filter ring of 82mm. The lens has a minimum focusing distance of 30cm. The aperture diaphragm has nine rounded blades.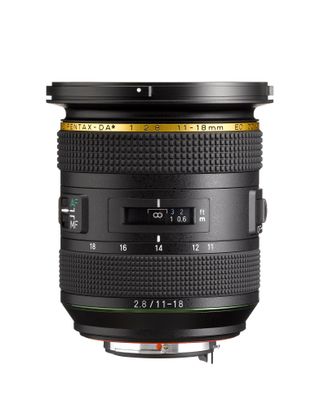 Price & Availability
The HD Pentax-DA* 11-18mm F2.8 ED DC AW zoom will be available from February for a recommended retail price of £1,399.99.
Pentax has simultaneously launched a new version of its 35mm f/2 prime.
Read more:
• Astrophotography tools:
the best camera, lenses and gear for shooting the night sky
• The best Pentax lenses to choose right now