UPDATE: We reached out to Nikon, which confirmed that the AF-S Nikkor 500mm f/5.6E PF ED VR is not discontinued and that the statement was made in error by its customer support department:
"The lens is not discontinued, however it is currently out of stock due to high demand, this was an error from our customer support team."
We will update the story as and when we receive a response from Canon regarding the EF 200mm f/2L.
…
ORIGINAL STORY (22 Mar): People have been screaming that DSLRs are dead for years, but perhaps we finally have evidence that it's really true; two separate reports claim that Canon and Nikon have started discontinuing lenses for their respective DSLR systems.
The Canon EF 200mm f/2L IS USM, one of the best Canon lenses for sports photography and portraiture, and the best-selling Nikon AF-S Nikkor 500mm f/5.6E PF ED VR are both said to have been discontinued – the former seemingly confirmed by retailers, and the latter apparently confirmed by Nikon itself. Canon still makes a wide range of DSLR cameras, of course, including the novice friendly EOS Rebel SL3 and the powerful Canon EOS 90D for enthusiasts. Nikon's situation is less certain, as it hasn't launched a new DX format DSLR since the Nikon D7500.
• Read more: Best telephoto lenses
"It was inevitable, but it looks like Canon is starting the discontinuation of EF lenses," states a report by Canon Rumors. I was told by Alex at FStoppers that the Canon EF 200mm f/2L IS USM is now unlisted or listed as discontinued at various retailers.
"While it is still listed at Canon USA, the lens is no longer listed at Adorama and shown as "discontinued" at B&H Photo. I will be watching these things closely over the next few months. I suspect a lot of the older and older higher priced lenses such as the EF 800mm f/5.6L IS USM are on their last legs."
The site later updated its story with a confirmation from Canon USA that the lens will continue to have service support, though the claim that it has been discontinued was not disputed.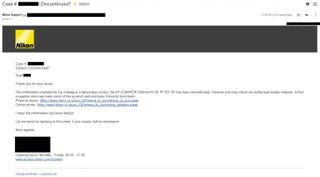 "Canon USA has confirmed that the Canon EF 200mm f/2L IS USM will have service support from Canon until at least December 31, 2027. If parts remain after that date, service will likely continue until that inventory is depleted."
On the other hand, Nikon UK itself is purportedly the originator of its own discontinued lens story.
"I got multiple emails about a recent response from Nikon UK/EU support indicating that the Nikon AF-S NIKKOR 500mm f/5.6E PF ED VR lens is already discontinued," states a story on Nikon Rumors, featuring a screenshot ostensibly sent by Nikon Support in the United Kingdom.
"The information provided by my colleague is absolutely correct, the Nikon AF-S NIKKOR 500mm f/5.6E PF ED VR has been discontinued," reads the email response (see screenshot).
We have reached out to both Canon and Nikon and will update this story as and when they respond.
Read more:
Best DSLRs
Best full frame DSLR
Best Nikon lenses
Best Canon lenses
DSLRs vs mirrorless cameras