The humble SD card is celebrating its 20th birthday – and it has come a very long way, since the first ever card rolled off the production line with an 8MB capacity.
Today SD cards are by far the most dominant format, with a 90% share of the market, and are found in everything from digital cameras, drones and phones to games consoles, televisions and printers. Back in 2000, however, the world of memory was a much more complicated place.
• Read more: SD card deals
"Twenty years ago, the memory card marketplace was a confusing mix of about a half dozen, mostly proprietary card options incompatible with each other and lacked interoperability across different devices," said the SD Association. "SD was created to become a technology standard to meet growing consumer electronic demand and continue to foster a robust ecosystem for collaborations and growth among all device manufacturers."
Indeed, those of a certain vintage will remember rival formats like SmartMedia (the first cards used by many photographers), xD (a proprietary Olympus and Fujifilm format), Memory Stick (a Sony creation) and MMC (which looks almost identical to SD cards visually, and from which SD was derived).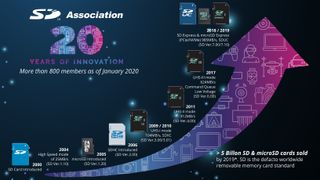 In the sea of card chaos, Panasonic (then Matsushita), SanDisk (now owned by Western Digital) and Toshiba (whose memory division is now Kioxia) began developing a new standardized format in 1999, and formed the SD Association to shepherd its development.
"When the SD Association was launched 20 years ago, the three founding companies were truly visionary when they saw how the amazingly small SD memory card could make a significant impact on the way we store digital data in the 21st century – ultimately creating a de facto standard for the next generation of digital media," said SD Association Chairman, Yosi Pinto.
From those 3 pioneers in 2000, the Association is now an "ecosystem" of almost 850 technology companies. And despite exciting new formats like CFexpress, SD remains a very future-friendly standard. "With the recent SD Express, microSD Express, and SDUC standards, the SDA has developed a roadmap that will serve everyone for years to come," said Hiroyuki Sakamoto, president of the SD Association.
In the past 20 years, SD cards have seen their speeds boosted nearly 100 times (from 12MB/sec to 985MB/sec with SD Express) and their capacities increased 125,000 (from 8MB to 1TB) – and new SDUC specifications reach up to a whopping 128TB. So, Happy Birthday SD cards – we can't wait to see you do in the next 20 years!
Read more:
The best memory card for your camera in 2020: top SD, microSD, XQD & CF cards
SD Express cards to release in 2020, format adopted by cameras in 2021?
New microSD Express format announced: transfer speeds up to 985MB/s