If you thought UHS II microSD cards were hot property, the SD Association has just redefined what we can expect from these tiny flash memory cards. Launched at MWC 2019, microSD Express is coming, and with it read speeds of up to 985MB/s.
To put that in perspective, the recently revealed SanDisk Extreme microSDXC 1TB card can 'only' muster up read speeds approaching 160MB/s, and that's currently the world's fastest UHS-I microSDXC memory card.
The secret to the new boost is in the inner workings of microSD Express, which utilises cutting-edge PC hardware interface standards like PCI Express 3.1 and NVMe transfer protocols to ensure the fastest possible data transfer between card and camera.
It's the same sort of tech that allows the latest SSD drives to offer performance light years beyond that of a traditional hard drive. What's more, these new interface standards also cut the energy consumption of the microSD card, so expect the battery life of a microSD Express-equipped camera to be just a little bit longer.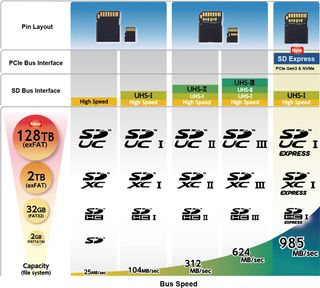 Of course all this speed can only be accessed if your camera/drone/phone actually supports microSD Express. Given the slow inclusion of UHS-II SD and microSD slots in cameras (and the complete absence of UHS-III SD cards – a speed standard announced back in February 2017) don't expect to see microSD Express-equipped cameras any time soon.
However, microSD Express cards will be backwards-compatible with older cameras equipped with a plain old microSD slot, though of course you won't be able to exploit all that extra speed.
Expect microSD Express cards to be available in SDHC, SDXC and the newest SDUC (Ultra Capacity) flavours, with the latter offering a mind-boggling theoretical storage limit of 128 terabytes. 16K video, anyone?
Read more:
• More news from Mobile World Congress 2019
• The best SD, microSD, XQD & CF cards in 2019
• The best memory card readers