UPDATE: SD Express and microSD cards have been officially revealed by the SD Association.
ORIGINAL STORY: The freshly minted SD Express format is anticipated to see its first physical cards appear next year, though adoption by the photographic industry may not occur until 2021.
That's according to a recent conversation between Lensvid and Yosi Pinto, chairman of the SD Association, where the development of the new standard and its rollout was discussed in detail, as the competition to produce the best memory cards for the next generation of imaging devices hots up.
An interesting note was that the main driving force behind SD Express was not the photographic industry, but rather other industries such as mobile computing, videogames, automotive and IoT (Internet of Things) that are members of the Association.
These industries were eager to embrace the more current and established PCIe (Peripheral Component Interconnect Express) and NVMe (Non-Volatile Memory Express) protocols used by the CF Express and XQD format, which effectively gives the SD Express standard similar properties to much faster SSD (solid state drive) storage.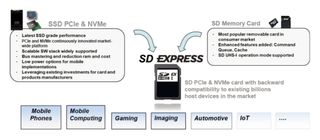 As such, while SD Express offers big benefits to photography – boosting the storage limit from 2TB to 128TB, and boosting speed almost 600% to 985MB/s, making it the best memory card standard for things like 8K video and super slow-mo shooting – it may be one of the later industries to adopt.
"I would assume that we will see probably some time next year cards, at least," said Pinto. "From host [manufacturer] side, we hear things that are going on – so there will probably be some adoption in the mobile, mobile computing market interfaces, maybe some gaming – I don't know yet about cameras."
Lensvid posited that it would be at least a year and a half, maybe more, before camera manufacturers adopt the standard, pointing to the time it took for UHS-II to start appearing in new bodies.
Pinto pointed out that the big advantage of SD Express over UHS-II, since it uses the existing protocols found in CF Express and XQD, is that the infrastructure and interfaces have already been developed, so everything is essentially ready to be installed into new products – such as the best camera phones.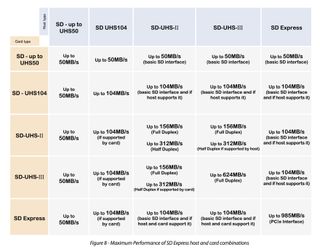 "And sometimes they even have it," said Pinto. "For example, all the mobile, and especially mobile computing, they already have PCIE interfaces, so it's very easy for them to adopt the new standard.
"So it's not like we had with UHS-II, that you had to develop everything from zero. So it's much more easy to adopt, if somebody wants to adopt… I hope to see that this will be adopted much faster than the UHS-II."
It may be a while before the new wave of cameras start using SD Express, but we could well see camera phones taking advantage of the new standard as soon as next year – possibly gaining more ground on the shrinking camera market in the process.
Read more:
What's the best memory card for your camera in 2019?
New microSD Express format announced: transfer speeds up to 985MB/s
Best memory card readers