Ever spilled coffee on your phone by mistake? Love the way it smelled? Then if you've got money to burn, you can now buy an iPhone 12 that's specially made to smell of coffee starting at $6,140.
That's thanks to luxury Russian smartphone dealer Caviar, which is selling a limited line of scented iPhone 12 Pro and iPhone 12 Pro Max handsets with four different aromas.
• Read more: Best camera phones
The Caviar Eco Collection consists of four iPhone 12 'flavors': Alpine Chamomile, Spicy Rose, Alpine Cornflower and Vanilla Coffee. And these scents aren't just limited to Apple's current flagship phones; when the iPhone 13 is released, these aromas will be offered on the new Pro and Pro Max models as well.
As the name suggests, this collection is eco-friendly, biodegradable and 'biodesigned'. If you're wondering what that means, Caviar explains that, "Biodesign is not just an artistic direction, it is an ingenious scientific solution! Its goal is to find elements of wild nature and integrate them into modern high-tech life to create psychological and aesthetic comfort for a person."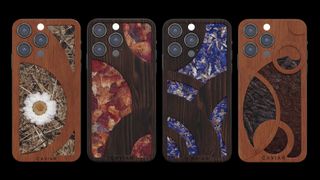 All flavors feature mahogany bodies combined with the signature ingredients for a unique aesthetic along with recognizable scent.
Vanilla Coffee starts at $6,140 (approximately £5,420 / AU$10,100) for the Pro 128GB, going up to $7,730 for the Pro Max, "will give you comfort and tranquility, despite the fast pace of modern life."
Alpine Chamomile, priced $6,220-$7,450 (£4,580-£5,490 / AU$8,500-AU$10,180) "is a declaration of love, a tribute to and admiration for the magnificent nature of our planet."
Spicy Rose, costing $5,980-$7,120 (£4,400-£5,240 / AU$8,170-AU$9,730) "pursues a great goal - the care and preservation of our beautiful nature".
And Alpine Cornflower, which likewise sells for $5,980-$7,120 (£4,400-£5,240 / AU$8,170-AU$9,730) "is a tribute to the splendor of our planet. Smooth lines, natural materials and a delicate aroma of nature itself. Don't the modern residents of megacities experience the lack of it?"
Each phone is limited to 99 pieces and is available from the Caviar website.
Read more:
iPhone 12 Pro review
iPhone 12 Pro Max review
iPhone 12 Pro vs Max
Best iPhone for photography
iPhone 12 set to have four cameras
iPad Pro gets 3 cameras