Apple is set to continue its newfound photographic push, as the next iPad Pro will feature a three-camera array.
A leaked image of an iPad Pro mockup was recently published, revealing the same triple-camera setup that Apple introduced with the latest generation of iPhone Pro camera phones.
• Read more: iPhone 11 Pro review, iPhone 11 Pro Max review
The image comes from generally on-the-money leaker, Sonny Dickson. "We've obtained a final design mockup of Apple's upcoming iPad Pro hardware from a source that has repeatedly been reliable about previous iPad hardware, showing Apple's new camera hardware as featured on the iPhone 11 Pro gracing their upcoming refreshed lineup of iPads."
While a physical mockup doesn't reveal too much about the specs of the three cameras, it's reasonable to assume that they will be much like those found in the new iPhones – if not identical.
"The hardware is extremely similar to what is featured on the iPhone 11 Pro, and is expected to offer the same benefits to creative video professionals," says Dickson.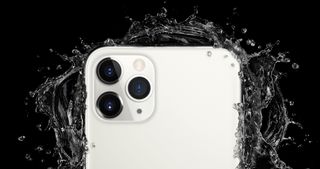 "The design is a nod to Apple's intent to offer pro users of the iPad a device on which they can comfortably shoot and edit 4K quality video all from one device, offering the freedom to take their setups on the go without a bundle of extra hardware attached to a Mac."
Indeed, Apple's newly announced iPad OS is tailored specifically towards producing supercharged tablets. With a bespoke operating system built around the devices' distinct feature sets, along with assuredly beefier processing power, this could make the new iPad Pro a capable all-in imaging system.
Of course, the idea of using a tablet to take photographs may seem peculiar to camera purists. However, as anyone who's been to a tourist destination (or spends time around older friends and relatives) will attest, there are a lot of of non-traditional photographers who use iPads and tablets as their main camera.
With the new iPad Pro set to arrive in October, it will be interesting to see if Apple rolls out additional stills and video features specific to the device.
Read more:
The best tablets for photo editing and photographers in 2019
Meet the iPhone 11 – camera-focused, functional, but far too familiar
iPad photography hacks: Creative lighting ideas for cheap photography projects